Munsungan Lake, Maine, USA
Lake Locations:
USA - New England - Maine - Aroostook County -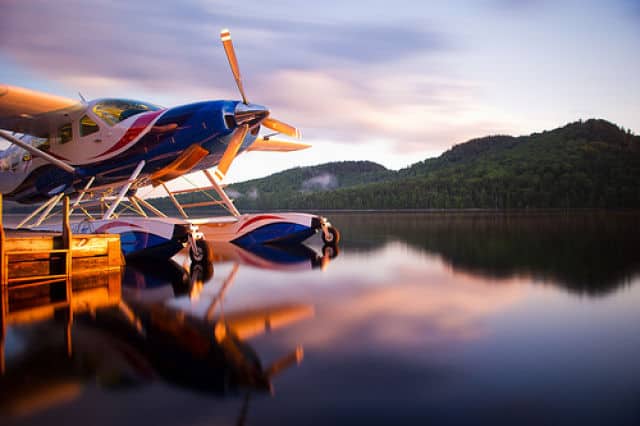 At Munsungan Lake, visitors return to an environment not seen in the past hundred years. Located in the Maine North Woods, a wilderness crisscrossed only by logging roads, 1600-acre Munsungan Lake invites arrivals to experience a 19th-century 'fish camp' set among rugged hills, endless forests and clear, deep pools. The air is crisp and fresh, the water cold and the fishing, photographic opportunities and nature trails inviting. The shoreline is deserted except for the single 1890s lodge and eight log cabins. Other than the sounds of the birds, or native animals in the underbrush and nearby woods, the sound of the camp's generator or the occasional float plane are the only things to break the stillness. For the float plane brings the guests, from Ashland or Presque Isle, and the generator provides a modicum of comfort for cooking and daytime activities.
At night with the generator switched off and no planes flying, the silence is complete, pierced only by the sound of an owl or nocturnal animal. Guests sit on the porch enjoying a drink in a tall glass filled with ice cut from the lake the previous winter and talk of the day's activities, often in hushed tones. Soon, guests drift off to their cabins, lit by kerosene lights and warmed by wood stoves. Dawn is greeted by the eerie cry of a loon on Munsungan Lake. Breakfast is at 7:00 am, and the late sleeper may find all they are left with is cold cereal! Tomorrow will be another nature-filled day of fishing for landlocked salmon or trout, hiking the nearby ridge, or exploring nearby trails. Life is good at Munsungan Lake.
Located in Piscataquis County, Munsungan Lake is about 50 miles from the nearest town of any size. The lake forms the headwaters of Aroostook River as the outflow drains through Little Munsungan Lake. The stream eventually joins with the St. John River across the border in New Brunswick, Canada. Two rustic campsites are located on Little Munsungan Lake. Munsungan Lake connects to nearby Chase Lake via a small stream. Although the lakes can be reached by road, it is a long, difficult trek across poorly marked logging roads that twist and turn in unsuspected ways. Located about 15 miles north of Baxter State Park, Munsungan Lake is noted for the landlocked salmon which use the Aroostook stream as their spawning beds; lake trout, brook trout, lake whitefish, rainbow smelt, yellow perch, burbot, dace, American eel and a number of other species are also caught. The lake reaches 123 feet in depth and offers an excellent, naturally reproducing coldwater fishery. Many fly fishermen schedule an annual trip to the lodge for their sporting vacation.
Guide service is available for fishing or for trekkng in the nearby woods, learning to handle a canoe in whitewater, or simply locating native wildlife to photograph. The lodge also handles side trips to a couple of outpost camps on nearby small lakes. Some swimming is available, although the water is seldom warm. Real estate is found for sale in the area; many are small cottages on leased land, but there are none available at Munsungan Lake. Some lodgings are available on other lakes in the area, often with excellent fishing and road access. Lodgings can be found at Ashland and Presque Isle, along with a few bed-and-breakfasts and small motels near the main roads. The majority of the Maine North Woods is empty of year-round homes; providing utilities and good road access is too difficult and too expensive for the isolated residence.
Hunting is available in some areas near Munsungan Lake during the season. Along with small game such as grouse, woodcock and snowshoe hare, bigger game is often sought such as deer, black bear and the occasional moose. Visitors to the lake sometimes arrange to paddle parts of the 92-mile Allagash Wilderness Waterway a few miles to the west, to which they are often delivered by float plane. To the south, Baxter State Park hosts campgrounds, miles of hiking trails and several peaks worth climbing such as Mount Katahdin. Katahdin, at 5268 feet, is the highest point in Maine and the northern terminus of the Appalachian Trail. Some of Baxter's campgrounds are accessible by road, offer rustic cabins and are family-friendly. Others are remote and can only be reached by backpacking. In winter, some areas of the park are open for winter camping, cross-country skiing and snowshoeing. Snowmobiling is allowed on certain main roads within the park, but trail maps should be followed. There are no fuel or facilities available for snowmobiles in the park.
The North Maine Woods is a loose confederation of over 3.5 million acres of second-growth forest owned by a coalition of private owners, mostly paper companies and conservation groups. The sole lodge at Munsungan Lake is on land leased from a forestry company. The lodge proprietor provides occasional float plane services to the managers of the nearby forest and the Maine Dept. of Inland Fisheries. North Maine Woods, Inc. manages the three million acres of wilderness under their control much like a park, with minimal fees for entry and camping permits. The area they control receives over 100,000 visitors a year, yet many areas are actively being used for timber harvest and reforestation. Visitors remark on how well the sense of wilderness and solitude has been preserved. Often the only other human activity seen for days is the occasional logging truck. As roads in the area must be maintained to provide access for logging vehicles, the group is able to provide numerous recreational activities to large numbers of visitors at a minimal cost of about a million dollars a year, far less than the cost of operations for a formal national park of comparable size.
There are concerns that as timber and paper companies are forced to sell their holdings due to an increasingly global market, those currently well-managed lands will fall into the hands of developers. Conservation trusts have taken up conservation easements on some of the land and will likely try to consolidate it into the long-envisioned national park. Local residents are concerned that jobs and family businesses could be lost if leased holdings cease to exist. Certainly losing such leased lodge holdings as exist on Munsungan Lake would leave a hole in the history of the region. So, bring the family now to lovely Munsungan Lake, learn to survive without cells phones and internet, and discover the joys of nature.
Things to do at Munsungan Lake
Vacation Rentals
Fishing
Swimming
Canoeing
Camping
Campground
Cabin Rentals
Hiking
Cross-Country Skiing
Snowmobiling
Hunting
Wildlife Viewing
Birding
State Park
National Park
Fish species found at Munsungan Lake
Brook Trout
Burbot
Carp
Eel
Lake Trout
Perch
Salmon
Smelt
Trout
Whitefish
Yellow Perch
---
Munsungan Lake Photo Gallery
Munsungan Lake Statistics & Helpful Links
Spread the word! Share our Munsungan Lake article with your fellow Lake Lubbers!