Morrow Point Reservoir, Colorado, USA
Welcome to the ultimate guide for history, statistics, local fun facts and the best things to do at Morrow Point Reservoir.
If you're considering Morrow Point Reservoir vacation rentals, we've made it super easy to explore accommodations and nearby hotels using the interactive map below. Simply click on a listing to compare similar properties, best rates and availability for your dates. Or keep scrolling to read our Morrow Point Reservoir guide!
Morrow Point Reservoir visitor and community guide
Only something truly breathtaking and extraordinary would make it worth carrying a kayak down 232 steps. The steep, rocky cliffs meeting the clear blue water of Morrow Point Reservoir is an experience that exceeds normal expectations, making it well worth the journey.
An impoundment of the Gunnison River, Morrow Point Reservoir was created with the construction of the Morrow Point Dam in 1968. Together with its larger and more accessible sister, Blue Mesa Reservoir, and downstream, Crystal Reservoir, the three make up the Wayne N. Aspinall Storage Unit. Although the Unit was primarily created for water storage, Morrow Point Dam's main purpose is to generate hydroelectric power. Morrow Point and its sister reservoirs are under the control of the Department of the Interior, Bureau of Reclamation.
In 1965, the Curecanti National Recreation Area was created to manage the land around the Aspinall Unit. Named for the Ute chief Curicata, the recreation area offers ample opportunities to explore the wildlife and history of western Colorado. There are hiking trails for visitors of all skill levels and horseback riding in specified areas. For the truly adventurous, there is good rock climbing on the steep rocky cliffs and ice climbing in the winter. Guides and outfitters are available about twelve miles upstream near Blue Mesa Reservoir.
Although the only boats allowed on Morrow Point Reservoir are those that can be carried down the steps, there is a public pontoon boat that gives hour and a half long tours of the reservoir. Taking visitors through the Upper Black Canyon, the boat with its ranger guide, is a great way to explore the beautiful shoreline and rock formations. Those who make the trip down the steps with canoes or sea kayaks will find an adventure. The water at the beginning of the reservoir is swift and challenging but becomes still and calm further on with plenty to explore along the rocky shoreline. Visitors wanting to extend their stay can boat in to the shore to camp. There is good fishing, including fly fishing. At the end of the trip, however, the boats must be carried back up those steps.
For visitors who are less adventurous, the reservoir can be explored from Scenic US Highway 50 or one of the other scenic byways. Starting above the Blue Mesa Reservoir, Highway 50 follows the Gunnison River through Curecanti, past Morrow Point Reservoir and Crystal Reservoir to the south rim of the Black Canyon of the Gunnison National Park, with plenty to see along the way. The Curecanti area has a rich and diverse history beginning with the Ute Indians, followed by the miners and fur traders, and finally the railroad which was carrying ore and cattle through Curecanti by 1882.
Morrow Point Reservoir is itself best suited for the more adventurous traveler. With the proximity of Blue Mesa Reservoir and all Curecanti National Recreation Area has to offer, however, Morrow Point Reservoir is a glorious addition to any western Colorado getaway.
Custom Morrow Point Reservoir house decor
Read our full review of these personalized lake house signs.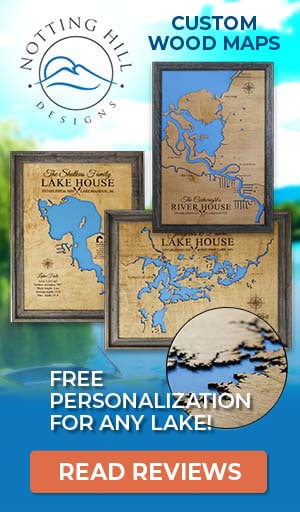 Things to do at Morrow Point Reservoir
Fishing
Boating
Canoeing
Kayaking
Camping
Hiking
Rock Climbing
Ice Climbing
Horseback Riding
Wildlife Viewing
National Park
---
Best hotels and vacation rentals at Morrow Point Reservoir
The Morrow Point Reservoir map shown above is a simple and stress-free way to search for trip accommodations. But if you want to take a deeper dive to find the ideal waterfront home, cabin, condo, hotel or resort, visit our favorite lodging partners by clicking the buttons below.
Note: These are affiliate links so we may earn a small commission if you book through them. While there is no extra cost to you, it helps provide resources to keep our site running (thank you)! You can read our full disclosure policy here.
---
Morrow Point Reservoir photo gallery
New photos coming soon!
Morrow Point Reservoir statistics & helpful links
We strive to keep the information on LakeLubbers as accurate as possible. However, if you've found something in this article that needs updating, we'd certainly love to hear from you! Please fill out our Content Correction form.
Advertise your Morrow Point Reservoir vacation rental
LakeLubbers will soon offer homeowners and property managers the opportunity to to showcase their vacation rentals to the thousands of lake lovers searching our site daily for accommodations. If you'd like additional details, please contact our advertising team here.
Looking for the Morrow Point Reservoir forum?
LakeLubbers previously offered visitors the ability to create accounts and participate in lake forums. When we overhauled the site's content management system in 2021 we had to disable those features. We're evaluating options and welcome your comments and feedback here.
We also encourage you to join our lake-lovin' community on Facebook and Instagram!
Spread the word! Share our Morrow Point Reservoir article with your fellow Lake Lubbers!