Crystal Reservoir, Colorado, USA
Lake Locations:
USA - West - Colorado - Southwest -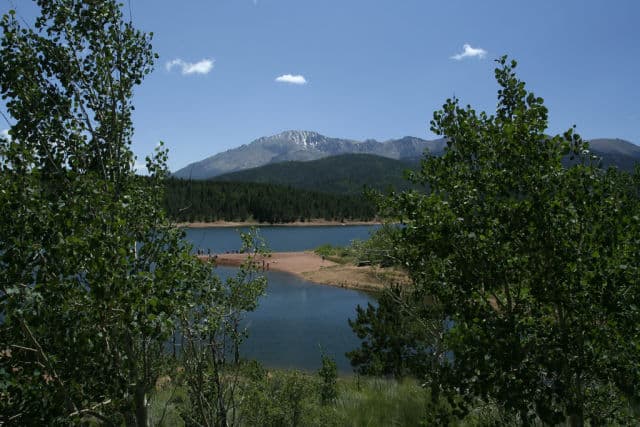 In 1882 the Curecanti needle became the symbol for the Denver and Rio Grande Railroad. With its steep cliffs and rock formations, the area around Crystal Reservoir has been inspiring travelers ever since.
Created by the Crystal Dam in 1976, Crystal Reservoir is and impoundment of the Gunnison River. Along with its sister reservoirs, Morrow Point Reservoir and the much larger Blue Mesa Reservoir, the three together make up the Wayne N. Aspinall Storage Unit and impound more than 40 miles of the Gunnison River. The Aspinall Unit was created for hydroelectric power, flood control, and recreation, but its primary purpose was irrigation and water storage. Crystal Reservoir is also used for hydroelectric power and to stabilize and regulate the flow of water. The Department of the Interior, Bureau of Reclamation controls the three dams and reservoirs.
Because of its rocky shoreline, visitors to Crystal Reservoir must hike down to reach the water. The only boats allowed on the reservoir are those that can be hand-carried down to the water. As a result, boating on Crystal Reservoir is a very isolated, private experience. Water levels can fluctuate significantly throughout the day, so boating should only be attempted by skilled boaters with guidance on local conditions.
Visitors do not have to be on the water, however, to enjoy Crystal Reservoir. Created in 1965 to manage the land on and around the Aspinall Unit, Curecanti National Recreation Area offers visitors of all adventure levels something to enjoy. Starting above the Blue Mesa Reservoir, continuing past the Morrow Point Reservoir, and ending below Crystal Reservoir where it meets the Black Canyon of the Gunnison National Park, the Curecanti Recreation Area has hiking for all skill levels, horseback riding, and camping both in campgrounds and back country. Although there are no specifically groomed areas, winter visitors to Curecanti can snowmobile, snowshoe, and cross country ski. There is also ice climbing and ice fishing.
Following the path of the Gunnison River, Scenic US Highway 50 allows visitors to drive over and along the three reservoirs with plenty to see and explore along the way. With its breathtaking scenery and rich history, Crystal Reservoir and the Curecanti National Recreation Area are sure to delight both the truly adventurous and the adventurous at heart.
Things to do at Crystal Reservoir
Vacation Rentals
Fishing
Ice Fishing
Boating
Camping
Campground
Hiking
Ice Climbing
Snowmobiling
Horseback Riding
National Park
---
Crystal Reservoir Photo Gallery
Crystal Reservoir Statistics & Helpful Links
Spread the word! Share our Crystal Reservoir article with your fellow Lake Lubbers!