Mattsee, Salzburg, Austria
Lake Locations:
Also known as:  Lake Mattsee, Lake Matt, Matt, Niedertrumer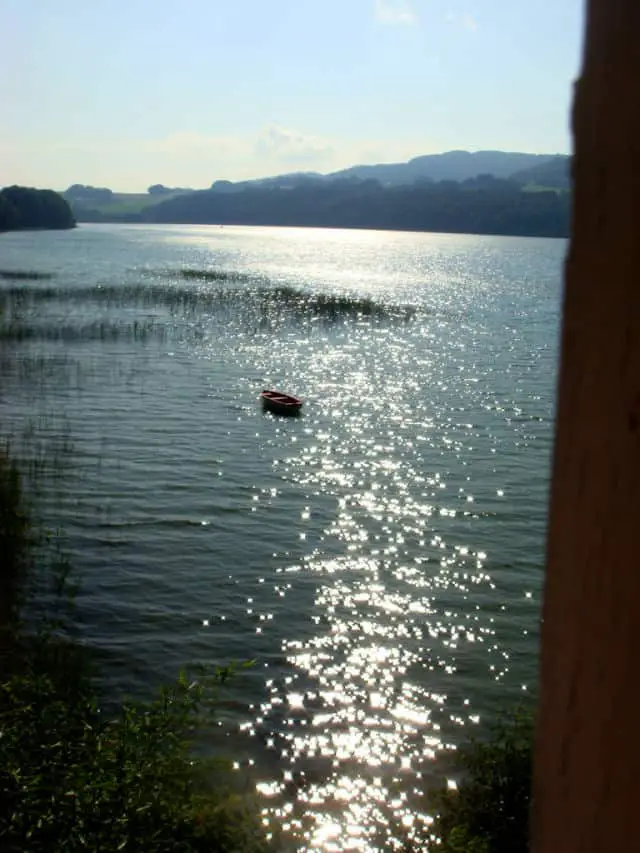 Mattsee (see=lake) is one of four picturesque lakes forming the Salzburg Lake District. Located only 12 miles north of the city of Salzburg, Lake Mattsee and the lakeside community of Mattsee are beginning to touch the fringes of the city's suburbs. The combination of history, culture, architecture, alpine setting, lakeside living and endless recreation make Mattsee an ideal holiday retreat.
Where there once was one naturally-formed glacial lake, there is now a close cluster of three – called the Trumer Lakes. Archeological evidence indicates that an original glacial lake, named Urmattsee, was carved into the Mattsee basin during the last ice age. The large lake had an added depth of over 80 feet and appears to have served as an early shipping route. Through centuries of evaporation and eventual drainage by the River Mattig, Urmattsee's water level lowered until three separate lakes appeared: 1,211-acre Obertrumer Lake; 890-acre Niedertrumer (Mattsee) and 321-acre Grabensee. Today, a dozen small towns and villages surround the Trumer Lakes with a combined population of 33,700. Add 1581-acre Lake Wallersee to the Trumer Lakes, and you have formed the Salzburg Lake District.
The municipality of Mattsee sits at the southern end of Lake Mattsee with the population of 3,000 spreading to the west and reaching the shores of Obertrumer See. Much of Europe's history has passed through the streets and water of Mattsee. Evidence of human habitation dates from Neolithic time with ruins of ancient Roman roads sitting beneath the water of Lake Mattsee. Bavarian occupation and rule by the Archbishops of Salzburg led to the region's combined traditions and culture that make Mattsee the attraction that it is today.
Walk a few blocks from Lake Mattsee's seven-mile shoreline and explore charming shops, a restored palace, an ancient abbey, a 13th century Roman gothic church, and museums meant to carry visitors away to another place and time. After a day of touring, climb aboard a cruise boat and enjoy a view of the village from the water. Don't be surprised when you approach low-lying Johannis Bridge at the south end of the lake; your boat will lower its roof as you pass under the bridge and raise it again as you sail into adjoining Lake Obertrumer. As you cruise around Lake Mattsee, take note of available vacation rentals and real estate properties including holiday homes, guest houses, hotels and inns. Select from lakeside or near-lakeside properties to make your stay complete.
After accommodations are selected, jump right into the warmest and most welcoming water in the Salzburg Lake District. Lake Mattsee has two large public beaches with changing facilities. The first beach opened in 1928, and the facilities have been restored with modern conveniences. Soft sand beaches, sun decks, water slides, playgrounds and volleyball nets will keep family fun going all day long.
Add a summer breeze and Lake Mattsee will be dotted with sailboats, paddle boats, canoes and windsurfers. If you want to rent a boat or need a sailing lesson, all you have to do is ask. Once on the lake you will enjoy the sound of the wind instead of the roar of engines, because only electric motor boats are permitted on the water.
If you like to fish, Niedertrumer is only one of three Trumer Lakes at your disposal. A fishing certificate is required and readily available in Mattsee. Toss a line into the 138-foot depths and enjoy the day along the shore or on the water. Keep in mind that zander, pike, eel, tench, carp, perch or bream may not be the only thing hiding beneath the water's surface. Local fishermen say that on a calm day when lake waters are smooth as glass you can see the outline of a sunken city in the depths of the lake.
Mattsee is a popular tourist destination which means there is an endless selection of activities. If you enjoy hiking, Nordic walking, running, inline skating or cycling, local trails will take you through historic Mattsee, community parks, or along the nine-mile Trumer Lakes path. Miniature golf, scenic hillside golf courses, and multiple tennis courts mean no waiting for your favorite recreation. For the more daring, paragliding lessons and hot-air balloon rides provide an exceptional view of the Salzburg Lake District. In the winter several ski resorts open within driving distance of Salzburg.
Mattsee makes the ideal location for a venture into the city of Salzburg. This is the city of Mozart, offering glimpses into the composer's life through family homes, museums and music festivals. Salzburg's earlier history is on display at the Museumplatz, site of Salzburg's prized museums. Find time to view the Baroque architecture and medieval Hohensalzburg fortress atop Monchsberg hill. Immerse yourself in the history of Salzburg and then return again and again to the natural beauty a gentle lakefront retreat at Mattsee.
Things to do at Mattsee
Vacation Rentals
Fishing
Boating
Sailing
Swimming
Beach
Canoeing
Golf
Tennis
Hiking
Biking
Museum
Ruins
Playground
Miniature Golf
Fish species found at Mattsee
Carp
Eel
Perch
Pike
Tench
Zander
---
Mattsee Statistics & Helpful Links
Spread the word! Share our Mattsee article with your fellow Lake Lubbers!