Achensee, Tyrol, Austria
Also known as:  Lake Achensee, Lake Achen, Tyrolean Fjord
Welcome to the ultimate guide for history, statistics, local fun facts and the best things to do at Achensee.
If you're considering Achensee vacation rentals, we've made it super easy to explore accommodations and nearby hotels using the interactive map below. Simply click on a listing to compare similar properties, best rates and availability for your dates. Or keep scrolling to read our Achensee guide!
Achensee visitor and community guide
Often called the Tyrolean Fjord, Achensee is the largest lake in Austria's western Tyrol province. Lake Achensee lies 30 miles northeast of Innsbruck and approximately 15 miles south of the German border. Surrounded by snow-capped peaks, lush green forests and alpine meadows, the lake extends for six miles down the scenic Achen valley. Include charming lakeside communities and an endless selection of outdoor recreation, and you have found the ideal destination for an unforgettable holiday.
As early as the 12th century Lake Achensee was in the possession of a Benedictine abbey while occasionally serving as a summertime retreat for European kings and archdukes. The isolation of this spectacular and unspoiled land came to an end in 1889 when a steam-cog railway was built to connect Achensee with the community of Jenbach, four miles to the south. Transportation brought tourism and the development of Lake Achen into a popular all-season vacation destination. Carved by the Inn Glacier, this natural lake has served as a reservoir for TIWAG-Tiroler Hydropower Inc. since 1927. The original outflow of Achensee has been diverted from the Isar River at the north end of the lake and directed toward the southern Inn Valley where the water falls 1,250 feet on its way to the hydropower plant near the community of Jenbach. TIWAG-Tiroler Hydropower AG manages the lake level, lowering the depth as much as 33 feet during the winter knowing it will be replenished by mountain streams and snowmelt in the spring.
Three lakeside communities sit in the lush green valley fed by the mountain snow. Lovingly preserved and unforgettably beautiful, Achenkirch sits at the north end of Lake Achensee's 13-mile shoreline. The alpine mountain scenery has served as inspiration to artists and authors while continuing to provide a fun-filled family-friendly destination for holiday travelers. Achenkirch's lakeside beach and sunbathing lawn are a good place to begin your summer vacation. A swimming area, playground and restrooms are found near the campground at the northern end of the lake. With a maximum depth of 436 feet and average depth of 67 feet, swimming in snow-fed Lake Achensee's sparkling water is a chilling experience. Swimming pools in lakeside resorts offer popular, and much warmer, alternatives. Other sporting activities found at Achenkirch include a summer toboggan run, tennis, squash, horseback riding, inline skating, jogging, and Nordic walking. While you are walking through this community of 2,100 people, take in more leisurely activities like a summer concert, a stroll past the 1748 parish church, or a tour of the local history museum.
Maurach sits along the eastern shore of Lake Achensee. While visiting this charming village of 2,000 people, take the time to stroll past their beautiful Baroque church, wander through appealing little shops, and stop to enjoy a selection of mouth-watering Austrian cuisine. Maurach rests on some of the lakeshore's limited flat terrain, but the snow-capped peaks of the Rofan Mountain Range tower overhead, making this a popular destination for winter skiers.
At the western shore of Lake Achensee the small village of Pertisau is said to have been the favorite hunting ground of emperor Maximilian. It is also home to Austria's oldest golf course. Sitting near Tirol's largest nature park, Alpenpark Karwendel, this community of 600 people is a hiker's paradise. At 281 square miles, Karwendel is Austria's largest preserve offering trails for hikers, mountain bikers and cross-country skiers to explore the alpine back country. For the more energetic, there is not a better place for mountaineering and rock climbing than Karwendel. For an entertaining midday pursuit, Pertisau visitors can take a cable car into the park and photograph spectacular views of Lake Achensee.
Good sailing winds funnel between the Karwendel Mountains west of Achensee and the Rofan and Sonnwend Mountains to the east. The consistent winds make sailing and windsurfing a popular pastime on Lake Achensee. If you don't have a boat of your own, rentals are available from marinas and resorts. If you are new to the sport, several sailing and windsurfing schools are found among lakeside villages.
Despite the cold temperatures, the clear depths attract a number of scuba divers and snorkelers. Diving is permitted from the first of May to the end of October and is restricted to designated depths along the eastern shore. A diving permit is required, and diving suits are recommended to stave off the cold.
If you prefer to catch fish rather than swim with them, Lake Achensee is known to hold generous populations of perch, pike, brook trout, "Erlitze", "Koppen", rainbow trout, vendace, roach, tench, brown trout and char. Fly-fishermen will enjoy the pursuit of trout in any of the numerous mountain streams flowing down the mountain toward Lake Achensee. A fishing permit is required and readily available within each community.
Once the playground of European royalty, Lake Achensee now welcomes visitors and families from around the world. Whether you choose to swim at the beach in Achenkirch, ski the slopes near Maurch, or hike into the park near Pertisau, you will be surrounded by Austrian hospitality and spectacular scenery. Take a 50-mile drive from Munich or 70-minute drive from Salzburg and escape to the charm of Lake Achen. Choose from all-inclusive hotels, family-owned inns, private holiday homes perched on the mountainside, or lakeside guest houses and real estate properties and begin creating your perfect Austrian vacation at Achensee.
Custom Achensee house decor
Read our full review of these personalized lake house signs.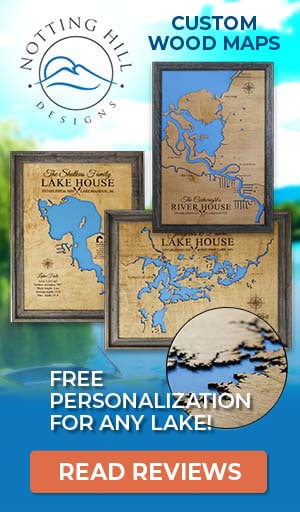 Things to do at Achensee
Vacation Rentals
Fishing
Boating
Sailing
Swimming
Swimming Pool
Beach
Snorkeling
Scuba Diving
Golf
Tennis
Camping
Campground
Hiking
Rock Climbing
Cross-Country Skiing
Tobogganing
Horseback Riding
Hunting
Waterfall
Museum
Playground
Fish species found at Achensee
Brook Trout
Brown Trout
Char
Perch
Pike
Rainbow Trout
Roach
Tench
Trout
Vendace
---
Best hotels and vacation rentals at Achensee
The Achensee map shown above is a simple and stress-free way to search for trip accommodations. But if you want to take a deeper dive to find the ideal waterfront home, cabin, condo, hotel or resort, visit our favorite lodging partners by clicking the buttons below.
Note: These are affiliate links so we may earn a small commission if you book through them. While there is no extra cost to you, it helps provide resources to keep our site running (thank you)! You can read our full disclosure policy here.
---
Achensee photo gallery
New photos coming soon!
Achensee statistics & helpful links
We strive to keep the information on LakeLubbers as accurate as possible. However, if you've found something in this article that needs updating, we'd certainly love to hear from you! Please fill out our Content Correction form.
Advertise your Achensee vacation rental
LakeLubbers will soon offer homeowners and property managers the opportunity to to showcase their vacation rentals to the thousands of lake lovers searching our site daily for accommodations. If you'd like additional details, please contact our advertising team here.
Looking for the Achensee forum?
LakeLubbers previously offered visitors the ability to create accounts and participate in lake forums. When we overhauled the site's content management system in 2021 we had to disable those features. We're evaluating options and welcome your comments and feedback here.
We also encourage you to join our lake-lovin' community on Facebook and Instagram!
Spread the word! Share our Achensee article with your fellow Lake Lubbers!