Magic Reservoir, Idaho, USA
Lake Locations:
USA - West - Idaho - Central -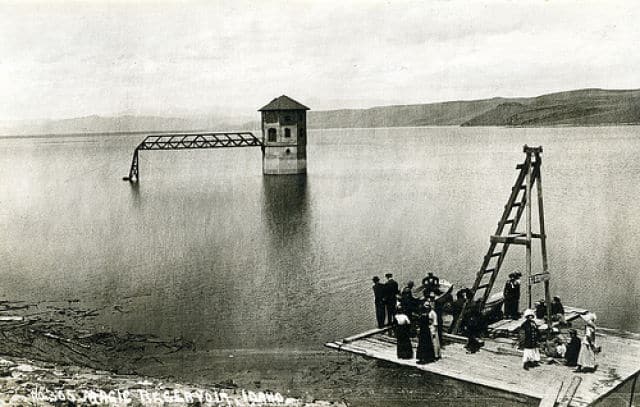 There is magic to be found in central Idaho: Magic Reservoir! This expanse of water was created in 1909 when the Big Wood River was dammed to provide irrigation water for local farming. With 3,700 acres of water (some claim it to be as large as 14,00 acres, but official statistics say 3,700 acres), Magic Dam has in the past few years been retrofitted for hydroelectric power generation. For 100 years, Magic Reservoir has offered recreation to both residents and visitors to its watery expanse and surrounding valley. Two small settlements have grown up on the shores of Magic Reservoir: Magic City on the eastern shoreline and West Magic Village on the west side. West Magic even has its own airport, serving the several resorts and travelers from the Magic Valley area. Although long a favorite of fishermen, the reservoir is pretty low-key, attracting far less attention than it deserves.
Magic Reservoir appears to have no designated swimming beaches, but residents talk of swimming at Magic Reservoir. The many boat ramps are used to access the water for power boating, sailing and water skiing during the warmer months. Water levels vary considerably depending on rainfall and on how much water is drawn down for irrigation purposes. Visiting boaters should always call ahead to make sure water levels are sufficient, as extreme low water sometimes makes the boat ramps unusable. Much of the land around Magic Reservoir is under the control of the Bureau of Land Management. The BLM provides nine semi-developed sites along the shoreline for primitive camping and boat launch sites. Most boat launch sites also provide picnic facilities, but no drinking water is available. Other private camping and RV sites are available with all services nearby.
Some of the more shallow portions of the reservoir are most suitable for canoe or kayak during low water periods, particularly when bird watching around the three islands near the dam. A favorite birding site, the islands serve as nesting grounds for 2000 breeding pairs of California and ring-billed gulls and 25 pairs of Caspian Terns. Long-billed curlew can be seen nesting here in spring, while western and Clark's grebes, common loon, trumpeter and tundra swans and some waterfowl spend parts or all of the ice-free season here. A number of other species also stop by Magic Reservoir during migration. Roads along the shore are passable during the dry seasons but tend to become very muddy during rains. Many bird watching visitors end their day of birding on the deck of the restaurant in West Magic Village – watching water birds, of course.
Fishing is the favored sport at Magic Reservoir: brown trout, rainbow trout (stocked regularly), perch and a few smallmouth bass are the favored species for catching. Although there are many boat launch ramps along the 25-mile shoreline, only the ramps at the East and West Magic resort areas are accessible during low-water periods. But many people have their favorite spots for bank fishing, while others prefer float-tubes to access some of their secret hotspots. Trolling the narrow inlets often garners some of the best fishing. Ice fishing is also a preferred winter activity, with much of the reservoir freezing over early due to the altitude of the high desert valley. Both perch and trout are often caught through the ice near the dam and in the lower canyon reaches.
Because the reservoir traps all of the Big Wood River's water at certain times of the year, the dry riverbed below the dam receives visitors interested in the geology of the area. A kiosk downstream interprets the water-worn lava boulders deposited there in amazing profusion – a photographer's dreamscape. This unusual deposit of rock only exists because the BLM and local groups fought a long legal battle to prevent the boulders from being harvested for landscaping architectural features. Experts warn, however, that the boulder-strewn 'black magic canyon' can be extremely dangerous for several reasons. First, water releases from the dam can be unexpected, making the narrow gorge a death trap. Those wishing to hike here are strongly advised to check with dam operators before venturing into the canyon. Second, the most common wildlife in the area are rattlesnakes. And third, the rough terrain takes physical stamina and an ability to keep one's footing; the boulders can be dislodged easily and it is very hard to access this remote area in case of emergency. Unique geological features are hardly limited to the area near Magic Reservoir, however. A few miles away, Craters of the Moon National Monument offers adventures among massive lava flows, caves created by collapsing lava tubes, and the unique plants and animals that thrive here.
Other local attractions can be found near Fairfield, where rodeos are performed regularly. A large number of small local roads and paths are suitable for hiking and mountain biking, while off-road vehicles can access many remote locations to view wildlife and enjoy the scenery. Local lodgings can be found at several resorts around Magic Reservoir where everything from individual cabins to lodge-style rooms can be located. Hotels and motels are found in Shoshone, less than 30 miles to the south, and in Twin Falls, an hour's drive away. Some private lodgings are found for rent along Magic Reservoir in the two small towns. And real estate can often be located in the Magic Valley, often with large acreages. The Magic Reservoir area is the ideal spot for the person who wants to experience a quiet, unhurried high-desert vacation. Those don't usually come with trout or ice fishing. Magic Reservoir does – come find the magic!
Things to do at Magic Reservoir
Vacation Rentals
Fishing
Ice Fishing
Boating
Sailing
Swimming
Beach
Canoeing
Kayaking
Water Skiing
Tubing
Camping
Picnicking
Cabin Rentals
Hiking
Biking
Wildlife Viewing
Birding
Fish species found at Magic Reservoir
Bass
Black Bass
Brown Trout
Perch
Rainbow Trout
Smallmouth Bass
Trout
---
Magic Reservoir Photo Gallery
Magic Reservoir Statistics & Helpful Links
At LakeLubbers.com, we strive to keep our information as accurate and up-to-date as possible, but if you've found something in this article that needs updating, we'd certainly love to hear from you!
Please let us know about it on our Content Correction form.
Spread the word! Share our Magic Reservoir article with your fellow Lake Lubbers!