Magic Lake, British Columbia, Canada
Welcome to the ultimate guide for history, statistics, local fun facts and the best things to do at Magic Lake.
If you're considering Magic Lake vacation rentals, we've made it super easy to explore accommodations and nearby hotels using the interactive map below. Simply click on a listing to compare similar properties, best rates and availability for your dates. Or keep scrolling to read our Magic Lake guide!
Magic Lake visitor and community guide
Magic Lake Estates are found along the shore of Magic Lake and spread toward the coast and forested hills of North Pender Island, one of British Columbia's Southern Gulf Islands. This string of beautiful islands and islets is found in the Strait of Georgia about a 40 minute ferry ride from Swartz Bay near Victoria, or two-hour ferry ride from Tsawwassen in Vancouver. The natural settings, wildlife and sea life found around Pender Islands and Magic Lake turn this piece of paradise into a popular vacation destination during the summer months, doubling the islands' population of approximately 2,500 residents.
Originally inhabited by the Coast Salish people, many of the islands along the British Columbia coast are named after crew members of the of the 19th century survey ship HMS Plumper. Pender Island was named for the ship's master, Daniel Pender, who sailed the west coast of British Columbia from 1857-1870. Once one island joined by an isthmus, North and South Pender became separate islands when a canal was dredged in 1902 to accommodate steamship traffic. A one-lane bridge was constructed in 1955 to reconnect the "the Penders" and remains in use by Magic Lake visitors and residents today. Google Maps has a discrepancy in naming the Pender Islands (North Pender is identified as South Pender and South Pender is identified as Pender Island Indian Reserve 8). See the link below for the Pender Island Guide's Magic Lake Area Map (Accurate).
Visitors generally arrive on the Penders at Otter Bay Ferry Terminal on North Pender Island. A scenic trip by seaplane or water taxi service provides a unique experience for "land lubbers." Those who have access to private flight services will find a public grass landing strip and a helicopter pad available. U.S. visitors who choose to sail north from Washington State through the San Juan Islands will find a Canadian Customs office at Poets Cove Marina in Bedwell Harbour on South Pender Island.
Magic Lake Estates had its beginnings in the 1960's development of Gulf Island Estates. The original development held 1200 lots in a 600-acre subdivision. The large development and dramatic change in island landscape lead to the creation of the Islands Trust, a regulatory agency whose mission is to protect and preserve the "the islands and waters between the British Columbia mainland and southern Vancouver Island." Today, Magic Lake Property Owners Society plays a vital role in the care of Magic Lake while the Capital Regional District maintains the dams and lakes.
There are two man-made lakes that serve as sources of potable water within Magic Lake Estates. Buck Lake is a private 25-acre reservoir sitting immediately north of Magic Lake. With a maximum depth of 32 feet and average depth of 22 feet, Buck Lake holds the larger water supply. Shallow Magic Lake covers 36 acres but has an average depth just over one foot and maximum depth of 14 feet. Magic Lake is the most populated and also accessible to the public through a wharf at the south end of the lake. A majority of real estate properties are about a half acre in size and have been developed into private residences or vacation rentals. A limited number of Magic Lake Estate properties are located on the two-mile shoreline of Magic Lake. The majority or properties stretch beyond Magic Lake to the island coast or the surrounding cedar and fir covered hills. Estate residents have access to a swimming hole on Magic Lake, tennis courts, park and hiking trails that circle the lake. Wildlife and bird watching are popular pastimes on Magic Lake with osprey, eagles, great blue herons, mallards and other waterfowl frequenting the Penders. Not to be overlooked are nearby trails for horseback rides, Pender Island's golf course and 27-hole Frisbee golf park.
Row boats, canoes and kayaks are often seen gliding through the water lilies and small coves of Magic Lake. To preserve the tranquility of life on Magic Lake, no motor boats are allowed. Anglers will enjoy casting a line for the trout stocked in Magic Lake or may prefer a trip off the coast in search of salmon, cod and halibut. Visitors may charter fishing boats or dock their personal boats at a number of island marinas, government docks or anchorages found around the Penders' 38 mile coastline.
Nature's gifts are the attraction to Magic Lake and the Pender Islands. Where Magic Lake Estates reach the west coast of North Pender, visitors will find two ocean-front parks – Thieves Bay and Shingles Bay. From these two vantage points you can view pods of orcas, harbor seals, otters and dolphins swimming the island straits or sit and watch magnificent sunsets color the western sky.
Part of British Columbia's Vancouver Island Tourism Region and Canada's Western Mountains Region, portions of North and South Pender also fall into the Gulf Islands National Park Reserve. Photographers will enjoy the beauty of Roe Lake found a few miles north of Magic Lake. It is the island's largest freshwater lake (no fishing is allowed) and is surrounded by land once owned by the Roe family. The Roe's original 1908 farmhouse is now home to the Pender Island Museum. The reserve land continues on South Pender with a scenic coast-to-mountain hiking trail leading to 800-foot Mount Norman, Pender's highest peak. A sandy beach, campsites and picnic area are open to the public within this area of the reserve. At the far southern end of South Pender you will find Greenburn Lake. Access to this area of the reserve is limited and no fishing is allowed, but visitors will enjoy the variety of scenery found in 171 acres holding scenic bluffs, wetlands and protected ecosystems.
Magic Lake visitors interested in exploring the coastline will enjoy nature at its best. Cyclists may choose to follow coastline roads for a selection of viewpoints along the island shore. Ocean kayakers will find numerous routes, bays and beaches to explore around North and South Pender Islands with lessons and guides available upon request. Scuba divers will enjoy exploring Tilley Point Caves at the south end of South Pender Island. Lined with delicate white plumous anemones, the main cave has a length of 50 feet and is open at both ends. Rockfish, greenlings, sea pens, bryozoans, tubeworms, cloud sponges and more dangerous wolf eels are among the sea life divers may encounter in this underwater reserve.
The beauty and peaceful solitude of Magic Lake and the Penders have attracted a sizeable arts community to the islands. Poetry readings, lectures, galleries and theatrical events contribute to the unique lifestyle found at Magic Lake. To experience the annual Magic Lake Lantern Festival is to experience the culture that binds residents of the Penders. The heart of the festival is involves "storytelling through community lantern making and a processional, stilt walking, shadow play, giant puppetry, dance, fire spinning and a kayak ballet." The fun, light and magic of the Lantern Festival runs throughout Magic Lake and is open to all who choose to call it home for a summer or a lifetime.
Custom Magic Lake house decor
Read our full review of these personalized lake house signs.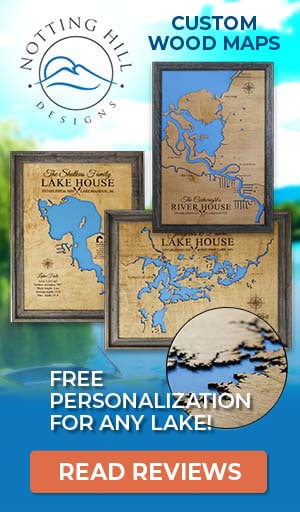 Things to do at Magic Lake
Vacation Rentals
Fishing
Boating
Sailing
Swimming
Beach
Canoeing
Kayaking
Scuba Diving
Golf
Tennis
Camping
Picnicking
Hiking
Horseback Riding
Wildlife Viewing
Birding
National Park
Museum
Fish species found at Magic Lake
Cod
Eel
Salmon
Striped Bass
Trout
---
Best hotels and vacation rentals at Magic Lake
The Magic Lake map shown above is a simple and stress-free way to search for trip accommodations. But if you want to take a deeper dive to find the ideal waterfront home, cabin, condo, hotel or resort, visit our favorite lodging partners by clicking the buttons below.
Note: These are affiliate links so we may earn a small commission if you book through them. While there is no extra cost to you, it helps provide resources to keep our site running (thank you)! You can read our full disclosure policy here.
---
Magic Lake photo gallery
New photos coming soon!
Magic Lake statistics & helpful links
We strive to keep the information on LakeLubbers as accurate as possible. However, if you've found something in this article that needs updating, we'd certainly love to hear from you! Please fill out our Content Correction form.
Advertise your Magic Lake vacation rental
LakeLubbers will soon offer homeowners and property managers the opportunity to to showcase their vacation rentals to the thousands of lake lovers searching our site daily for accommodations. If you'd like additional details, please contact our advertising team here.
Looking for the Magic Lake forum?
LakeLubbers previously offered visitors the ability to create accounts and participate in lake forums. When we overhauled the site's content management system in 2021 we had to disable those features. We're evaluating options and welcome your comments and feedback here.
We also encourage you to join our lake-lovin' community on Facebook and Instagram!
Spread the word! Share our Magic Lake article with your fellow Lake Lubbers!