Lums Pond, Delaware, USA
Lake Locations:
USA - Mid-Atlantic - Delaware - Northern -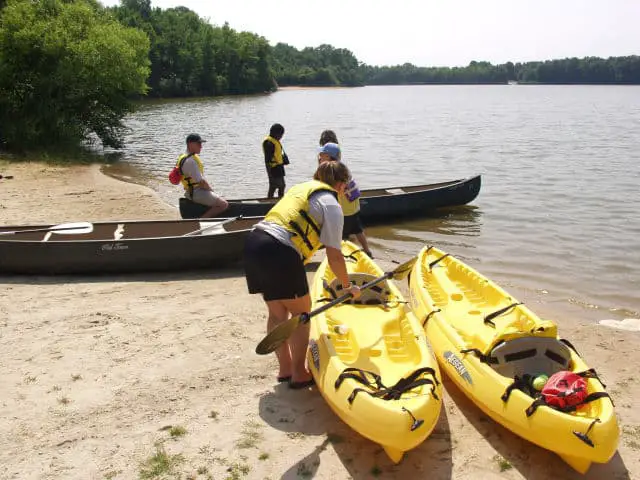 Located in Lums Pond State Park in New Castle County, Lums Pond is the largest freshwater lake in the state of Delaware. With its boating and fantastic fishing, Lums Pond is a great "First State" destination.
There are no natural lakes in the state of Delaware. Lums Pond is an impoundment of St. Georges Creek. Damned in the early 1800's, water from Lums Pond was used to power a sawmill and to fill the locks of the Chesapeake and Delaware Canal. The C & D Canal was built by the U.S. Army Corps of Engineers to connect the Delaware River with the Chesapeake Bay and the Port of Baltimore. On the National Register of Historic Places, the canal is 14 miles long, 450 feet wide and 35 feet deep. It is an active shipping canal, and it is still owned and operated by the US Army Corps of Engineers.
Lums Pond State Park is on the north side of the Chesapeake and Delaware Canal. The 1,790-acre park was built around Lums Pond and became a state park in 1963. There is no swimming in Lums Pond, but with that one exception the recreation opportunities are almost limitless. The state park rents boats including sailboats, row boats, canoes, and kayaks. For the less adventurous, there are also pedal boats. There are no marinas on Lums Pond, but there is a full service marina nearby on the Chesapeake and Delaware Canal that has fuel and boat slips. Although boat motors are not prohibited on Lums Pond, it is a "no-wake" lake.
The Fish and Wildlife Division of the Delaware Department of Natural Resources stocks Lums Pond with striped bass. Along with the stripers, there are healthy populations of pickerel, bluegill, crappie, catfish and large mouth bass. Anglers can fish from the bank or by boat, and there is a public boat ramp and two fishing piers.
Historically the hardwood forest around Lums Pond was used as a Native American camp site. The wildlife and waters of St. Georges Creek attracted them and is still drawing visitors today. There are beavers and abundant waterfowl, and there is even hunting nearby. Lums Pond State Park has miles of trails for wildlife viewing and exploring. There is a 7.5 mile long hiking trail around the pond. There are also multi-use trails including trails for snowmobiles, cross country skiing, and biking. There are trails for horse back riders and even a few horse-only campsites. The park has regular campsites as well with showers and restrooms. There are no cabins, but there are several cloth sided yurts. The yurts are equipped with futons, bunks, and electricity and are a great choice for visitors who want more comfort than an ordinary tent.
Just a few miles away from Lums Pond, the Town of Bear has various accommodations, restaurants, and shopping. Legend says the town was named for a tavern along the road from Wilmington to Dover. Apparently the tavern sign had a picture of a bear and that gave the Town of Bear its name. Whatever its origin, Bear has any amenities visitors to Lums Pond might want.
With its fishing and boating, a trip to Lums Pond is complete by itself. Add the history of Bear and New Castle County and a trip to Lums Pond is a first rate "First State" destination.
Things to do at Lums Pond
Vacation Rentals
Fishing
Boating
Sailing
Swimming
Canoeing
Kayaking
Camping
Cabin Rentals
Hiking
Biking
Cross-Country Skiing
Snowmobiling
Horseback Riding
Hunting
Wildlife Viewing
State Park
Shopping
Fish species found at Lums Pond
Bass
Bluegill
Catfish
Crappie
Largemouth Bass
Pickerel
Pike
Striped Bass
Sunfish
---
Lums Pond Statistics & Helpful Links
Spread the word! Share our Lums Pond article with your fellow Lake Lubbers!