Trap Pond, Delaware, USA
Lake Locations:
USA - Mid-Atlantic - Delaware - Southern -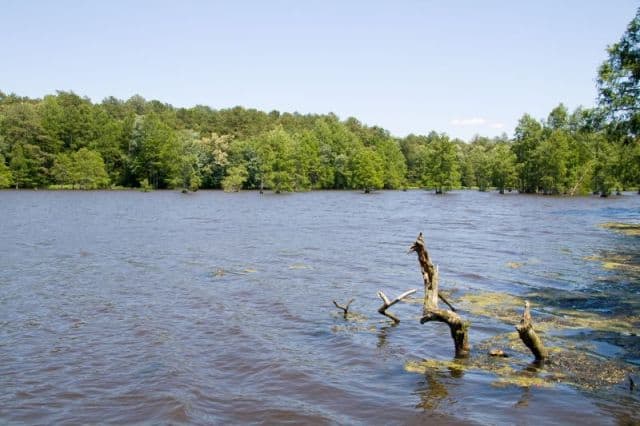 Surrounded by bald cypress in the middle of one of the "First State's" state parks, Trap Pond is a beautiful piece of Delaware wilderness. Part of one of the largest surviving wetlands in Delaware and Sussex County, Trap Pond has abundant wildlife and exceptional recreation opportunities.
Trap Pond was created in the late 1700's to power a sawmill used to harvest the area's large bald cypress. The bald cypress was coveted for its rot-resistant wood and harvested extensively through out the 1700's. As a result, most of the bald cypress around Trap Pond is actually second growth. After the logging was completed, the pond was enlarged by farmers who laid down drainage tiles to dry out the land for farming. In 1930 the Federal Government bought Trap Pond and the farmland surrounding it, and brought in the Civilian Conservation Corps to develop the area for recreation.
In 1951 Delaware made the area around Trap Pond one of its first state parks. Trap Pond State Park is over 2,000 acres of freshwater wetland and the northern-most natural stand of bald cypress in the United States. Trap Pond is entirely within the park's borders. It is a great place to boat, and boaters can explore around the bald cypress trees. The State Park rents row boats, canoes, kayaks, surf bikes, and pedal boats. On summer weekends a State Park Interpreter hosts pontoon boat tours on the pond. Although boat motors are permitted on Trap Pond, it is a "no-wake" lake.
The James Branch flows downstream from Trap Pond to Records Pond. Trap Pond is a dedicated Nature Preserve and a fantastic place to canoe. Boaters can explore the swamp and trees including a champion bald cypress. Estimated at over 200 years old, the tree is 127 feet tall and almost 25 feet around with a 62 foot branch spread. Trap Pond State Park is also the home of a very large American Holly which is Delaware's state tree.
Trap Pond has some very large fish. There are pickerel, crappie and bluegill along with golden shiner and American eel. There are not prolific populations of large mouth bass, but the bass in Trap Pond are very large. In addition to fishing, there is swimming, hiking, biking, and bird watching. Visitors may see great blue herons, owls, hummingbirds, pileated woodpeckers, and even bald eagles. The Bald Cypress Nature Center has displays and programs to help explore the area.
Trap Pond State Park has picnic areas, a playground, volley ball courts, a swimming area, and cabins and campgrounds. There is also a camp store with a mini general store for provisions. There are restrooms with showers and even a laundry. For visitors who prefer more than just a tent, there are cloth sided yurts equipped with futons, bunk beds and electricity.
Nearby the Town of Laurel has various accommodations, restaurants, and shopping. Laurel also has an extensive historic district. Named for the native laurel found growing along Broad Creek, the Town of Laurel was founded in 1683 and incorporated in 1883. With over 800 buildings on the National Register of Historic Places, the whole historic district was placed on the register making it the largest of its kind in Delaware. One of the best ways to explore the district is by the walking tour. With the amenities of Laurel and the wildlife and recreation opportunities of Trap Pond, visitors are sure to find something to please everyone. The towering bald cypress stand as sentinels inviting visitors to enjoy Trap Pond.
Things to do at Trap Pond
Vacation Rentals
Fishing
Boating
Swimming
Canoeing
Kayaking
Camping
Campground
Picnicking
Cabin Rentals
Hiking
Biking
Wildlife Viewing
Birding
State Park
Playground
Shopping
Fish species found at Trap Pond
Bass
Bluegill
Carp
Crappie
Eel
Largemouth Bass
Pickerel
Pike
Sunfish
---
Trap Pond Statistics & Helpful Links
Spread the word! Share our Trap Pond article with your fellow Lake Lubbers!