Loughrigg Tarn, England, United Kingdom
Lake Locations:
United Kingdom - England - England's Northwest -
Also known as:  Diana's Looking Glass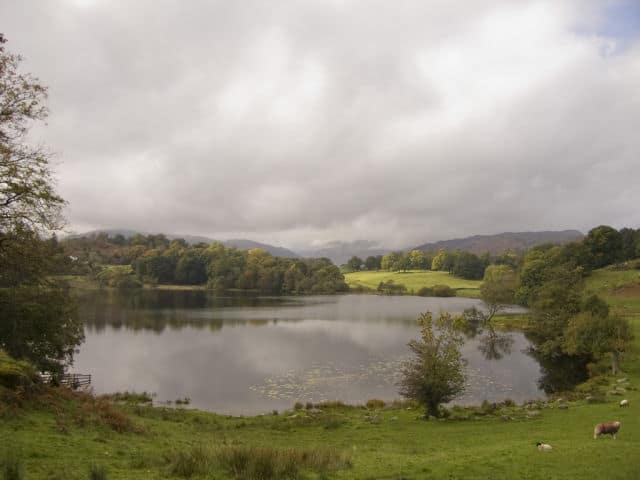 Loughrigg Tarn is a charming country lake set in northwest England's Lake District National Park. The calm water of this peaceful lake mirrors wooded fells and the peaks of nearby Langdale Pikes. Found within easy driving distance of Grasmere Lake to the north and Windermere Lake to the south, Loughrigg Tarn offers a peaceful scene of simplicity and beauty to all who visit.
The Lake District (or Lakeland) is an ancient place built on bed rock dating back 500 million years with fells, valleys and lakes carved by the advancing and retreating of glaciers during each ice age. Loughrigg Tarn (meaning "ridge of the lough") earned its name from its location at the foot of 1,099-foot (335-meter) Loughrigg Fell, a ridge at the end of High Raise Peak.
Small and shallow Loughrigg Tarn covers only 17 acres with a shoreline stretching just over half a mile. Set among Cumbria County's hills, Loughrigg Tarn shores rise to meet grassy hillsides and rock outcrops. Protected from the winds, the lake's calm surface becomes a reflecting pool for the green slopes and rocky crags that shelter it. Completing the photo-ready scene, Loughrigg Tarn shores are decorated with colorful water lilies and aquatic plants during the summer months. The scene was a favorite of William Wordsworth who in his "Epistle to George Howland Beaumont, Bart" described Loughrigg Tarn as "Diana's Looking Glass" – "round, clear and bright as heaven."
Although small in size, Loughrigg Tarn is a popular lake for shore fishing. The 34-foot (10-meter) maximum depth and 23-foot (7-meter) average depth are home to dace, tench, trout, perch, roach, pike and eels. Before casting a line, anglers are required to have an Environment Agency National Rod License accessible through their website and a daily or weekly permit available from neighboring Tarn Foot Farm. Parking for anglers is provided at Tarn Foot Farm. Lake use policies include no boats, no night fishing and barbless hooks only.
A car park is not provided at Loughrigg Tarn. Access to the shore is permitted by following a path leading from the nearby roadway. At the shore the path will continue to take visitors on a leisurely stroll around the lough. If you come for the view, consider climbing to the summit of Loughrigg Fell where you will be rewarded with a dramatic view of the Great Langdale Valley to the northwest and Ambleside and Windermere to the southeast.
Drive approximately six miles (10 kilometers) to Ambleside and you will discover a charming village resting near the north shore of Windermere Lough. Here you can immerse yourself in the history of the area. Local sites now maintained by the National Trust include Ambleside Roman Fort (a second century Roman Fort also called Galava), Hill Top (Beatrix Potter's home), Beatrix Potter Gallery (formerly the office of Beatrix Potter's husband) and Townend (a Lake District country estate built in 1626).
For Loughrigg Tarn anglers who are anxious to move beyond the lake shore and launch a boat onto the water, Lake Windermere lies at the southern end of Ambleside. Covering more than 3,600 acres (1,476 hectares) Windermere is England's largest natural lake. Here you can freely enjoy power boating, water skiing, lake cruises or fishing in your own boat for pike, brown trout, arctic char, perch, roach and eels.
Located at the heart of the Lake District, the village of Grasmere and Grasmere Lake are about six miles (10 kilometers) north of Diana's Looking Glass. The beautiful valley setting is the site of Dove Cottage, William Wordsworth's home from 1799-1808. Wordsworth and his family are buried at St. Oswald's, the community's 13th century church, and the building where Wordsworth taught school is now a local business.
Extend your excursions from Loughrigg Tarn into the county of Cumbria, and you will find some of England's most magnificent scenery offering endless outdoor adventures. Here you can challenge England's tallest mountains (Scafell Pike is tallest at 3,209 feet or 978 meters), fish the deepest lake (Wastwater with a depth of 258 feet or 79 meters), or explore the 885 square miles (2,292 square kilometers) of Lake District National Park. From challenging rock climbs to wheelchair accessible paths, mountain bikes to white water runs, there are opportunities for everyone to enjoy some part of Lakeland.
The residents of villages, hamlets and market towns surrounding Loughrigg Tarn welcome visitors to Lakeland. Every desire and budget can be met by selecting a holiday rental from hostels, camping barns, bed & breakfasts (B&Bs), self-catering holiday cottages, inns, holiday homes and real estate properties surrounding Loughrigg Tarn. Whether you watch the day fade over a lakeshore, hillside or woodland stream when you wake near Loughrigg Tarn you will be greeted in the morning by the wonders and adventures of the Lake District.
Things to do at Loughrigg Tarn
Vacation Rentals
Fishing
Boating
Water Skiing
Camping
National Park
Fish species found at Loughrigg Tarn
Brown Trout
Carp
Char
Eel
Perch
Pike
Roach
Tench
Trout
---
Loughrigg Tarn Photo Gallery
Loughrigg Tarn Statistics & Helpful Links
Spread the word! Share our Loughrigg Tarn article with your fellow Lake Lubbers!