Brotherswater, England, United Kingdom
Also known as:  Brothers Water, Broad Water, The Lake District
Welcome to the ultimate guide for history, statistics, local fun facts and the best things to do at Brotherswater.
If you're considering Brotherswater vacation rentals, we've made it super easy to explore accommodations and nearby hotels using the interactive map below. Simply click on a listing to compare similar properties, best rates and availability for your dates. Or keep scrolling to read our Brotherswater guide!
Brotherswater visitor and community guide
Surrounded by green fields, grazing sheep and scenic hillsides, Brotherswater is found in northwest England's Lake District National Park. At 47 acres there is some controversy as to whether Brotherswater is one of the smallest lakes or largest tarns (mountain lake) found in the Lake District. Tucked into the Hartsop Valley and surrounded by the peaks of the Eastern Fells (mountains), Brotherswater is considered one of Lakeland's prettiest lakes running, only 1/2 mile in length and less than 1/4 mile in width.
Located in Cumbria County, Brotherswater is one of the first places in the Lake District to be acquired by England's National Trust. Broad Water was the original name of this glacially formed lake. At some point in the past the name was changed to Brotherswater, or Brothers Water, after two brothers tragically drowned in the lake. It is believed that the lake was once twice its current size, extending to the south toward Dovedale, a scenic valley with rushing waterfalls. Sediment flowing from mountainside tributaries may have filled over half the lake, creating the current one-mile shoreline. Brothers Water now drains into the southern end of Ullswater, a scenic lake lying three miles to the north.
Brotherswater draws anglers to it shore despite the lake's limited access. Classified as a Site of Special Scientific Interest (SSSI), no boats are allowed on the water, and fishing is restricted to the western shore. Brotherswater is one of only seven lakes within the United Kingdom that holds the endangered schelly fish, a member of the whitefish family. The lake also holds small populations of trout, perch and eels, and offers a pastoral scenic experience for any fisherman who wishes to cast a line in solitude.
Brothers Water has a maximum depth of 49 feet and an average depth of 24 feet. Reeds and water lilies cover much of the lake, providing habitat for the Canada goose, mallard duck and migrating birds. Brotherswater is not one of the more visited lakes, but the steep hillsides and surrounding craggy fells provide unrivalled panoramic mountain views sure to delight everyone passing this way. Looking south and southwest, three prominent peaks from the Eastern Fells fill the skyline. Hart Crag (2697 feet), Dove Crag (2598 feet) and High Hartsop Dodd (1703 feet) all offer spectacular scenery and a variety of hiking paths. Facing north, Brotherswater sits at the foot of Kirkstone Pass. At a height of 1,489 feet Kirkstone Pass is the highest pass open to motor traffic. From Brotherswater visitors catch a view of the valley of Patterdale and hills surrounding Ullswater.
Well marked paths criss-cross the fells and hills surrounding Brotherswater. Walkers can begin their treks at Cowbridge parking lot located off the northeastern shore of the lake. The two-mile trail leads south along the western shore, past working farms and medieval farm buildings. The path then loops around the southern shore where a grassy area and small beach (no swimming or camping permitted) make a pleasant picnic stop. After a peaceful respite, pick up the path as it skirts the eastern shore to the village of Hartsop before returning to Cowbridge. An old bridlepath has been paved by the National Trust and now accommodates wheelchair access to the shore of Brotherswater.
If you leave Brotherswater and continue walking two miles north, you will reach the village of Patterdale, a gathering place for extended hiking trips. One of the more popular and challenging walks is the Striding Edge path to Helvellyn. At 3,117 feet, the scenery is breathtaking but so is the challenge of climbing exposed ridges and rock towers to reach the peak. Other fells within easy reach of Patterdale and Brotherswater include Place Fell (2,156 ft.), High Street (2,718 ft), Fairfield (2,864 ft.), Saint Sunday Crag (2,759 ft.) and Glenridding Dodd (1,450 ft.).
Continuing north from Brotherswater, Ullswater lies less than a mile north of Patterdale. The setting of this lake is often compared to Lake Lucerne in Switzerland, and it is said that the beauty of the lake's daffodils inspired William Wordsworth's poem titled "Daffodils." With a length of nine miles and width of 3/4 miles, Ullswater is a popular recreational lake. Scuba divers, motor boats, row boats, canoes and sailboats are often seen on the water. Yacht clubs and marinas lie scattered along the shoreline with rentals ready and waiting. Always a popular attraction, steamers depart from the village of Glenridding and cruise the long lake.
Brotherswater and Ullswater are among the more popular hiking destinations in England's northwestern region. Peaceful lake shores, rocky fells and charming villages provide limitless opportunity for exploration and adventure. When it is time for rest, hikers and visitors will find an excellent selection of campgrounds, bed & breakfasts, holiday homes, self-catering accommodations and real estate properties among local villages. The tiny village of Hatsop sits off the northeast end of Brotherswater with Patterdale and Glenridding resting off the southern end of Ullswater. Come to Brothers Water and find your holiday accommodation where the lush green valleys give way to waiting hills and rocky crags.
Custom Brotherswater house decor
Read our full review of these personalized lake house signs.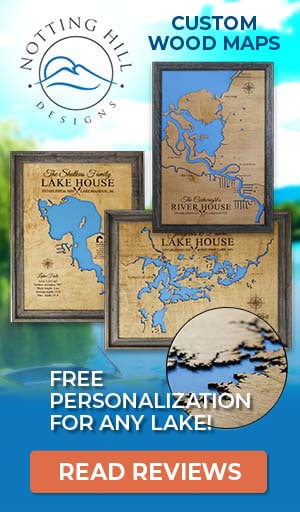 Things to do at Brotherswater
Vacation Rentals
Fishing
Boating
Sailing
Beach
Canoeing
Scuba Diving
Campground
Picnicking
Hiking
Waterfall
Birding
National Park
Fish species found at Brotherswater
---
Best hotels and vacation rentals at Brotherswater
The Brotherswater map shown above is a simple and stress-free way to search for trip accommodations. But if you want to take a deeper dive to find the ideal waterfront home, cabin, condo, hotel or resort, visit our favorite lodging partners by clicking the buttons below.
Note: These are affiliate links so we may earn a small commission if you book through them. While there is no extra cost to you, it helps provide resources to keep our site running (thank you)! You can read our full disclosure policy here.
---
Brotherswater photo gallery
New photos coming soon!
Brotherswater statistics & helpful links
We strive to keep the information on LakeLubbers as accurate as possible. However, if you've found something in this article that needs updating, we'd certainly love to hear from you! Please fill out our Content Correction form.
Advertise your Brotherswater vacation rental
LakeLubbers will soon offer homeowners and property managers the opportunity to to showcase their vacation rentals to the thousands of lake lovers searching our site daily for accommodations. If you'd like additional details, please contact our advertising team here.
Looking for the Brotherswater forum?
LakeLubbers previously offered visitors the ability to create accounts and participate in lake forums. When we overhauled the site's content management system in 2021 we had to disable those features. We're evaluating options and welcome your comments and feedback here.
We also encourage you to join our lake-lovin' community on Facebook and Instagram!
Spread the word! Share our Brotherswater article with your fellow Lake Lubbers!