Lake Windermere, England, United Kingdom
Also known as:  Windermere, The Lake District
Welcome to the ultimate guide for history, statistics, local fun facts and the best things to do at Lake Windermere.
If you're considering Lake Windermere vacation rentals, we've made it super easy to explore accommodations and nearby hotels using the interactive map below. Simply click on a listing to compare similar properties, best rates and availability for your dates. Or keep scrolling to read our Lake Windermere guide!
Lake Windermere visitor and community guide
Lake Windermere is the largest natural lake in England, covering more than 3,600 acres (1,476 hectares) in northwest England's famous Lake District. Called simply Windermere by many, it has enjoyed a wide popularity among travelers for more than 160 years. In 1847, the Kendal and Windermere Railway provided widespread access to the area with its new branch line that runs near the eastern shore of the lake. Since then, it has become well-known as a relaxing and beautiful place to take a holiday. It's accessible via railroad, car and bus line, making it a popular destination for locals and tourists alike.
Situated within the Lake District National Park, most of Windermere is owned by the National Trust, and most lake planning is decided by the Lake District National Park Authority. The lake's name is derived from "Vinandr," a Norse name, and "mere," Old English for lake. Therefore, "Vinandr's Lake" evolved over time to "Winander Mere" and "Winandermere." Finally, during the 19th century, it became Windermere. Windermere and its surrounds are known for luring artists and writers to idyllic waters and picturesque scenery. Samuel Coleridge, William Wordsworth and Beatrix Potter are just a few of the celebrated writers who have spent time on Windermere and written about the area.
A variety of lake cruises are available, from one-hour jaunts to all-day excursions. This ribbon lake is perfect for cruising, with extensive shoreline and 18 islands dotting the peaceful waters. Belle Isle is the largest, a 40-acre (16.2-hectare) privately owned island that has been inhabited since the first home, a circular design called Belle Isle House, was built there in 1774. Windermere receives its inflow from Cunsey Beck, Trout Beck, Brathay and Rothay; it empties into River Leven. The lake is 10.5 miles (17 kilometers) long with a maximum depth of 210 feet (64 meters) and an average depth of 70 feet (21.3 meters). Its lake bed is well below sea level.
The towns surrounding Windermere are filled with a sense of history: From the lime-washed white cottages and blue and green slate roofs patterned in diminishing courses, to the many dry stone walls and freestanding lime kilns that hearken back to previous eras, it's a lovely place for an excursion. It's also well suited for walking tours, with much of the path being level and easy to stroll. A popular 45-mile (72.4 kilometers) trail is the Windermere Way, a four-part route that takes travelers completely around the lake. This trail runs along the lake in some areas and through wooded areas in others, offering high-elevation vistas and out-of-the-way scenic spots. Travelers can catch a ferry along the route if time runs short. However, in winter and in poor weather ferry service hours are truncated, so it's best to learn schedules before embarking on this trek.
The Lake District National Park is the largest in England, covering about 885 square miles (2292 square kilometers), more than half of which is available for public use. With open gardens, horse riding, hot-air ballooning, walking, biking or motor travel, this park has something for everyone. It also features several wheelchair-friendly and limited-mobility-accessible paths to allow everyone to enjoy the rural beauty. Dubbed Miles Without Stiles, this system of walkways is perfect for travelers who prefer to sight-see using scooters or wheelchairs, as well as those pushing strollers. The weather in Cumbria County is unpredictable, so travelers are urged to dress in layers regardless of the season. Layers are important for walks from the warmer valleys to the chilly hilltops and back again. A waterproof jacket is an absolute necessity, as rain is frequent due to the area's proximity to the coast.
The village of Windermere is not on the coast but located one mile (2.2 kilometers) uphill from the lake. At Windermere, shops, restaurants and other attractions can be found. Because they share the name, it's often the town most closely associated with the lake. However, towns located on the lake are Lakeside (at the lake's foot) and Ambleside (at the northern end). Waterhead is also on the north, Newby Bridge to the south, and Bowness-on-Windermere to the east. The Windermere Ferry route crosses the lake every 20 minutes most days of the year.
Family attractions in the area include the Lakes Aquarium, featuring displays from around the world, and the World of Beatrix Potter, a tribute to the renowned children's author whose characters seem to come to life in this quaint and magical attraction. The Windermere Steamboat Museum has an impressive collection of exhibits, with some display items dating to the late 1890s.
Windermere has abundant opportunities for those holiday travelers who enjoy fishing. The annual Cumbria Fishing Festival takes place in May, boasting a week of scheduled activities for experienced anglers, those new to the hobby and everyone in between. Although the festival is countywide, Windermere is a star in the show, with its rich population of pike, brown trout, arctic char, perch, roach, and eels. Sea trout and salmon also make occasional appearances in their travels to spawn. Those planning to fish need a license, which can be obtained from local information centers. When planning ahead, vacationers can visit the Environmental Agency website, which also issues rod licenses online. Because there are concerns about the accidental introduction of non-native species, no live bait is allowed–but that doesn't stop the fish from biting. The Anglers Association controls fishing in the area, its rules in place to keep the area filled with wildlife and preserve the ecosystem while allowing locals and visitors to enjoy a great deal of freedom in their pursuits. Outdoor activities in the area focus mostly on enjoying the beautiful surroundings and lake views, but power boating and water skiing are also popular. Yachts, ferries and leisure watercraft are common sights on Windermere during the warmer months.
Windermere is considered the gate to the Lake District, and as such it sees its share of travelers. Lucky for them, there are many opportunities to stay in vacation rentals. From studio rentals to maisonettes, the real estate variety is first class. Small apartments, self-catering holiday cottages, and large pine lodges, many of which feature lake views, delight travelers who find essential modern amenities blended with historic buildings and unique touches that make for an unforgettable vacation.
Custom Lake Windermere house decor
Read our full review of these personalized lake house signs.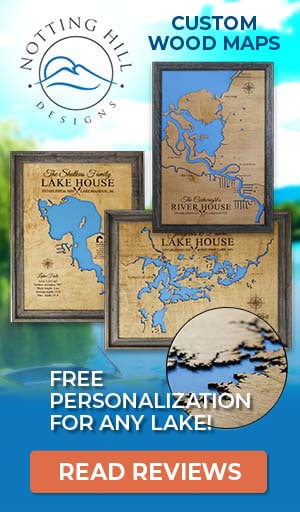 Things to do at Lake Windermere
Vacation Rentals
Fishing
Boating
Water Skiing
Hiking
Biking
Horseback Riding
Wildlife Viewing
National Park
Museum
Fish species found at Lake Windermere
Brown Trout
Char
Eel
Perch
Pike
Roach
Salmon
Trout
---
Best hotels and vacation rentals at Lake Windermere
The Lake Windermere map shown above is a simple and stress-free way to search for trip accommodations. But if you want to take a deeper dive to find the ideal waterfront home, cabin, condo, hotel or resort, visit our favorite lodging partners by clicking the buttons below.
Note: These are affiliate links so we may earn a small commission if you book through them. While there is no extra cost to you, it helps provide resources to keep our site running (thank you)! You can read our full disclosure policy here.
---
Lake Windermere photo gallery
New photos coming soon!
Lake Windermere statistics & helpful links
We strive to keep the information on LakeLubbers as accurate as possible. However, if you've found something in this article that needs updating, we'd certainly love to hear from you! Please fill out our Content Correction form.
Advertise your Lake Windermere vacation rental
LakeLubbers will soon offer homeowners and property managers the opportunity to to showcase their vacation rentals to the thousands of lake lovers searching our site daily for accommodations. If you'd like additional details, please contact our advertising team here.
Looking for the Lake Windermere forum?
LakeLubbers previously offered visitors the ability to create accounts and participate in lake forums. When we overhauled the site's content management system in 2021 we had to disable those features. We're evaluating options and welcome your comments and feedback here.
We also encourage you to join our lake-lovin' community on Facebook and Instagram!
Spread the word! Share our Lake Windermere article with your fellow Lake Lubbers!