Liberty Reservoir, Maryland, USA
Lake Locations:
USA - Mid-Atlantic - Maryland - Central -
Also known as:  Liberty Lake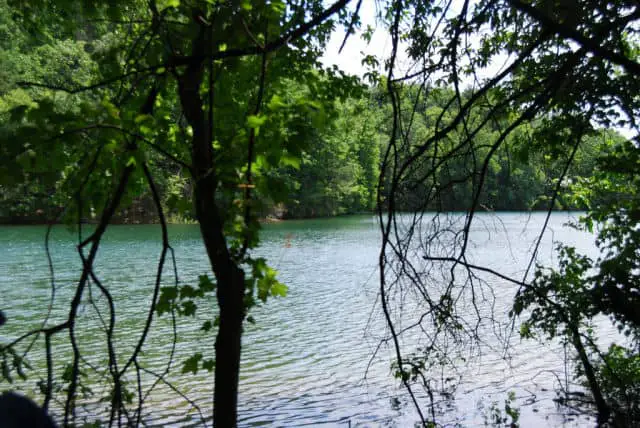 Liberty Reservoir, also known as Liberty Lake, is located in the Patapsco region of the Chesapeake Bay watershed within Maryland's Baltimore suburbs. The watershed covers portions of both Baltimore and Carroll Counties. This area was the former site of the Melville Woolen Mills. The land was purchased from the Melville family by the city of Baltimore in 1954 for use as a public water supply. At the time it was the largest land purchase in state history. When the city constructed the dam, the entire mill town, including factories, was left intact and flooded to create the reservoir. Today Liberty Lake collects water from a 163 square mile drainage area that includes eastern Carroll County and southwestern Baltimore County. Water from the reservoir flows by gravity through a 12.7-mile long, 10-foot diameter tunnel to the Ashburton Water Filtration Plant for treatment before reaching suburban Baltimore.
If you're a seasoned angler, you will appreciate Liberty Reservoir's quality of fish. If you're a beginning angler, you will love Liberty Lake because of its abundance of fish. Because the reservoir provides water to the suburbs of Baltimore, the city restricts boat propulsion to rowing, paddling, or battery-powered motors, which means the quality of the fish at Liberty is superior. The reservoir is managed for warm, cool, and cold water fish species. Largemouth Bass, Smallmouth Bass, Bluegill, Crappie, and White Perch are the most popular warm water fish. White Crappie and the Bass often reach trophy size. Striped bass were stocked between 1981 and 1984. They have been reproducing naturally since 1986, so expect to catch a variety of sizes, with some of the stocked fish now in the 40-pound range.
For the wildlife enthusiast, there's a lot to see at Liberty Reservoir. The area provides habitat for upland and forest wildlife species which include white-tailed deer, wild turkey, rabbit, squirrel, and songbirds. The area is open to archery hunting for all game species except waterfowl during the regulated hunting season established by the Maryland Wildlife and Heritage Service. Throughout the year, this area is extremely popular for hiking, bird watching, and nature photography.
If you love to explore and learn about eco-friendly environment, the Liberty Lake watershed has something for you too. The area is home to the community of Reisterstown and to the Soldiers Delight Natural Environment Area, which boasts over 39 rare, threatened, or endangered plant species, as well as rare insects, rocks and minerals. A museum and interpretive trails are open to the public. There are seven miles of marked hiking trails. Equestrians and cyclists are prohibited, due to the sensitive nature of the area, but if you're interested in a scenic walk or jog, you're in for a treat at Liberty Lake.
Liberty Reservoir is the perfect place to enjoy a peaceful afternoon of fishing or just enjoying the scenery. With this Lake's calm water and changing shoreline, you're never too young or old to enjoy Liberty Reservoir.
Things to do at Liberty Reservoir
Vacation Rentals
Fishing
Boating
Canoeing
Kayaking
Hiking
Horseback Riding
Hunting
Wildlife Viewing
Birding
Museum
Fish species found at Liberty Reservoir
Bass
Black Bass
Bluegill
Crappie
Largemouth Bass
Perch
Smallmouth Bass
Striped Bass
Sunfish
White Crappie
White Perch
---
Liberty Reservoir Photo Gallery
Liberty Reservoir Statistics & Helpful Links
Spread the word! Share our Liberty Reservoir article with your fellow Lake Lubbers!