Little Seneca Lake, Maryland, USA
Lake Locations:
USA - Mid-Atlantic - Maryland - Capital -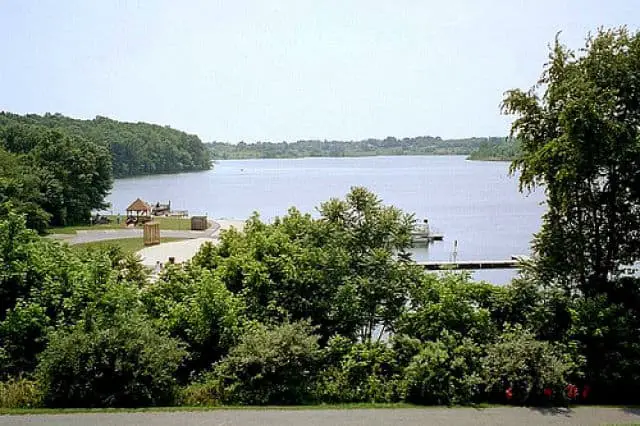 Little Seneca Lake, located near Boyds, Maryland, is the focal point of the Black Hill Regional Park and covers nearly 1/3 of its acreage. It lies in the Piedmont ecoregion, which is located between the Appalachian Mountains and the Atlantic Coastal Plain. Black Hill Regional Park is under the Maryland-National Capital Park and Planning Commission (MNCPPC), which created Little Seneca Lake in 1985 after a drought struck the Washington, D.C. area. The lake is jointly owned by the Washington Suburban Sanitary Commission (WSSC), the Washington Aquaduct, and the Fairfax County Water Authority.
Inflow to Little Seneca Lake comes from three major river channels: Tenmile Creek, Cabin Branch Creek, and Little Seneca Creek. The Little Seneca Creek watershed is a large sub-basin of the Great Seneca watershed and drains a significant portion of the western part of Montgomery County in Maryland. The stream system originates slightly south of Damascus and drains into Great Seneca Creek. The lake serves as an emergency water supply source for Metropolitan Washington D.C., yet the watershed has a mixed character of land uses, from rural areas to agricultural reserves and even commercial uses. Though the lake serves many environmental purposes, it is most well known for its boating, fishing and birding opportunities.
Little Seneca Lake is a angler's paradise. It is stocked with Tiger Muskie, Largemouth Bass, Bluegill, and Channel Catfish. Little Seneca Creek, upstream of the lake, has been designated "recreational trout waters" by the state, due to water conditions which make it suitable for an adult trout "put-and-take" population. Downstream of the Little Seneca Lake Dam, cold water discharges from the deeper part of the lake enable a "natural trout waters" designation at the confluence with the Bucklodge Branch of the lake. Rainbow and Brown Trout are found in this section, as well as a diverse cold-water community.
As far as wildlife goes, there is much to see around Little Seneca Lake. The lake is known by locals as a premiere spot to view and photograph winter waterfowl. The Ten Mile Creek watershed has a much more diverse community of macroinvertebrates than you're likely to find elsewhere, boasting many varieties of stoneflies and mayflies. In late February, if the temperatures are not too cold, winter stoneflies can be found in large numbers, flying against the banks of snow. Areas below the lake contain beaver in large quantites. Their dams can sometimes be seen reaching a height of 5 to 6 feet. Bear are a usual occurrence within the park, specifically in the Field Crest Spur Trail area. Although the wintertime highs at Little Seneca Lake are typically in the 30s, with lows in the 20s overnight, the lake is nearly as popular in winter as it is in summer.
If you're into hiking, the Little Seneca Lake area has both paved and unpaved trails and a rich history to explore. All trails are open to hikers, horseback riders and mountain cyclists. Inside the park boundaries are the sites of an old gold mine and Waters Mill. The gold mine is located near the park offices, and though it didn't produce much gold, it was used from the 1850s to the 1950s. Waters Mill dates back to 1810 and is located just off the Black Mill Trail near Little Seneca Creek, just above the lake. Other popular trails include Paw Paw Passage and Cabin Branch.
Portions of Upper Little Seneca Creek and Ten Mile Creek have been shaped by geological forces unique to this part of the County, which make it a remarkable hiking experience. A fault line runs through these creeks and the adjacent Little Bennett watershed, which has dramatically influenced the geology of the area. Summertime highs at Little Seneca Lake reach into the 80s and cool down to the 60s, extremely comfortable weather for outdoor activities. Camping is not allowed in Black Hill Regional Park; however, a short five-mile drive will take you to Little Bennett Regional Park campground, where you can enjoy a peaceful camping experience in a wooded setting.
With more than 1,800 acres to enjoy, Black Hill Regional Park and Little Seneca Lake offer such a wide variety of outdoor activities that it's impossible to experience it all in a single visit. The park hosts a variety of special events and programs throughout the year, such as twilight concerts, summer programs, canoe and kayak classes and other special events. With the region's mild summer weather and winter wildlife, the possibility of year-round enjoyment makes Little Seneca Lake an unbelievable experience for the lake lover!
Things to do at Little Seneca Lake
Fishing
Boating
Canoeing
Kayaking
Camping
Campground
Cabin Rentals
Hiking
Horseback Riding
Wildlife Viewing
Birding
Fish species found at Little Seneca Lake
Bass
Black Bass
Bluegill
Brown Trout
Catfish
Channel Catfish
Largemouth Bass
Muskellunge
Pike
Sunfish
Tiger Muskellunge
Trout
---
Little Seneca Lake Photo Gallery
Little Seneca Lake Statistics & Helpful Links
Spread the word! Share our Little Seneca Lake article with your fellow Lake Lubbers!