Loch Fyne, Scotland, United Kingdom
Lake Locations:
United Kingdom - Scotland - Central -
Also known as:  Lake Fyne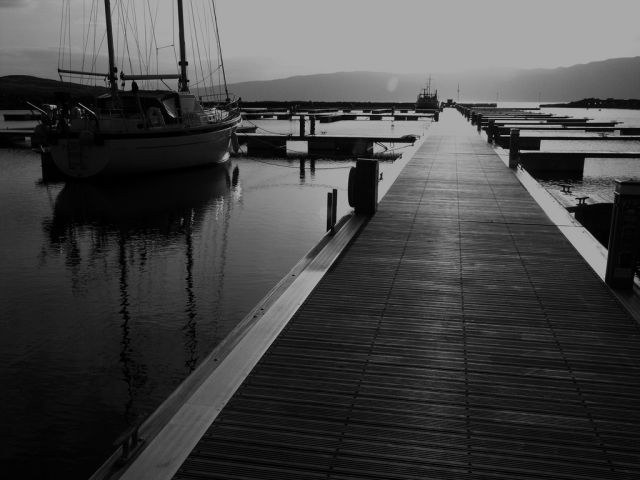 Loch Fyne is a sea loch (lake) on the west coast of Argyll and Bute, Scotland. It extends 40 miles (65 kilometers) inland from the Sound of Bute, making it the longest sea loch in Scotland. The loch is a popular body of water for sport diving, boating, and fishing and is also well known for its oysters. Loch Fyne Oysters and the associated Loch Fyne Restaurant chain, popular throughout the UK, got its start in Lock Fyne. The loch is also a favorite tourist destination with many unique attractions such as Inveraray Castle and the nearby ruins of Castle MacEwan and Castle Lachlan.
Loch Fyne is located entirely within Argyll, a beautiful, unspoiled area known for its coastal towns and ancient history. The loch is divided into two main sections – upper and lower. Upper Loch Fyne runs approximately 24 miles (39 kilometers) from Otter Spit, a large sand bar that juts across the loch from the eastern shore. Above this area, Loch Fyne is approximately one mile (1.6 kilometers) wide and drops to a depth of over 427 feet (130 meters). Two small sea lochs, Loch Gair and Loch Shira, adjoin the main loch. Lower Loch Fyne is the wider section of the loch, up to four miles (6.4 kilometers) across in spots, and is over 590 feet (180 meters) in depth. Lower Loch Fyne incorporates Loch Gilp and East Loch Tarbert. Much of the shoreline of the lower section is easily accessible from public roads.
Water-related activities on Loch Fyne include fishing, diving and sailing. Loch Fyne is particularly noted for its sea trout fishing. A pier in the town of Inveraray, towards the top of the loch, is a popular spot with sea trout anglers. A jetty in the village of Furnace is a great spot for mackerel and cod. For those who prefer boat fishing, fishing trips and boats for hire are available. Fish in Loch Fyne include cod, pollack, coalfish, conger, plaice, turbot, sea trout, mackerel and ling. Loch Fyne is also a rich feeding ground for herring which once formed vast shoals in its sheltered areas. In the past, herring fishing was the main industry in Inveraray, but in recent decades, the herring population in the loch has dwindled due to overfishing.
Dive charters are available to take divers to the calmer areas of Loch Fyne where visibility of up to 50 feet (15 meters) is possible nearly year round. The scenery both above and below water is phenomenal with many wreck sites to visit and incredible marine life to observe. As well as being the longest sea loch in Scotland, Loch Fyne also has the honor of being the deepest sea loch in Scotland. Formed by glaciers over 10,000 yeas ago, its U-shaped valley bottom reaches a maximum depth of 656 feet (200 meters). The shape of sea lochs and the climatic conditions in western Scotland combine to create unique environments which allow a variety of marine life and flora and fauna to thrive. Loch Fyne's shape creates sheltered areas away from the strong tides of the open ocean. Dolphins, seals, and basking sharks are common visitors to these calmer waters in the summer months.
For sailors, Loch Fyne is connected to the Sound of Jura by the Crinan Canal. The Sound of Jura is a beautiful stretch of water famous for its numerous islands. Boat charters are available from Crinan Harbor with cruises around the coast and water taxi service to the neighboring islands.
Tourists will find a number of interesting communities and sites around Loch Fyne. The town of Inveraray, which dates back to 1453, is a charming, lakefront town located near the top end of the loch on its western shore. Inveraray Castle is a highlight of the town. On the eastern shore, approximately four miles (6.4 kilometers) from Inveraray, are the ancient ruins of Castle Lachlan. Further south, the loch joins Loch Goil, where Lochgilphead, the administrative center of Argyll and Bute is located. Near the mouth of Loch Fyne lies Tarbert, a beautiful, sheltered harbor for sailing craft and an interesting town for sightseeing. The Tarbert Folk Festival, held annually in mid-September, is a well known even in Argyll. There are also many fine dining establishments, a golf course and some excellent walking trails in the area. No holiday to Loch Fyne would be complete without a visit to the birth place of Loch Fyne Oysters which has a restaurant, gift shop and garden center. The village of Portavadie, on the eastern shore of the loch, is a stop for a passenger ferry which travels the loch and connected waterways.
The hills surrounding Loch Fyne provide some excellent hiking trails and wildlife viewing opportunities, and larger munroes or mountains of the Central and Western Highlands are just a short drive away. Forest trails and picnic areas can be found in the wooded sections above Ardrishaig which offer beautiful views of the loch. Towpaths can be found along the Crinan Canal and for those who enjoy the beach, there are many public beaches in the coastal towns along the southern shores of the loch. In 2006, the Kintyre Way was completed which is a 103 mile (1,065 kilometer) scenic trail beginning in Tarbert and ending in Southend.
Loch Fyne boasts numerous types of accommodations to include high-quality hotels, guest houses, bed & breakfasts, self-catering holiday cottages, caravans and camping. The town of Inveraray is a favorite for vacation rentals and real estate. All towns along the shoreline of the loch cater to visitors and feature specialty shops, art galleries and much to see and do.
Whether your interest in Loch Fyne is to catch fish, sail sheltered harbors, dive in crystal clear water, explore castles, or just savor the abundance of nature along unspoiled shores, you're sure to leave with a lasting memory for years to come.
Things to do at Loch Fyne
Vacation Rentals
Fishing
Boating
Sailing
Swimming
Beach
Golf
Camping
Picnicking
Hiking
Wildlife Viewing
Ruins
Fish species found at Loch Fyne
---
Loch Fyne Statistics & Helpful Links
Spread the word! Share our Loch Fyne article with your fellow Lake Lubbers!