Loch Rannoch, Scotland, United Kingdom
Welcome to the ultimate guide for history, statistics, local fun facts and the best things to do at Loch Rannoch.
If you're considering Loch Rannoch vacation rentals, we've made it super easy to explore accommodations and nearby hotels using the interactive map below. Simply click on a listing to compare similar properties, best rates and availability for your dates. Or keep scrolling to read our Loch Rannoch guide!
Loch Rannoch visitor and community guide
Nestled in the Perth and Kinross region of the Scottish Highlands, Loch Rannoch is a glacial freshwater lake often considered to be the most beautiful place in Scotland. Located near the center of Scotland, the lake is convenient to Scots and appealing to travelers from abroad. Loch Rannoch is a long, narrow lake, about 9 miles long west to east, with an average width of less than a mile. One site of interest on the lake itself is the crannog located at its western shallow end. Loch Rannoch's crannog, a small artificial island made of wood and stone, is an ancient structure built hundreds of years ago. The crannog has a small decorative building on it, known as a folly. These structures are common in Ireland and Scotland, but seeing ruins of ancient buildings and remnants of history is fascinating nonetheless.
Roads along the north and south shores border the lake, with the village of Kinloch Rannoch within walking distance of the lake at its eastern end. The small village serves as a tourist center and meeting place for those interested in abundant outdoor recreation opportunities. The remote area has a small population, with most local residents involved in the industry of tourism, forestry, or agriculture. Travelers will find hotels, pubs, shopping, and great local restaurants in Kinloch Rannoch, along with cheerful business owners who are happy to showcase their goods and services. Visitors planning to dine in any of the local establishments or shop at a particular time are advised to call ahead. The secluded location and varying amounts of business and clientele allow some businesses to keep irregular hours. To the north of Kinloch Rannoch are the remains of the village Killichonan, a former community of the MacGregor clan. An extensive walled graveyard identifying many members of the clan is still in place. The waters of Loch Rannoch are visible in the distance from the Killichonan cemetery. Only a few farming homesteads and a power station remain active in the area.
The waters of Loch Rannoch are a draw to those who enjoy sport fishing from shore or by boat, and the lake is legendary for the very large brown trout caught in it. Arctic char and pike also are plentiful. The area is also known for its wildlife, from peregrine falcons and deer to pine martens and red squirrels. Biking and strolling along the lake are excellent opportunities for seeing the local fauna in their naturally beautiful surroundings. Cycling is a pleasure on the 22-mile (35-kilometer) road that encircles the lake; the ground is flat and experiences low traffic, so riders can fully appreciate their surroundings. Traveling along the north shore, which is known as the Side of Gentle Slopes, cyclists often stop for a rest or a picnic on one of the sandy beaches found there. The whole north side is a peaceful escape, featuring wild heather-covered hills, birch woods and pristine fields and views. The lake is also known for rafting, canoeing, kayaking, motor boating, sailing and windsurfing. Much of the lake is calm, but it does have large areas of rough water that make whitewater rafting a popular sport. The area is also brimming with popular land-based pastimes: walking the hills, hiking, backpacking, orienteering, archery, mountain climbing, rock climbing, bird watching, horseback riding and golf.
Much of the area surrounding Loch Rannoch is beautiful wild country, with Tay Forest Park found on the southern side (the largest vestige of the ancient Caledonian Forest and an excellent area for strolling) and Rannoch Moor to the west (a 50-square-mile National Heritage site). Unfortunately, deforestation has taken its toll in the area, as it has in much of the Scottish Highlands. Efforts to revitalize the area's forests are underway.
To the southeast of the lake, the skyline is etched with the outline of Schiehallion, a 3,552-foot (1,082.6-meter) high mountain. This Munro–a Scottish term for mountains that exceed 3,000 feet–is a gorgeous backdrop to the village of Kinloch Rannoch, its distinctive profile seen from a distance in all directions. With its location near the very center of the country, it's a well-known landmark.
The views are typical for the Highland Perthshire: Rugged mountains surround all sides but the east. On the eastern end, the Rannoch Power Station was built, and became the first to be automated in Scotland in 1953 and a tourist attraction in its own right. The ribbon lake runs west to east, with the River Tummel originating just past the dammed end of the lake. Scottish and Southern Energy currently runs the power station operation and controls the dam's outflow. The power station is one of nine built along the River Tummel hydroelectric route. With its heavy annual rainfall, this power system generates a significant amount of energy for use throughout the area.
Although Loch Rannoch is remote, it's also only 50 miles (80.5 kilometers) from Perth to the southeast, 13 miles (20.9 kilometers) from Loch Tay to the south, less than 20 miles (32.2 kilometers) to either Pitlochry or Blair Castle, and less than 86 miles (138.4 kilometers) to Edinburgh. The lake is a secluded jewel worth the trip to experience all it has to offer. Rannoch Station, the rail connection to the rest of the country, is the most remote train depot in Great Britain, but it serves well to take visitors to nearby centers of shopping, as well as other sightseeing destinations and entertainment, including visiting historic castles, lush gardens, theaters, art galleries and museums.
For rail travelers, the West Highland Railway Line, which is thought to travel along the most scenic routes in the world, connects the area near Loch Rannoch to the rest of Scotland, making rail travel to the area a very tranquil experience with stunning views. The road along the lake runs west through the hamlet of Camghouran, a very beautiful little spot, and then continues exclusively to reach the Rannoch Station, where it terminates.
Despite being embedded deep in the Scottish Highlands, travelers will be delighted to find many fine vacation rental opportunities in the region. Hotels and resorts are available, but the true flavor of the countryside is experienced when opting to stay in a wonderful stone cottage holiday rental that has been updated with modern amenities. Although the exterior may suggest a previous era, many of these self-catering holiday homes are very contemporary within and offer an unforgettable travel and vacation experience. Varying from small one-bedroom cottages to large stone lodge accommodations meant for larger groups, travelers looking for the right place to spend their downtime on vacation–or their years of adventure in retirement–are certain to find the perfect piece of real estate in Northwest Perthshire in the Scottish Highlands.
Custom Loch Rannoch house decor
Read our full review of these personalized lake house signs.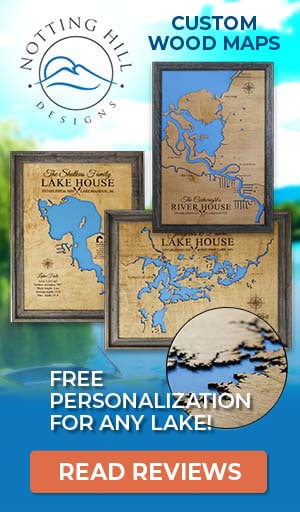 Things to do at Loch Rannoch
Vacation Rentals
Fishing
Boating
Sailing
Swimming
Beach
Canoeing
Kayaking
Whitewater Rafting
Golf
Picnicking
Hiking
Mountain Climbing
Rock Climbing
Biking
Horseback Riding
Wildlife Viewing
Birding
Museum
Ruins
Shopping
Fish species found at Loch Rannoch
---
Best hotels and vacation rentals at Loch Rannoch
The Loch Rannoch map shown above is a simple and stress-free way to search for trip accommodations. But if you want to take a deeper dive to find the ideal waterfront home, cabin, condo, hotel or resort, visit our favorite lodging partners by clicking the buttons below.
Note: These are affiliate links so we may earn a small commission if you book through them. While there is no extra cost to you, it helps provide resources to keep our site running (thank you)! You can read our full disclosure policy here.
---
Loch Rannoch photo gallery
New photos coming soon!
Loch Rannoch statistics & helpful links
We strive to keep the information on LakeLubbers as accurate as possible. However, if you've found something in this article that needs updating, we'd certainly love to hear from you! Please fill out our Content Correction form.
Advertise your Loch Rannoch vacation rental
LakeLubbers will soon offer homeowners and property managers the opportunity to to showcase their vacation rentals to the thousands of lake lovers searching our site daily for accommodations. If you'd like additional details, please contact our advertising team here.
Looking for the Loch Rannoch forum?
LakeLubbers previously offered visitors the ability to create accounts and participate in lake forums. When we overhauled the site's content management system in 2021 we had to disable those features. We're evaluating options and welcome your comments and feedback here.
We also encourage you to join our lake-lovin' community on Facebook and Instagram!
Spread the word! Share our Loch Rannoch article with your fellow Lake Lubbers!