Loch Awe, Scotland, United Kingdom
Lake Locations:
United Kingdom - Scotland - Central -
Also known as:  Lake Awe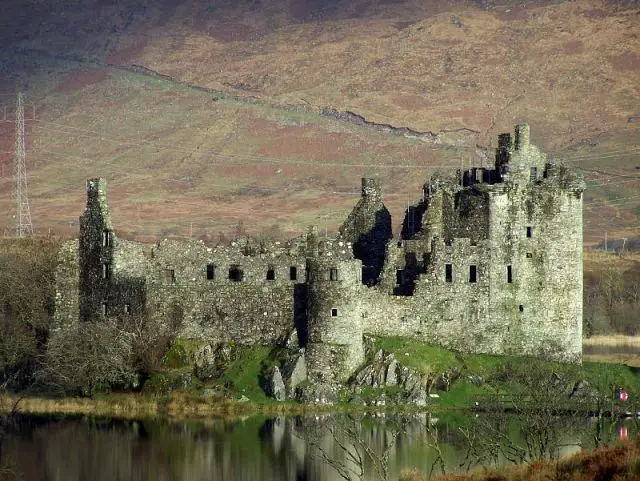 Scenic Loch Awe is located in central Scotland's Argyll and Bute Council region. Renowned for its trout fishing, the lake is a fantastic holiday getaway for anglers and also offers numerous islands, castle ruins, and open water for paddling, boating and exploring. Kilchurn Castle, one of the most photographed castles in Scotland, sits on an island at the northeastern end of Loch Awe. Unspoiled, yet easily accessible, Loch Awe and the surrounding area have much to offer.
Loch Awe, like many of the lakes in the area, is a natural freshwater lake formed by retreating West Highland glaciers nearly 10,000 years ago. As the glaciers moved across the land, an accumulation of rocks and debris at the southern end of what would become Loch Awe blocked all drainage of the route, and the pent-up water spilled along an old geological fault line through the Pass of Brander. To this day, Loch Awe drains from its northern end through the River Awe and Loch Etive to the Atlantic Ocean, rather than through its southern end and into Loch Crinan.
With a length of just over 25 miles (41 km), Loch Awe is the longest freshwater lake in Scotland with a surface area of 9,514 acres (38.5 square km). A very narrow lake with an average width of 0.62 miles (1 km), it still manages to provide 80 miles (129 km) of shoreline for the development of charming villages, sprawling estates, and magnificent mansions.
Fishing and boating are the main forms of recreation on Loch Awe. Fly fishing for brown trout is a common sight along the banks as well as trolling in the deep water for salmon. Salmon pass through the lake, making their way past the barrage in the River Awe and continuing on to the River Orchy. Rainbow trout escapees from fish farms in the area can also be found in the lake, but are considered a threat to the wild brown trout population, and not popular with local anglers. In 2002, a nearly 32 pound (11.94 kg) brown trout was caught in Lock Awe, setting a new British record. Char, perch, and pike also make their home in the lake. The current record for pike in Loch Awe stands at 35.5 lbs (13.3kg). Pike fishing is open year round and can provide some excellent winter fishing excitement. Boat rentals are available from marinas on the lake and allow visitors to spend an enjoyable day fishing or exploring Loch Awe`s castle ruins and fascinating islands. Many secluded beaches along the shoreline make an excellent spot for a picnic and a swim.
Visitors to Loch Awe will find accommodations and vacation rentals of all kinds in the many villages and towns around the lake. Superb hotels, charming bed and and breakfasts, comfortable guesthouses and wonderful lakefront and lake view self-catering options in the form of holiday cottages, farm houses, flats, and chalets abound. Caravan, camping parks, and motor home rentals can also be found in the area.
For the outdoor enthusiast, Loch Awe and the surrounding area offer hiking, cycling, climbing, pony trekking, shooting, golfing and wildlife watching opportunities. Bicycles can be rented from many of the larger villages. The castle ruins are a big attraction to the area. Four castles, including the famous Kilchurn Castle, dot the islands and shoreline. Kilchurn Castle was built around 1437 and is an absolute must visit. The castle sits on an island in the northeastern end of Loch Awe and can be visited in the summer months by boat or by a half mile (805 m) walk from a small park near the River Orchy.
The villages around Loch Awe make a great base for touring the many rivers, lochs, mountains, glens and local attractions. Distillery tours; loch cruises; the gardens of Benmore, Arduaine and Crarae; the West Argyll Forest District; the Beinn Cruachan and Ben Lui mountains, the city of Oban – the seafood capital of Scotland and the gateway to the Isles where ferries sail to Mull, Iona, Staffa and Colonsay Invervary Castle and jail; Glencoe; Loch Tay; the village of Loch Awe (or Lochawe); and Kintyre are all within an easy drive. A scenic drive around the perimeter of Loch Awe provides for an unforgettable day.
Loch Awe is also the site of two hydroelectric projects. A conventional turbine power station, created by damming the River Awe in the Pass of Brander, creates electricity as water flows through underground pipes on its way to Loch Etive. A second more unusual pumped storage project uses a man-made loch in the Cruachan mountains above Lock Awe. Water is pumped up the hill during times of surplus power and used to power generators at times of peak demand. The project is known as the Cruachan Hollow Mountain Power Station and has a visitor center which includes tours into the heart of the mountain.
There are always plenty of things to see and do at Loch Awe, no matter what time of year you visit. Venture inside a hollow mountain, relax on the beach, cruise the tranquil water of the lake, play a round of golf, take a walk through the forest, or visit a beautiful garden. Loch Awe, may be famous for its great fishing, but non-anglers find the area to be paradise as well.
Things to do at Loch Awe
Vacation Rentals
Fishing
Boating
Sailing
Swimming
Beach
Canoeing
Kayaking
Golf
Camping
Picnicking
Hiking
Biking
Wildlife Viewing
Ruins
Fish species found at Loch Awe
Brown Trout
Char
Perch
Pike
Rainbow Trout
Salmon
Trout
---
Loch Awe Statistics & Helpful Links
Spread the word! Share our Loch Awe article with your fellow Lake Lubbers!