Leech Lake, Minnesota, USA
Lake Locations:
USA - Midwest - Minnesota - Northwest -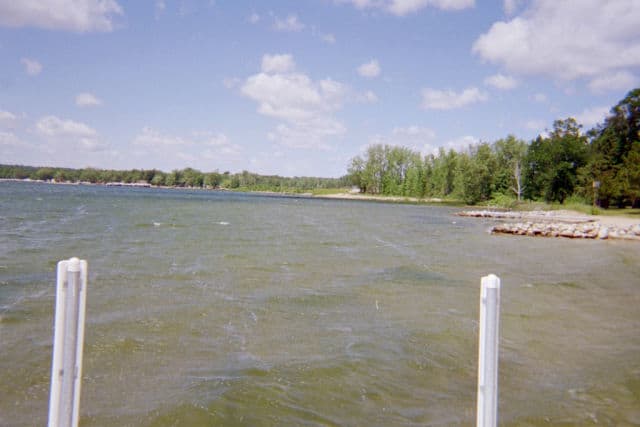 With over 120,000 acres of water and 316 miles of shoreline, Leech Lake is the third largest lake located entirely in Minnesota, the "Land of 10,000 Lakes". Leech Lake is nestled in the Northwest Region of Minnesota in Cass County with most of its boundaries in the Chippewa National Forest and the Leech Lake Indian Reservation. Not only is Leech Lake a nationally recognized game fish lake, it is also a recreational paradise. There is so much to do at Leech Lake that visitors will want to come time and time again.
It is believed that over thousands of years ago a melting glacier formed the basin of Leech Lake. In 1882 the US Army Corps of Engineers started the construction on Leech Lake Dam along the Leech Lake River. The Headwater Reservoir project was completed in 1884 causing the waters of Leech Lake to rise between four to seven feet, and connected several other natural lakes forming what is now Leech Lake. In the early 1900s the dam was renovated replacing the timber abutments with concrete. Lake visitors may enjoy visiting the Leech Lake Dam's original tender's house that was also built in the early 1900s. In 2002, the tender's house was relocated to a site just south of the recreation area.
Leech Lake is a great place to unwind and relax. Lakefront vacation rentals are abundant on Leech Lake as well as real estate for sale for those who would rather own their own getaway or permanent residence. Camping is also possible on Leech Lake and can be found at the Leech Lake Campground operated by the U.S. Army Corps of Engineers. Bordered by the beautiful and serene Chippewa National Forest, camping visitors may have an opportunity to view wildlife and may even spot nesting Bald Eagles. The Leech Lake Campground offers electric, non- electric, and pull-through campsites as well as a dump station.
As a national game fish lake, Leech Lake is regularly stocked by the Minnesota Department of Natural Resources. There is an abundance of Northern Pike, Bass, Walleye, Perch, Crappies, Blue Gills and Panfish. Each year a Walleye Tournament is held at Leech Lake, and many eager anglers come from all over the country to participate. In an effort to protect the quality of walleye fishery, there is a voluntary catch and release program in effect.
Although fishing is a very popular pastime at Leech Lake, there are a host of other waterside activities awaiting lake visitors. When the leaves begin to turn their autumn hues, hunters will enjoy pursuing deer, duck and grouse. Water craft enthusiasts will enjoy the vast waters of Leech Lake, whether they choose waterskiing, sailing, or boating. The Leech Lake Sailing Regatta is held every August. For visitors who prefer a leisurely stroll or brisk hike will enjoy having the choice of two paved trail systems, the Heartland Trail and the Paul Bunyan Trail. These trails offer areas for biking, hiking, cycling, and in-line skating.
With Leech Lake being located in the colder northern climate of the United States, lake visitors will have ample opportunity for winter activities. With miles of trails offered by Heartland Trail and Paul Bunyan Trail systems, and the million+ acres of the Chippewa National Forest, there is ample space for snowmobiling as well as cross-country and downhill skiing. When Leech Lake freezes over, lake visitors can enjoy ice fishing.
The enormity and the woodland splendor of Leech Lake will invite lake visitors to unwind and soak in all the beauty around them. With all Leech Lake has to offer it is no wonder that visitors return time and time again. Leech Lake is a vacation destination that will not leave anyone disappointed.
Things to do at Leech Lake
Vacation Rentals
Fishing
Ice Fishing
Boating
Sailing
Water Skiing
Camping
Campground
Hiking
Biking
Downhill Skiing
Snowmobiling
Hunting
Wildlife Viewing
Birding
National Forest
Fish species found at Leech Lake
Bass
Crappie
Northern Pike
Perch
Pike
Walleye
---
Leech Lake Statistics & Helpful Links
Spread the word! Share our Leech Lake article with your fellow Lake Lubbers!