Lake Plantagenet, Minnesota, USA
Lake Locations:
USA - Midwest - Minnesota - Northwest -
Also known as:  Plantagenet Lake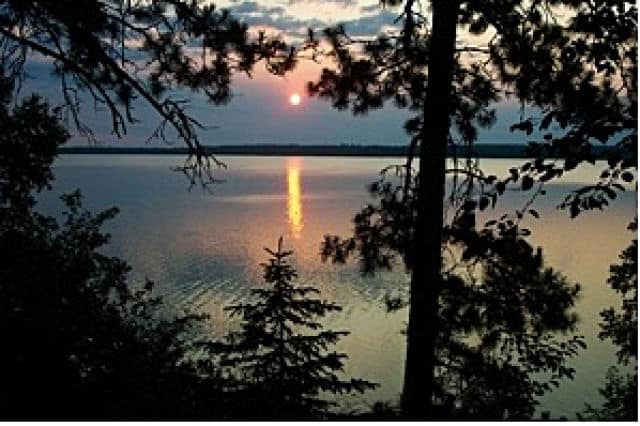 Lake Plantagenet holds a special place in the hearts of fishermen in Northwest Minnesota. Where else can you find fighting muskie with a four-foot size limit? Fish like this are enough to make avid anglers plan for months to visit Lake Plantagenet. No one appears to remember how this 2500-acre lake ended up being named for a line of English kings. Given the huge numbers of lakes in this area of the Mississippi headwaters, someone apparently decided to label the lake something more memorable than one more Loon or Rice or Cedar Lake. Only three miles southwest of Bemidji, Lake Plantagenet has become one of the most popular residential lakes in the immediate area. Nearly 65% of the shoreline is developed. Most of what remains is either wetlands or private youth camps. The heavily-wooded shoreline is dotted with upscale homes sitting far back from the water under a canopy of trees.
Most Lake Plantagenet homes have a private dock, and boating is one of the lake's prime attractions. Residents enjoy waterskiing, tubing, wakeboarding, sailing, pontooning, and powerboating. Children enjoy swimming and diving from platform docks. Canoes, kayaks, and paddleboats cruise the shoreline. Although several fishing resorts once lined the lake, today only one remains to house visiting lakelubbers. Lake Plantagenet has become residential, home to a number of year-round residents. Yet, there's still something wild and primitive about the lake. Perhaps it is the loons calling on foggy mornings, or the large numbers of birds and waterfowl who seek out the near-shore shallows, or the wide expanse of water with ever-changing hues.
Even though there are no public parks or swimming beaches on Lake Plantagenet, there are two boat access points for fishing boats. The lake hugs the border between Hubbard and Beltrami Counties, and each provides a public boat access. Under a program partially paid for by the local lake association, the boat ramps are often manned by boat inspectors who will educate visitors on invasive species. Luckily, Lake Plantagenet has so far escaped major invasion by the foreign aquatic weeds and mussels that have invaded many nearby lakes. The lake has excellent bottom structure, with several ridges, weed beds and deeper holes that give fish both forage and breeding space.
The muskellunge are undoubtedly the stars of Lake Plantagenet, although the lake also holds the state record for the largest yellow perch: three pounds, four ounces. As muskies under 48 inches can't be kept, some real whoppers await to take the properly-placed lure. Walleye, northern pike, bluegill, largemouth bass and crappie are also caught. Walleye and muskie are planted in alternating years, and the lake is used for muskie brood stock for other regional lakes. In winter, ice fishermen descend with their fishing shanties to catch the perch the lake is noted for. So many ice fishermen make Lake Plantagenet their winter destination that 'roads' are plowed on the ice in heavy snow cover to assist anglers in getting to their chosen spot.
The remaining lakeside resort rents fishing boats and cabins and provides dock space for RV visitors. Although there is no other camping area on Lake Plantagenet, nearby parks such as Lake Bemidji State Park and Itasca State Park offer campsites of every description, including camping cabins. A youth camp with separate locations for boys' camp and girls' camp has owned 700 acres along the south and east sides of Lake Plantagenet since the 1940s and still hosts hundreds of teens each year from around the country.
The Neilson Spearhead Center, owned by the Mississippi Headwaters Audubon Society, is a 460-acre nature preserve surrounding Spearhead Lake, just west of Lake Plantagenet. Black bear, white-tailed deer, otter, fisher, flying squirrels, and even an occasional wolf inhabit the preserve. Bird life flourishes year around, with numerous species of woodland warblers, thrushes, nesting loons and osprey, as well as great blue herons, wood ducks, and other species of waterfowl seen in various seasons. Dozens of other lakes, mostly smaller, dot both Hubbard and Beltrami Counties. Sections of the Chippewa National Forest and several state forests offer public lands for hiking and nature viewing within ten miles of Lake Plantagenet.
The Schoolcraft River, small and nearly impassable here, flows into and out of Lake Plantagenet. Farther north the Schoolcraft is a favorite for canoeing and kayaking. The Mississippi River flows through the town of Bemidji at the south end of Lake Bemidji. It was this waterway that led early loggers and settlers to the region. Because of its central location near both the river and later railways, Bemidji grew into one of northern Minnesota's most popular small cities. The city now hosts Bemidji State University and Northwest Technical College. The Headwaters School of Music and The Arts and the Headwaters Science Center offer activities for children and adults.
Many seasonal activities are offered either in or near Bemidji, such as covered wagon rides, sleigh rides, powwows, winery and woolen mill factory tours, Bemidji Speedway's quarter-mile dirt track stock car racing, and a number of activities dedicated to north woods logger folk hero, Paul Bunyan and his fabled ox, Blue. Quaint shops, music venues, farmers' markets, bed-and-breakfasts, fishing resorts and eateries are plentiful in the area, and lodgings are easily reserved. There are a numbers of hiking, biking, cross-country and snowmobile trails in the area that connect to the entire extensive Minnesota trail system.
Real estate on Lake Plantagenet lakefront is often available and takes little more than a call to any local realtor to locate. Private owners often rent their cottages by the week or the month. More conventional lodgings can be found in the Bemidji area, and small lakefront motels can be found on many surrounding lakes. Many lodging choices are available year-round, and winter festivals and snowmobiling will keep winter visitors entertained when the perch aren't biting. The Lake Plantagenet area has plenty of offer all ages. Come spend a weekend or a week discovering the Bemidji area and its famous waters.
Things to do at Lake Plantagenet
Vacation Rentals
Fishing
Boating
Sailing
Swimming
Beach
Canoeing
Kayaking
Water Skiing
Wakeboarding
Tubing
Camping
Cabin Rentals
Hiking
Biking
Snowmobiling
Wildlife Viewing
Birding
State Park
State Forest
National Forest
Fish species found at Lake Plantagenet
Bass
Black Bass
Bluegill
Crappie
Largemouth Bass
Muskellunge
Northern Pike
Perch
Pike
Sunfish
Walleye
Yellow Perch
---
Lake Plantagenet Photo Gallery
Lake Plantagenet Statistics & Helpful Links
Spread the word! Share our Lake Plantagenet article with your fellow Lake Lubbers!