Buttermere, England, United Kingdom
Lake Locations:
United Kingdom - England - England's Northwest -
Also known as:  The Lake District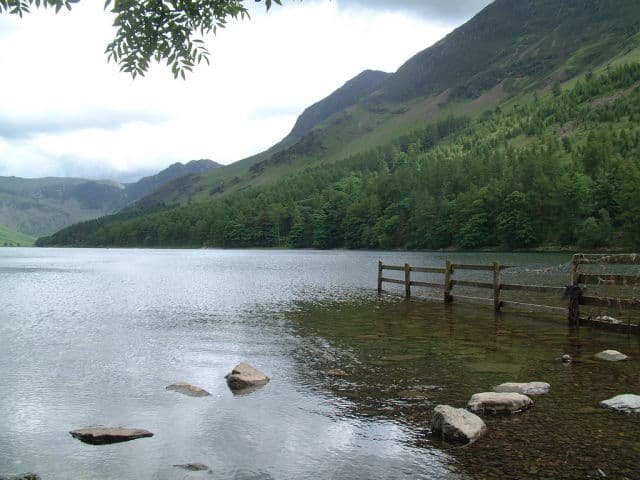 Located among the western lakes in England's Lake District, ruggedly beautiful Buttermere is one of a chain of three spectacular lakes. Running from northwest to southeast, Loweswater (148 acres), Crummock Water (618 acres) and Buttermere (222 acres) provide some of Lakeland's most stunning scenes of green meadows, sparkling lakes and towering fells (mountains). Owned by The National Trust, Buttermere property is protected along with "Wild Ennerdale" south of the fells to preserve and reestablish a "wilder landscape."
An elevated view of Buttermere now displays two glacial lakes where there once was one. A beautiful green alluvial plain separates Buttermere's three-mile shoreline from adjoining Crummock Water. Mountain streams that carried sediment to the green fields still provide inflow to the lakes. At the north end of Buttermere, outflow is carried to Crummock Water by a stream named Buttermere Dubs. From the north end of Crummock Water, River Cocker flows on to Loweswater and the River Derwent. Crummock Water's source also comes from 170-foot Scale Force (waterfall), the tallest waterfall in Cumbria County's Lake District National Park and a short hike from Buttermere.
There are two theories on the naming of Buttermere. The deep green pastures and grazing land make it reasonable to assume that the name may be a translation of the Old English "butere mere" or "lake by the diary pastures." However, local tradition holds that the name came from an 11th century Norse chieftan named "Buthar" creating the name "Buthar's mere."
The quiet valley that stretches from Buttermere to Loweswater includes the three villages of Buttersmere, Loweswater and Lorton. Each village offers its own slice of British history from 12th and 17th century churches to historic local pubs. As visitors cross the countryside they will hear many tales. At the southeast end of Crummock Water, Rannerdale Knots, a low-lying hill, is said to be the site of England's last stand against the 11th century Norman Conquest. Recounted in a book titled "The Maid of Buttermere," a resident named Mary Robinson and daughter of a local innkeeper married a 'gentleman' posing as the brother of an English Earl. When the imposter's true identity was discovered, the gentleman was hanged and Mary happily returned to marry a local farmer. Cockermouth, the community lying north of Loweswater, is remembered as the home of Bounty mutineer, Fletcher Christian, and the birthplace of William and Dorothy Wordsworth. Alfred Wainwright, an avid hiker and author of multiple guidebooks to the Lake District, considered Buttermere and surrounding fells to be among the most scenic in the Lake District. Upon his passing his ashes were spread on Haystacks summit.
The combination of lakes and mountains makes hiking the number one attraction. A four-mile path circles Buttermere's shoreline with refreshments, views of working farms, and historic inns found along the way. Hikers, wildlife enthusiasts, and birders will enjoy the wide variety of wildlife native to Buttermere valley. A woodpecker, nut hatcher, cuckoo, yellow hammer, crested greeb and occasional golden eagle may be seen flying past Buttermere. While on the trail keep an eye out for glimpses of red squirrel, deer, fox, badger and resident otter family.
Ideal for the serious hiker, the small chain of lakes is surrounded by rugged and imposing ranges of fells crossed with challenging walking paths. Fleetwith Pike (2,126 feet) rises over Buttermere. Haystacks, one of the more moderate climbs at 1,959 feet, rises over Buttermere with spectacular views and small tarns and marshlands at its summit. High Stile (2,648 feet) sits to the southwest, Robinson (2,417 feet) to the northeast, and located to the northwest, Grasmoor (2,795 feet) is noted for its dramatically steep western slope.
The National Trust controls both boating and fishing on Buttermere. No motor craft are permitted on the lake but a small number of rowboats are available for hire. While the 75-foot depths are not known for exceptional fishing, anglers will still enjoy remarkable scenery while quietly fishing the waters for Arctic char, brown trout, pike, perch, eel and salmon.
When visitors are ready for a change from lake scenery to forest scenery, Whinlatter, England's "only true mountain forest," lies less than 10 miles northeast of Buttermere. Covering almost 3,000 acres, mountain elevations reach 328 to 2,591 feet, providing views that span the northwestern Lake District into Scotland. Activities within the forest were built with family holidays in mind. Walking trails for all ages and all levels of mobility lead into the forest. Mountain bike trails are available, and for the more adventurous the "Go Ape!" area provides a close-up forest adventure through the use of zip lines, rope bridges and swings. Picnic sites, educational programs, and visitor center are available for those who choose not to "go ape."
The stunning beauty and peaceful solitude of Buttermere, Crummock Water and Loweswater make the perfect back-to-nature escape. Accommodations located in surrounding country villages take you to a place where time slows and treasured family moments can be savored. While Buttermere's real estate properties are rare, holiday rentals, self catering cottages, country inns and bed & breakfasts (B&Bs) are waiting for your reservation. Holiday accommodations come complete with spectacular mountain scenery, sparkling lakes and hiking trails only minutes away. The only thing missing is you.
Things to do at Buttermere
Vacation Rentals
Fishing
Boating
Picnicking
Hiking
Waterfall
Wildlife Viewing
Birding
National Park
Fish species found at Buttermere
Brown Trout
Char
Eel
Perch
Pike
Salmon
Trout
---
Buttermere Statistics & Helpful Links
We strive to keep the information on LakeLubbers as accurate as possible. However, if you've found something in this article that needs updating, we'd certainly love to hear from you! Please fill out our Content Correction form.
Spread the word! Share our Buttermere article with your fellow Lake Lubbers!