Coniston Water, England, United Kingdom
Also known as:  Conison Lake, Coniston, Thurston Water, The Lake District
Welcome to the ultimate guide for history, statistics, local fun facts and the best things to do at Coniston Water.
If you're considering Coniston Water vacation rentals, we've made it super easy to explore accommodations and nearby hotels using the interactive map below. Simply click on a listing to compare similar properties, best rates and availability for your dates. Or keep scrolling to read our Coniston Water guide!
Coniston Water visitor and community guide
Coniston Water is in England's Lake District, its spectacular landscapes making it an impressive tourist attraction in its own right. However, Coniston Water has an infamous history that makes it an even more interesting holiday location: Several water-based speed records were set and broken here during the 20th century. Most notably, Sir Malcolm Campbell set a speed record in 1939 in his Bluebird K4 speedboat. Campbell's son, Donald, also set his own records during the late 1950s in his Bluebird K7, a hydroplane. In 1967, Donald Campbell tried to beat his own record, which he did–and then lost control of his hydroplane and crashed. He died during the accident and his body was not recovered until 2001, when both his remains and the Bluebird K7 were raised from Coniston Water.
Coniston Water, which is a glacial ribbon lake 5 miles (8 kilometers) long and 0.5 miles (800 meters) wide in Cumbria, England, is one of 80 bodies of water in the Lake District, located in Lake District National Park. Coniston Water is in the top five in overall lake size in the Lake District, which is found entirely in Cumbria in northwest England, one of the few mountainous regions.
Coniston Water, which was also referred to as Thurston Water until the Victorian age, has had other moments in the spotlight. "Swallows and Amazons," a beloved children's book by Arthur Ransome, was written with Coniston Water as its setting. John Ruskin, a 19th-century artist and poet, owned a home on the lake's east shore. Brantwood, as its known, was built in what's considered to be the best location for lake views on Coniston Water. Brantwood is now a well-maintained museum dedicated to Ruskin, his life and possessions and his influence on social thinking.
The lake contains plentiful species of fish, which inspire many anglers to travel here for holidays. Trout, char, perch, eel and large pike are all on the checklist for this lake. For fishing on the water, a boating rental center is situated close to Coniston village. The large lake contains only five islands, which may be one of the reasons it is popular for speedboating–a lack of obstacles to avoid.
An 1859 steam yacht makes scheduled trips around the northern section of the lake. This yacht takes up to 86 passengers per cruise, all of which can experience the Victorian opulence of the boat's decor and construction, inside and out. This boat is called the Gondola; it blends the look of the Venetian gondola with the technology of the Victorian era–steam engines. Although this vessel was in action on Coniston Water from its debut until the 1960s, it was seriously damaged during a storm in that decade. Eventually it was renovated and rededicated in 1980, and has been in operation every year since.
Coniston village is a small village that was once centered on the mining industry, which has since become defunct. The village, at the foot of the Old Man of Coniston, has become in recent years a center for hikers and mountain climbers. Lodging is available there, including bed and breakfasts, inns and holiday homes. Shops and restaurants make it a true vacation village for those staying the area. West of the village of Coniston is the Old Man of Coniston, the tallest member of the Coniston Fells group at 2,635 feet (803 meters). Travelers flock to this natural observation viewpoint, which has incredible panoramic views at its peak. On the ground near Coniston Water, the Old Man of Coniston draws the eye as it dominates the area. It is an impressive sight and conveys stoic beauty.
Amateur archaeologists and biologists also visit the area around Coniston Water. Copper mines and stone and slate quarries once thrived here, especially in the land between the water's edge and the Old Man of Coniston. Trilobites and brachiopods are some common fossils that seekers sometimes find in the region, so collectors frequent the area. Bronze Age tools and remains have been found in the area near the copper mines, so there is always the possibility of finding something of real interest and importance that lures fossil and treasure hunters to the old quarries and mines. There is evidence that copper was mined in the vicinity as early as Roman times.
Swimming and diving in Coniston Water are always popular in the warmer months. Canoeing, kayaking and abseiling (rappelling) are some other boating activities that bring out families who are looking for relaxation and fun. Mountain biking and cycling the trails allow the riders to see more of the area than walking does, and the diverse levels of riding difficulty offer something for everyone. Pony trekking is enjoyed here, as is horse riding, camping, caravanning, orienteering and–for the truly brave–gorge climbing.
East of the lake is Grizedale Forest. This area is also known for its majestic views and breathtaking scenery. Indeed, the whole area around Coniston Water is picturesque, with meandering streams, babbling brooks, wooded hillsides and fields of wildflowers in the summer months. Tarn Hows, only a short walk northeast of Coniston, is sought after for its lovely walks along the water's edge, as well as its spectacular views of rolling mountains. In 1965, this artificial lake was named a Site of Scientific Interest in the United Kingdom. Beatrix Potter once owned the land on which this tarn is found; the National Trust manages the area today and has been making improvements in order to encourage tourism without damaging the natural surroundings. Those looking for a challenging climb are drawn to Dow Crag. This vertical wall is 600 feet (183 meters) high and engages many fearless and tenacious climbers every year.
Bungalows, apartments, self-catering cottages, single-family homes and renovated villas are all available for vacation rentals for the individual, couple, family or group looking to book accommodations in this area. Whether travelers prefer a lakeside cottage in the hub of activity or a rustic log cabin in a quiet wooded area, their wishes can be granted in this lovely area surrounding Coniston Water.
Custom Coniston Water house decor
Read our full review of these personalized lake house signs.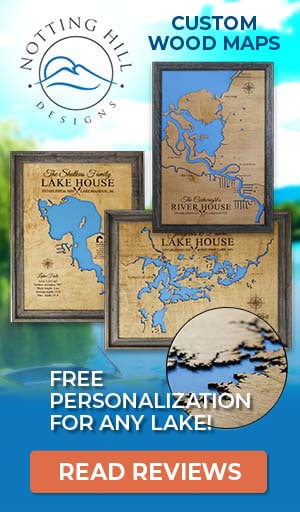 Things to do at Coniston Water
Vacation Rentals
Fishing
Boating
Swimming
Canoeing
Kayaking
Camping
Cabin Rentals
Hiking
Mountain Climbing
Biking
Horseback Riding
Hunting
National Park
Museum
Fish species found at Coniston Water
---
Best hotels and vacation rentals at Coniston Water
The Coniston Water map shown above is a simple and stress-free way to search for trip accommodations. But if you want to take a deeper dive to find the ideal waterfront home, cabin, condo, hotel or resort, visit our favorite lodging partners by clicking the buttons below.
Note: These are affiliate links so we may earn a small commission if you book through them. While there is no extra cost to you, it helps provide resources to keep our site running (thank you)! You can read our full disclosure policy here.
---
Coniston Water photo gallery
New photos coming soon!
Coniston Water statistics & helpful links
We strive to keep the information on LakeLubbers as accurate as possible. However, if you've found something in this article that needs updating, we'd certainly love to hear from you! Please fill out our Content Correction form.
Advertise your Coniston Water vacation rental
LakeLubbers will soon offer homeowners and property managers the opportunity to to showcase their vacation rentals to the thousands of lake lovers searching our site daily for accommodations. If you'd like additional details, please contact our advertising team here.
Looking for the Coniston Water forum?
LakeLubbers previously offered visitors the ability to create accounts and participate in lake forums. When we overhauled the site's content management system in 2021 we had to disable those features. We're evaluating options and welcome your comments and feedback here.
We also encourage you to join our lake-lovin' community on Facebook and Instagram!
Spread the word! Share our Coniston Water article with your fellow Lake Lubbers!