Lake Wildwood, Illinois, USA
Lake Locations:
USA - Midwest - Illinois - Central -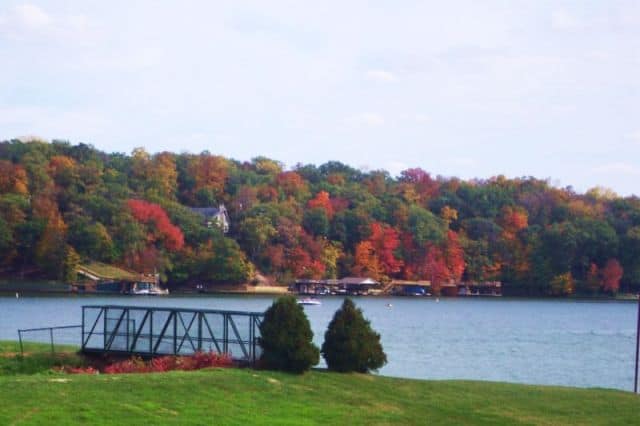 Build it and they will come' is the true story behind Lake Wildwood in Central Illinois. As the population grew in the 1960s and 1970s, developers found a willing market for new lakefront developments. A new lake on the mostly lake-less prairie southwest of Chicago would be a welcome attraction to city-dwellers wanting a place to get away from the urban hustle-and-bustle. A dam was built across small Shaw Creek in a natural depression, and Lake Wildwood was born. Although Lake Wildwood shares the Varna, Illinois zip code, the lake's population soon outgrew the small village of Varna, with over 400 residences among the development's 1400 acres.
Lake Wildwood is a planned community governed by a property owners' association which oversees all aspects of living at the lake. The 220-acre lake is open to all residents and their guests, with the association maintaining two sandy beaches with lifeguards for residents who don't own waterfront property. All members pay dues to the association which cover such things as five boat launch ramps, an outdoor pool, tennis, volleyball and basketball courts, marina, golf practice range, fish cleaning facility, hiking trails and a lodge for group activities.
Lake Wildwood is an all-sports lake; members can enjoy water skiing, tubing, personal watercraft and pontooning. A second lake on the property, 18-acre Lake Tanglewood, is strictly a fishing and paddle-sports lake: only electric motors are allowed. Lake Tanglewood is small enough that it usually freezes over in winter, allowing for ice fishing. Unusual for lake developments, Lake Wildwood offers a private campground for residents to enjoy near Lake Tanglewood. This feature is extremely popular; residents must often wait their turn to enjoy a few nights under the stars in the full-service campground or the more primitive camp area.
In keeping with the 'get-away' ambiance at Lake Wildwood, fishing is a popular activity. The Association regularly works to improve fish habitat and stocks the lake according to surveyed needs. Anglers pursue largemouth bass, smallmouth bass, walleye, crappie, bluegill,sunfish, channel catfish, white bass, bullhead, carp, flathead catfish, hybrid striped bass, muskie and northern pike. The many coves shelter fishermen and paddle sport enthusiasts from the busier main body of the lake. The marina rents boat slips and sells bait, snacks and convenience foods.
Non-fishermen enjoy having the three-hole practice range nearby to work on improving their golf game, and nature lovers enjoy marked trails and the quiet park areas left in their natural state for the enjoyment of the residents. The quiet streets are ideal for walkers and bicycles. Golf carts shuttle those with limited mobility around the neighborhoods. The entire development is well-treed, and the many areas left undeveloped make it a natural wildlife refuge. Nature lovers often observe wild turkey, fox, hawks, pheasants, deer, owls, geese, ducks, great blue herons, bluebirds, raccoons, coyotes and other native species. Wildflowers and mushrooms are also abundant. Every spring, the National Audubon Society goes to Lake Wildwood to do a bird count. Several rare birds, including eagles, have been spotted.
A sense of community is fostered by Association-planned seasonal events such as Easter egg hunts, picnics, fishing derbies, 4th of July fireworks, dances, swim parties, potlucks, Christmas party and fish fry. Arrowhead Lodge is the location for many Association events, and is also available for private member parties. With all of these amenities, it is hard to imagine anyone would want to leave Lake Wildwood. But residents often make the trip to nearby historic Henry on the Illinois River to enjoy old-fashioned ice cream socials, or to Peoria for the Waterfront Festival or to try their luck at the riverboat casino. A number of small towns within 15 miles offer golf courses, movies, restaurants and festivals. Farm markets and antique shops are found throughout the area.
Property owners at Lake Wildwood are a mix of seasonal and year-round residents. Only a couple of hours southwest of Chicago, Lake Wildwood is ideal for the weekend getaway, but many find the lake an ideal place to retire. Those who make the lake their permanent home enjoy the many recreational opportunities in the surrounding area. Boating enthusiasts enjoy boating on the Illinois River, with public launch sites at Lacon, only 15 minutes away. Public docks at Peoria to the south and Henry to the north assure boaters easy access to these river towns. Farther upriver, the spectacular sandstone bluffs of Starved Rock near Utica provide photographic opportunities unmatched anywhere in the region. Starved Rock State Park draws many visitors who enjoy exploring the unique geology along the Illinois River. Waterfalls and 18 canyons carved out of the sandstone bluffs by glaciers and stream erosion make the scenic area very popular with hikers and nature lovers. Marshall State Fish and Wildlife Area nearer to Lake Wildwood offers miles of Illinois backwater habitat popular with bird watchers and hunters in season. Both areas offer campgrounds.
Vacation lodgings at Lake Wildwood are few and far between. Occasionally the lucky visitor may find a private cottage available for seasonal rental. Real estate sales are more numerous, both existing homes and property that can be developed. The gated community is entirely private with no public access, and one must be a 'guest' of a property owner to reach the water. Those lucky enough to be invited here soon find themselves searching the real estate advertisements looking to buy, because Lake Wildwood has developed into the perfect getaway place to call home. You need to come here to experience it!
Things to do at Lake Wildwood IL
Vacation Rentals
Fishing
Ice Fishing
Boating
Swimming
Beach
Water Skiing
Tubing
Golf
Tennis
Camping
Campground
Picnicking
Hiking
Biking
Hunting
Waterfall
Wildlife Viewing
Birding
State Park
Antiquing
Casino Gambling
Fish species found at Lake Wildwood IL
Bass
Black Bass
Bluegill
Carp
Catfish
Channel Catfish
Crappie
Flathead Catfish
Largemouth Bass
Muskellunge
Northern Pike
Perch
Pike
Smallmouth Bass
Striped Bass
Sunfish
Walleye
White Bass
---
Lake Wildwood IL Photo Gallery
Lake Wildwood IL Statistics & Helpful Links
Spread the word! Share our Lake Wildwood IL article with your fellow Lake Lubbers!