Lake Wedowee, Alabama, USA
Lake Locations:
USA - South - Alabama - Metropolitan -
Also known as:  R. L. Harris Reservoir, Harris Lake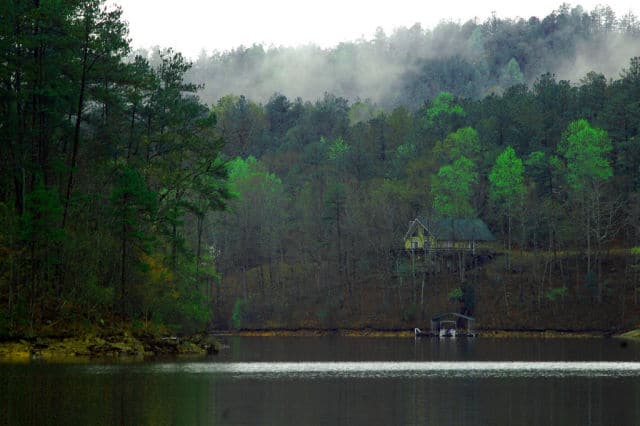 Lake Wedowee, also known as the R. L. Harris Reservoir, is tucked in the foothills of the Talladega and Appalachian Mountains. The lake is an impoundment of the Little Tallapoosa River; the Tallapoosa River flows from the Appalachian Mountains in Georgia southwest into Alabama. It is the most recent of the 14 hydroelectric power sites controlled by Alabama Power.
Construction on the R. L. Harris Dam started on November 1, 1974, and it began generating power on April 20, 1983. The dam was named for Rother L. "Judge" Harris who was the Power Director and President of Electrical Operations for Alabama Power. Harris retired in 1968 after over 45 years of service. R. L. Harris Reservoir, or Lake Wedowee as it became known, was created to generate hydroelectric power and for flood control, but it also provides excellent opportunities for recreation.
With a surface area of over 10,600 acres and an average depth of 40 feet, there is plenty of water in Lake Wedowee for sailing, boating, and water skiing. There are marinas and several annual water skiing tournaments. There are over 270 miles of shoreline to explore by canoe or boat. Quiet watercraft are suited to this quiet lake. Alabama Power maintains several public access sites on the lake.
For the angler there are healthy populations of shad, black and white crappie, redear and longear sunfish, and channel and flathead catfish, hybrid striper, and bluegill. There are also white and striped bass. In order to improve the bass fishing on Lake Wedowee, there is a 13 to 16 inch slot for black bass including largemouth and spotted bass. Anglers may only keep fish whose size falls either above or below the slot. This should improve the quantity of forage for the remains bass. Evidence suggests that enforcing the limit is improving the size of the bass population.
Lake Wedowee is in east central Alabama on the Georgia border. The lake touches Clay, Cleburne and Randolph Counties. Its common name is for Wedowee, which has been the county seat of Randolph County since 1835. "Wah-wah-nee" or "wah-dow-wee" was the name of a Creek Indian chief whose village was at the site of the town. Thirteen miles from Wadley, Lake Wedowee is in a very rural area surrounded by towns with populations under 1,000. It is, however, 65 miles from Birmingham and Atlanta, and 100 miles from Montgomery and Auburn. The area around the lake is peaceful with larger populations of fish than people, but there are amenities for visitors including restaurants known for their fried catfish. Accomodations range from hotels and motels to vacation rentals. There are also campgrounds around the lake. There are several residential communities around the lake with homes in various price ranges, and Lake Wedowee has active neiborhood groups.
Lake Wedowee is a great peaceful, quiet getaway. With its fantastic fishing from trophy bass to just good fishing, Lake Wedowee is sure to delight anglers as well.
Things to do at Lake Wedowee
Vacation Rentals
Fishing
Boating
Sailing
Canoeing
Water Skiing
Camping
Campground
Fish species found at Lake Wedowee
Bass
Black Bass
Bluegill
Catfish
Crappie
Flathead Catfish
Redear Sunfish (Shellcracker)
Shad
Spotted Bass
Striped Bass
Sunfish
White Crappie
---
Lake Wedowee Photo Gallery
Lake Wedowee Statistics & Helpful Links
Spread the word! Share our Lake Wedowee article with your fellow Lake Lubbers!