Lake Tuscaloosa, Alabama, USA
Lake Locations:
USA - South - Alabama - Metropolitan -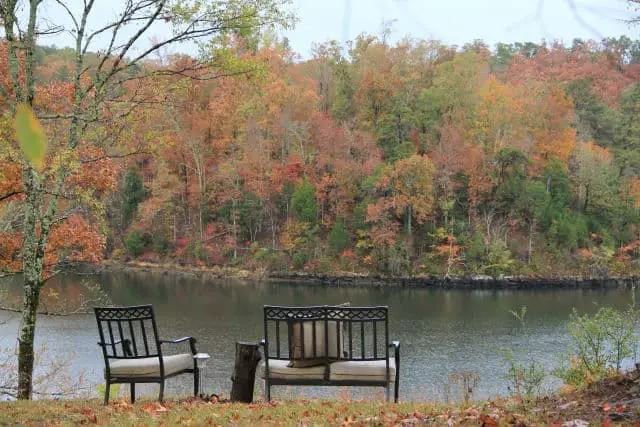 Located five miles north of the cities of Tuscaloosa and Northport in western Alabama (Metropolitan Region), Lake Tuscaloosa is a 5,885-acre reservoir which offers 177 miles of shoreline for boating, water skiing, swimming and fishing. Created in 1971 by the damming of North River, Lake Tuscaloosa is 92 feet at its deepest point with an average depth of 22 feet. Both the city and the reservoir were named after the Choctaw Indian chieftain Tuskaloosa (which means Black Warrior), who fought against Hernando de Soto in 1540 in the Battle of Mauvila.
Lake Tuscaloosa was constructed in 1969 to accommodate the rising population of the area which was consuming more water than its two current reservoirs, Harris Lake and Lake Nicol could provide. Lake Tuscaloosa has a capacity of approximately 40 billion gallons and can handle a withdrawal of approximately 200 million gallons per day. Because of this, Harris Lake is used primarily for industrial water, and Lake Nicol now serves as a backup. Unlike other reservoirs whose water levels can rise and fall throughout the year, depending on the needs of its users, Lake Tuscaloosa remains within a few feet of its normal elevation of 233 feet.
In 1970, The Alabama Wildlife and Freshwater Fisheries Division began stocking sport fish into Lake Tuscaloosa which included largemouth bass, walleye, hybrid striped bass and saltwater striped bass. Unfortunately these fish did not acclimate well, and the ones that did survive became predators to the smaller resident fish. Stocking was discontinued in the 1980s, but some of these species still live in the lake. The most common sport fish found in Lake Tuscaloosa today include the Alabama spotted bass, largemouth bass, bluegill, redear sunfish, and white crappie. Popular non-game fish include blue catfish, channel catfish, freshwater drum, and carp. Due to limited cover near the dam, fishing in that area is often poor. Upper areas of the lake near Binion and Turkey Creeks are generally best areas to fish. The lake drains into the Black Warrior River basin which is a very popular recreational area to anglers. Because of the lake's steep banks, fishing is best from a boat, but shore fishing has resulted in a number of trophy sized fish. Anglers of all ages and skills will not be disappointed by the variety of fish in the lake.
In 2000, bass tournament results ranked Lake Tuscaloosa 11th out of 25 major reservoirs in pounds of bass caught per day. Lake Tuscaloosa was the site of the 2001 B.A.S.S. Federation Qualifying Tournament, which was held out of the Binion Creek Access Area. Each year, Lake Tuscaloosa is host to a number of local and state bass fishing tournaments.
For boaters, there are a number of public and private boat ramps located on Lake Tuscaloosa, as well as several private marinas. Detailed maps of the lake are available at local marinas and sporting goods stores. Boat lengths are limited to 24 feet for power and sail boats and 38 feet for pontoon boats. Boat rentals are readily available and getting out on the lake is rarely a problem.
Nature lovers will enjoy several county parks located on Lake Tuscaloosa. Carroll's Creek Island County Park is located on the western side of the lake and has picnic tables, hiking trails, swimming areas and restroom facilities. Treasure Island County Park is actually an island and only accessible by boat. This park is for those who like to "rough it". Picnic tables are scattered through the small island and there are primitive restroom facilities (outhouses). Camping is allowed on both islands. Watermelon Road County Park is located on the south west side of the lake and has picnic tables and a boat ramp. Tent sites and RV camping is also available at several of the local marinas.
For visitors who would like to spend some quality time on Lake Tuscaloosa, there are number of homes, cottages and cabins available for rent on and near the lake. Most are available year round, but be sure to book your lodging ahead of time if the Crimson Tide is playing a home game. The city of Tuscaloosa is the proud home of the University of Alabama and has all the excitement, sports and cultural activity that a major university brings to its hometown. Just five miles south from the south end of the lake, there is much to see and do in the city should you tire of the lake activities.
For those who prefer the country, Lake Lurleen State Park is located nine miles northwest of the city and has a 250-acre lake, fishing, swimming, modern camping, picnic areas, playgrounds, boat launches and rentals. For those who find Native American history fascination, you'll want to take the short drive to Moundville Archaeological Park located just south of Tuscaloosa. Visitors can walk the 320-acre grounds and visit over 20 different prehistoric Indian mounds or view archeological treasures at the museum.
After a day of sightseeing, be sure to return to Lake Tuscaloosa and discover why residents, summer vacationers and weekend retreaters spend most of their time in or on the water. Although its primary purpose is to provide clean water for the residents, Lake Tuscaloosa's recreational opportunities attract over three million visitors every year.
Things to do at Lake Tuscaloosa
Vacation Rentals
Fishing
Fishing Tournaments
Boating
Sailing
Swimming
Water Skiing
Camping
Picnicking
Cabin Rentals
Hiking
Wildlife Viewing
Birding
State Park
Museum
Playground
Fish species found at Lake Tuscaloosa
Bass
Black Bass
Blue Catfish
Bluegill
Carp
Catfish
Channel Catfish
Crappie
Freshwater Drum
Largemouth Bass
Perch
Redear Sunfish (Shellcracker)
Spotted Bass
Striped Bass
Sunfish
Walleye
White Crappie
---
Lake Tuscaloosa Photo Gallery
Lake Tuscaloosa Statistics & Helpful Links
We strive to keep the information on LakeLubbers as accurate as possible. However, if you've found something in this article that needs updating, we'd certainly love to hear from you! Please fill out our Content Correction form.
Spread the word! Share our Lake Tuscaloosa article with your fellow Lake Lubbers!