Lake Tohopekaliga, Florida, USA
Lake Locations:
USA - South - Florida - East Central -
Also known as:  Lake Toho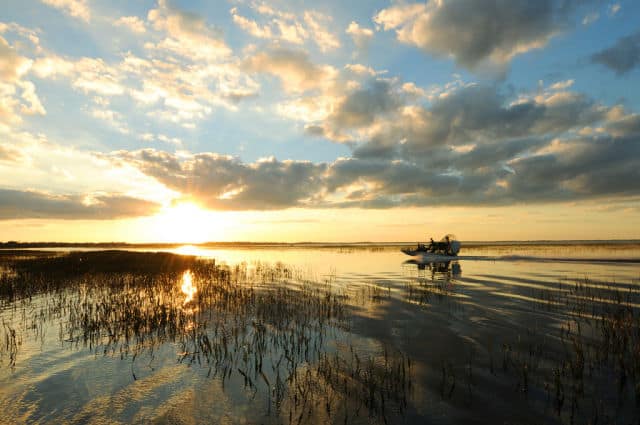 Lake Tohopekaliga is world renowned for its bass fishing and loved for its natural beauty. It is located in Osceola County, Florida, at the headwaters of the Everglades and one of the Kissimmee Chain of Lakes which encompasses 100,000 acres. In some spots Lake Tohopekaliga is marshy, a haven for rare waterfowl. In deeper places the water is home to record-size bass.
Lake Tohopekaliga is an 18,810 acre lake, 42 miles in diameter. Its primary source is Shingle Creek, which starts in Orlando. Lake Tohopekaliga is linked to its smaller sister, East Lake Tohopekaliga, by the St. Cloud Canal. The canal is three miles long and travels through St. Cloud. South Port canal runs from the southern tip of Lake Tohopekaliga and links the lake to Cypress Lake.
The Seminole Native Americans named the lake "Tohopekaliga" which translates into "fort site." In the mid-1800s Osceola County was the southernmost tip of the "settled" land. At that time the term "settled" meant more than two people per square mile. Back then everything to the south of Lake Tohopekaliga, except the settlements at Tampa Bay, was true frontier.
Lake Toho, as it is often called, still has its wild side. During a swift airboat ride over the waters you will see turtles and alligators as well as bald eagles and osprey which compete with the anglers for their daily catch. You see the area is also known around the world for its bird watching. It is home to the endangered Everglades snail kite and whooping crane.
Osceola County has numerous streams and creeks that are perfect for canoeing or kayaking. This is an up close and personal way to enjoy the scenic wetlands and the area's stunning flora and fauna.
Makinson Island in Lake Tohopekaliga is a county park that offers nature enthusiasts a glimpse of the Florida before the land was settled. It is a 132-acre island with three and a half miles of hiking trails and many wildlife viewing opportunities. The amenities include primitive campsites and dock. The island is only accessible by boat.
It is the fishing though that gets most of the press. Some of the species you can reel in while fishing on Lake Tohopekaliga include: largemouth bass, spotted bass, crappie, sauger, walleye and catfish.
The lake has hosted the Super Bowl of bass fishing tournaments, the Bassmaster Classic. On a regular basis anglers go home with stories of catching 10 to 13 pound bass. Local fishing experts say with the aide of a guide you could catch 10 fish a day on Lake Toho. The fish are more active in the earlier parts of the year before the waters of Lake Tohopekaliga heat up in the summer sun.
Lake Tohopekaliga is in the East Central tourism region of Florida. It is just south of Kissimmee where there are a cornucopia of off-water activities. If hitting the links is on your agenda during your trip, the Kissimmee area has numerous courses with stunning views from each hole. Kissimmee also serves up night clubs, dinner theatre and museums.
The Osceola County Historical Society Pioneer Museum gives visitors a glimpse at what life was like for those who settled the area. A trip to the Kennedy Space Center will educate and excite the entire family. The hands-on exhibits at the Orlando Science Center are a fun way for the whole family to learn.
Lake Tohopekaliga is also just 30 minutes from Orlando and the Disney theme parks, Sea World and Universal Studios.
With all that there is to do around Lake Tohopekaliga vacation rentals come in all forms. Lakeside condos and cabins are in great supply for those who enjoy the creature comforts. If you like roughing it, there are campsites both primitive and RV hook-ups.
Whether it is an exciting ride over the Lake Tohopekaliga marsh in an airboat or careening down a mega-hill of a rollercoaster, Lake Toho is a thrilling destination. Where else can you look an alligator in the eye one day and hug Mickey Mouse the next?
Things to do at Lake Tohopekaliga
Vacation Rentals
Fishing
Fishing Tournaments
Boating
Canoeing
Kayaking
Camping
Cabin Rentals
Hiking
Wildlife Viewing
Birding
Museum
Fish species found at Lake Tohopekaliga
Bass
Black Bass
Catfish
Crappie
Largemouth Bass
Perch
Sauger
Spotted Bass
Walleye
---
Lake Tohopekaliga Photo Gallery
Lake Tohopekaliga Statistics & Helpful Links
Spread the word! Share our Lake Tohopekaliga article with your fellow Lake Lubbers!