Lake Kissimmee, Florida, USA
Lake Locations:
USA - South - Florida - East Central - West Central -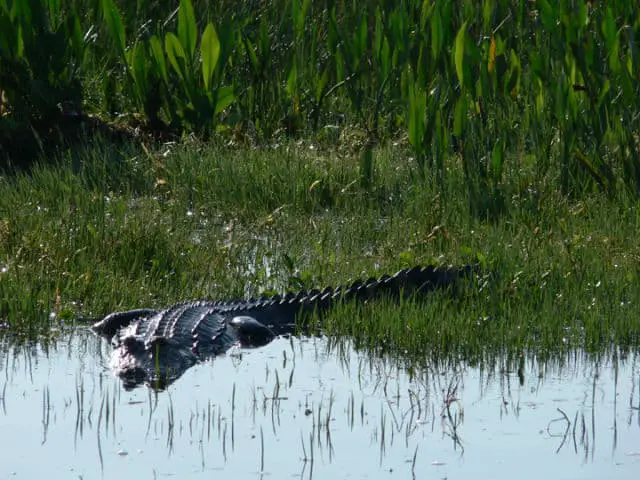 Lake Kissimmee's massive 34,948 acre area earns the lake a spot as Florida's third largest lake, finishing just behind Lake George and Lake Okeechobee. The Kissimmee Waterway consists of a chain of lakes including Lake Kissimmee. Boaters can enjoy the entire 56-mile long waterway starting at Lake Tohopekaliga in the north to Lake Okeechobee at the southern end. The route passes through Lake Kissimmee, then along the Kissimmee River made passable via man-made locks and canals. Lake Kissimmee's immense size spans two counties, Osceola and Polk, and two tourism regions, East Central and West Central.
Prior to 1962, the Kissimmee River meandered over 103 miles that supported a rich ecosystem of fish and wildlife along floodplain wetlands. In an effort to control periodic river flooding, the U.S. Army Corps of Engineers transformed the river into a straighter, 56-mile channel between 1962 and 1971. Although the channelization project achieved its flood protection goal, most of the wetlands wildlife habitat was eliminated. About 90 percent of the wading bird and wintering waterfowl populations disappeared.
In order to restore the delicate wetlands ecosystem, the Kissimmee River Restoration project is currently underway with a scheduled completion date of 2010. Jointly managed by the Corps of Engineers and the South Florida Water Management District, the project will restore about 43 miles of the river's historic channel along the canal's midsection. The goal is to restore more than 300 species of fish and wildlife to the wetland-rich floodplain. The upper and lower portions of the canal will remain intact to preserve flood protection.
Lake Kissimmee invites visitors to indulge in virtually any outdoor activity they could possibly imagine. Nature photographers, be at the ready: wildlife lovers enjoy the lake for its diverse animal life. White-tailed deer prance through the trees, spotted fawns trailing in their parents' wake. Bald eagles swoop gracefully through the sky, scanning the ground from high above your head. Bobcats, a rare sight for many, tend to their young and stealthily hunt for their next meal. Sandhill cranes, reminiscent of the Great Blue Heron, choose their way carefully as they plod through the grass and forage for food in shallow waters. As you watch these animals, the peace and tranquility of Lake Kissimmee will surround you.
One of the best ways to see the lake's flora and fauna, as well as some stunning scenic vistas, is to take a hike through Lake Kissimmee State Park's 13 miles of hiking and nature trails. A trip on the trails will weave you through oak hammocks and pine flatwoods, giving you unique perspectives of the lake's marshes, winding shores, and beautiful views. Hikers have their pick between a 1/2 mile self-guided nature tour, two loops trails, and another spur trail leading to the lake. And of those 13 miles, six are open to equestrians and their beloved friends, so that all may see the wonders of Lake Kissimmee.
Fishing is an ever-popular lake activity, offering some of the best fishing in Florida. Swimming beneath these waters are schools of bluegill, catfish, chain pickerel, crappie, and largemouth bass worthy of being your next angling boast. If you like to fish from a boat, you'll be able to launch from within Lake Kissimmee State Park. If you don't have a boat, no problem: the fish bite just as hard on the canal banks, in the marina, and by the dam.
On a lake as large and beautiful as Lake Kissimmee, there is no better way to enjoy its offerings than by boat. Power boaters delight in taking a speedboat out into the open waters to enjoy a strong breeze in their hair, the sun on their face, and the adrenaline that pumps through their veins as they speed along the lake. Canoeists and kayakers take it easy and paddle through the coves, enjoying a more personal bond with nature. And all boaters enjoy dipping their toes into the lake on a hot summer day, cooling off in the best way possible.
Lake Kissimmee is a year-round natural playground, offering its visitors a little bit of everything. Do yourself a favor, pack your bags, and head on down, whether it be for a short weekend or an extended stay. This trip is one you will never forget.
Things to do at Lake Kissimmee
Vacation Rentals
Fishing
Boating
Swimming
Canoeing
Kayaking
Hiking
Horseback Riding
Hunting
Wildlife Viewing
Birding
State Park
Playground
Fish species found at Lake Kissimmee
Bass
Black Bass
Bluegill
Catfish
Chain Pickerel
Crappie
Largemouth Bass
Pickerel
Pike
Sunfish
---
Lake Kissimmee Photo Gallery
Lake Kissimmee Statistics & Helpful Links
Spread the word! Share our Lake Kissimmee article with your fellow Lake Lubbers!