Lake Tekapo, South Island, New Zealand
Lake Locations:
New Zealand - South Island - Christchurch – Canterbury -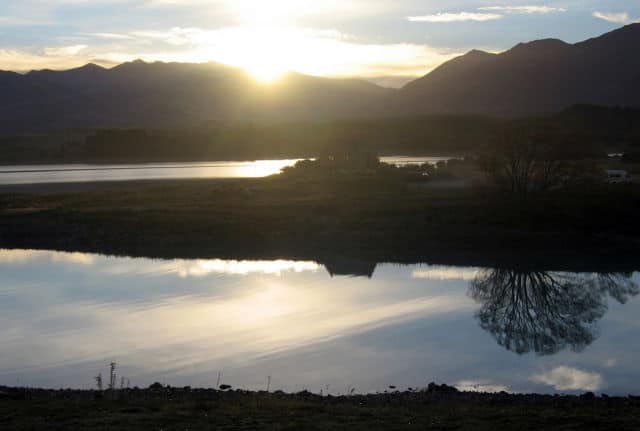 Lake Tekapo is located in the center of South Island, New Zealand. Known for its intense turquoise hue, the lake stays that color because of "rock flour" or finely ground rocks which are suspended in the water and are remnants from the glacial period. The Maori people were the first to live in the area and were self sustained by making tools from stone, fishing eels, and hunting birds. Tekapo is a Maori word formed by the words taka(sleeping mat) and po (night).
On the shores of the lake is the township of Lake Tekapo. A ski resort in the winter and aquatic playground in the summer make this area a year round destination for fun and excitement. The town faces north with a remarkable view across the blue water to the Southern Alps. The main industries are tourism and sheep herding with wool byproducts. A bronze statue of a sheepdog is located on the shore as a tribute to the invaluable work done by sheepdogs in allowing sheep to graze on the mountainous terrain around the town and lake.
In the summer, visitors and residents enjoy swimming, boating, waterskiing, kayaking, windsurfing, camping, mountain biking, hiking, rock climbing, horseback riding, scenic flights, and golf. During the cold winter months, snowboarding, downhill skiing, cross country skiing, heli-skiing, and ice skating will keep you active. Fishing for rainbow trout, brown trout and salmon keep anglers busy on the sparkling water of Lake Tekapo. With wide open skies, clear winter nights are perfect for star gazing and enjoying the spectacular light show of the Aurora Australis or the Southern Lights. No matter which activity you choose to enjoy, vacation rentals are plentiful in the area and range from hotels, motels, bed and breakfasts, hostels, rental cottages, vacation homes and campgrounds to suit all budgets and comfort requirements. Lake Tekapo is also a favored real estate area with a demand for lake front homes as summer homes or vacation properties.
Lake Tekapo is situated in the beautiful and geographically diverse Canterbury Tourist Region of New Zealand. The region stretches from a large central portion of the East Coast of the South Island to the rugged peaks of the Southern Alps. Aoraki/Mount Cook is the highest peak in New Zealand and Canterbury Region and is in the Aoraki/Mount Cook National Park which is part of the South Westland World Heritage Area. Aoraki is a Maori word for Cloud Piercer. Hammer Springs a popular spa town has been enticing visitors with its soothing mineral waters since 1859 to stop by relax, unwind, and leave their aches and pains in the warm-water springs. Along the shores, visitors will be thrilled to swim with the world's rarest dolphin, the Hectors dolphin which calls this shoreline their home along with giant sperm whales which can be seen off shore all year round. To fully appreciate the beauty of the area, hop into a hot air balloon for a breath taking scenic tour. Throughout the area, outdoor activities will keep you breathless from the excitement of river rafting, bungee jumping, rock climbing and mountain biking. However, make sure that you do take time to slow down and experience the culinary delights and wines offered in local dining establishments.
There is so much to do and so many ways to explore Lake Tekapo and the Canterbury Region that you may need another vacation just to relax from the fun and excitement that is Lake Tekapo in New Zealand.
Things to do at Lake Tekapo
Vacation Rentals
Fishing
Boating
Swimming
Kayaking
Water Skiing
Golf
Camping
Campground
Hiking
Ice Skating
Rock Climbing
Biking
Downhill Skiing
Snowboarding
Cross-Country Skiing
Horseback Riding
Hunting
Birding
National Park
Playground
Fish species found at Lake Tekapo
Brown Trout
Eel
Rainbow Trout
Salmon
Trout
---
Lake Tekapo Photo Gallery
Lake Tekapo Statistics & Helpful Links
Spread the word! Share our Lake Tekapo article with your fellow Lake Lubbers!