Lake Pukaki, South Island, New Zealand
Welcome to the ultimate guide for history, statistics, local fun facts and the best things to do at Lake Pukaki.
If you're considering Lake Pukaki vacation rentals, we've made it super easy to explore accommodations and nearby hotels using the interactive map below. Simply click on a listing to compare similar properties, best rates and availability for your dates. Or keep scrolling to read our Lake Pukaki guide!
Lake Pukaki visitor and community guide
Lake Pukaki in the Canterbury region of the South Island is a scenic delight. One of three glacial lakes that lie nearly parallel, the lake gets water from the Tasman River, which is fed by the Tasman and Hooker Glaciers. All three lakes were eventually naturally dammed by glacial moraine, forming large bodies of water. Running north to south, Lake Pukaki points directly to Mount Cook, the highest mountain in New Zealand. The area is a common starting point for visiting Aoraki/Mount Cook National Park and adjoining areas of the Southern Alps. The exceptionally clear waters are an unusual blue hue due to 'glacial flour' (powdered rock) carried into it from the glaciers above.
Lake Pukaki and its sister lakes, Ohau and Tekapu, are similar in composition and usage. All are fed by 'braided' rivers carrying glacial melt water from the mountains. The so-called braided rivers consist of several small streams that weave together and separate repeatedly. They change course regularly, leaving excellent habitat on the temporary islands for a variety of small amphibians and insects while the waters support many small native fishes. Walking and cycling trails skirt the shore, leading ultimately up to the small settlement of Mount Cook and mountain recreational activities. The Ruataniwha Conservation Park is located in the area making wildlife viewing a favorite day trip. But Pukaki and its sister lakes serve an important purpose in power generation for New Zealand. Each is dammed to increase water volume. Man-made canals connect the three, with small hydro power plants at the outlet of Tekapu Canal, and at the place the two canals from Ohau and Pukaki Canals meet to drain into Lake Ruataniwha. All three lakes act as large water storage basins for hydroelectric purposes. The entire extensive hydro scheme includes several other dams downstream and provides nearly one-third of New Zealand's electricity. The small town of Twizel was formed in 1968 for the building of the giant system and now supports a permanent population of 1200 people plus visitors.
The shoreline of Lake Pukaki is generally quite barren and uninhabited. Fishing in the lake is sparse except near stream inlets and outlets. The canals, however, are more productive fisheries and hold brown trout, rainbow trout and a few salmon planted in past years. Guides in Twizel can direct anglers to the best fishing spots and make bait and tackle suggestions to improve results.
Twizel is an excellent spot for visitors to establish a home base for sight-seeing in the area. Because of the barren landscape, the residents of Twizel have made it a point to plant as many trees as possible until Twizel is often called the Town of Trees. A variety of vacation rentals are located near Twizel and Mount Cook settlement, with all sorts of amenities available from cottages to private homes, motels, camping and bed-and-breakfast establishments. Real estate in the area is available and becoming more in demand to provide further activities to the growing tourism industry.
Birding is popular in the Lake Pukaki region: The Twizel area is the only place in the world where you are guaranteed to see the black stilt (kaki). Also found here are the wrybill and black-fronted tern, both of which are threatened species. Banded dotterel (tuturiwhatu) and South Island pied oystercatcher (torea) can also be viewed at the Wairepo Kettle holes, five miles from Twizel. The kettle holes provide an important feeding area for a number of key bird species. In summer, after the water level recedes in the kettle holes, the bottom is covered with a carpet of tiny turfland plants. Nearby Lake Ruataniwha has an international rowing course, and the lake is popular for power boating, house boats, sailing, wakeboarding and all sorts of water sports. Twizel offers a range of sporting, recreation and leisure activities, both indoor and outdoor, in winter and summer. Facilities include tennis, squash, basketball and netball courts, skate park, climbing wall, gym, swimming pool, golf course and playing fields.
One of the most popular activities at Twizel is the Helicopter Line which provides transportation to Mount Cook and the glaciers. Sightseeing Lake Pukaki and the Southern Alps by helicopter, followed by a snow landing and skiing on the mountain is a favorite activity. Helicopter transport to mountain bike paths near the top of the mountain provides all the excitement of a downhill run without the work of pedaling uphill to the top. Glider soaring is available in good weather, with viewing of the Southern Alps at heights up to 10,000 feet. One tour sometimes available via helicopter is touring the shooting location of the scenes from Lord of The Rings, complete with some original props and sets. On private property, these tours must be arranged in advance but makes a spectacular destination for the committed Tolkien fan.
Avid hiking or cycling fans will enjoy the nearly 45 mile hike or ride along the shore of Lake Pukaki and on to the top of Mount Cook. The entire route provides spectacular scenes of Mount Cook overlooking and reflected in the lake's surface. At the summit, the settlement of Mount Cook provides lodgings, food and tour opportunities such as hiking the glaciers and boating on glacial lakes. The Sir Edmund Hillary Alpine Centre is filled with information on mountain climbing, a movie of Sir Edmund's accomplishments and mountain-themed gift shop. Mount Cook settlement has become a favored location for weddings and events.
Come to visit the Lake Pukaki Region. Whether you desire a peaceful scenic visit or one filled with activities, the Lake Pukaki area has plenty of fun for all. You may wind up being one of the visitors that comes back year after year.
Custom Lake Pukaki house decor
Read our full review of these personalized lake house signs.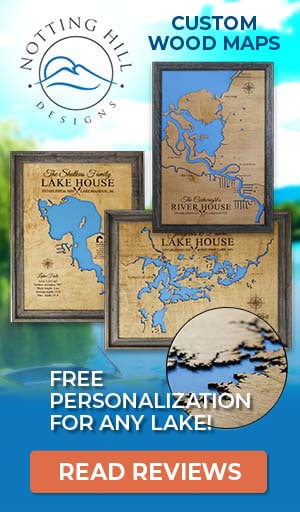 Things to do at Lake Pukaki
Vacation Rentals
Fishing
Boating
Sailing
Swimming
Swimming Pool
Wakeboarding
Golf
Tennis
Camping
Hiking
Mountain Climbing
Biking
Wildlife Viewing
Birding
National Park
Fish species found at Lake Pukaki
Brown Trout
Rainbow Trout
Salmon
Trout
---
Best hotels and vacation rentals at Lake Pukaki
The Lake Pukaki map shown above is a simple and stress-free way to search for trip accommodations. But if you want to take a deeper dive to find the ideal waterfront home, cabin, condo, hotel or resort, visit our favorite lodging partners by clicking the buttons below.
Note: These are affiliate links so we may earn a small commission if you book through them. While there is no extra cost to you, it helps provide resources to keep our site running (thank you)! You can read our full disclosure policy here.
---
Lake Pukaki photo gallery
New photos coming soon!
Lake Pukaki statistics & helpful links
We strive to keep the information on LakeLubbers as accurate as possible. However, if you've found something in this article that needs updating, we'd certainly love to hear from you! Please fill out our Content Correction form.
Advertise your Lake Pukaki vacation rental
LakeLubbers will soon offer homeowners and property managers the opportunity to to showcase their vacation rentals to the thousands of lake lovers searching our site daily for accommodations. If you'd like additional details, please contact our advertising team here.
Looking for the Lake Pukaki forum?
LakeLubbers previously offered visitors the ability to create accounts and participate in lake forums. When we overhauled the site's content management system in 2021 we had to disable those features. We're evaluating options and welcome your comments and feedback here.
We also encourage you to join our lake-lovin' community on Facebook and Instagram!
Spread the word! Share our Lake Pukaki article with your fellow Lake Lubbers!