Lake Coleridge, South Island, New Zealand
Lake Locations:
New Zealand - South Island - Christchurch – Canterbury -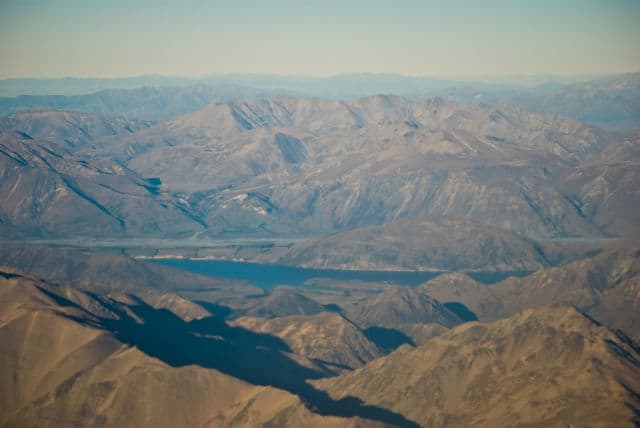 Nestled snugly between two mountain ranges and surrounded by lush green farming valleys, Lake Coleridge's clear blue waters are a breathtaking wonder in New Zealand's South Island. Set in the high country of the Christchurch-Canterbury region, Lake Coleridge's freshwater basin was molded by the glaciers, volcanoes, earthquakes and other natural events of New Zealand's formation.
The lake was named after a member of the Canterbury Association and descendant of a famous English lyrical poet and philosopher, Samuel Taylor Coleridge. The Maori, however, who would have crossed the Southern Alps looking for the precious greenstone they called pounamu, gave the lake the name Whakamatua. One of the word's meanings, "pause," could refer to the relief and respite the lake offered Maori visitors to its waters.
Lake Coleridge's diverse basin is important to sheep farmers. These farmers can trace their practice to livestock-raising settlers that arrived quickly after the first Europeans came to survey New Zealand's lands. Farm tours are available that will allow you to experience first hand not only what high country pastoral lifestyle is like, but that will also intrigue you with interesting history about the region.
The lake itself holds a large landlocked population of rare Chinook salmon, one of the three species of salmon in New Zealand. Brown trout and rainbow trout are also plentiful, and the lake supports a popular fishery. Boating and windsurfing are great pastimes on Lake Coleridge as well.
Lake Coleridge is the site of the country's very first hydroelectric system. The power station, commissioned in 1914, is located on the glacial moraine that dams the lake and is perhaps worthy of a visit. The Lake Coleridge Power Station, operated by TrustPower, harnesses the power of the Rakaia, Harper, Acheron and Wilberforce Rivers.
Mt. Hutt, one of the mountains that sandwiches Lake Coleridge offers skiing and snowboarding in winters. Hiking, four wheel driving tours, farm stays, and garden tours are other options for complementing your visit to the lake.
Christchurch, the bustling New Zealand city, is less than an hour away. But Lake Coleridge's arresting beauty will be enough to satiate any vacationer's hunger for something special.
Things to do at Lake Coleridge
Vacation Rentals
Fishing
Boating
Hiking
Snowboarding
Fish species found at Lake Coleridge
Brown Trout
Chinook Salmon
Rainbow Trout
Salmon
Trout
---
Lake Coleridge Photo Gallery
Lake Coleridge Statistics & Helpful Links
We strive to keep the information on LakeLubbers as accurate as possible. However, if you've found something in this article that needs updating, we'd certainly love to hear from you! Please fill out our Content Correction form.
Spread the word! Share our Lake Coleridge article with your fellow Lake Lubbers!