Lake Tarpon, Florida, USA
Lake Locations:
USA - South - Florida - West Central -
Also known as:  Tarpon Lake, formerly Lake Butler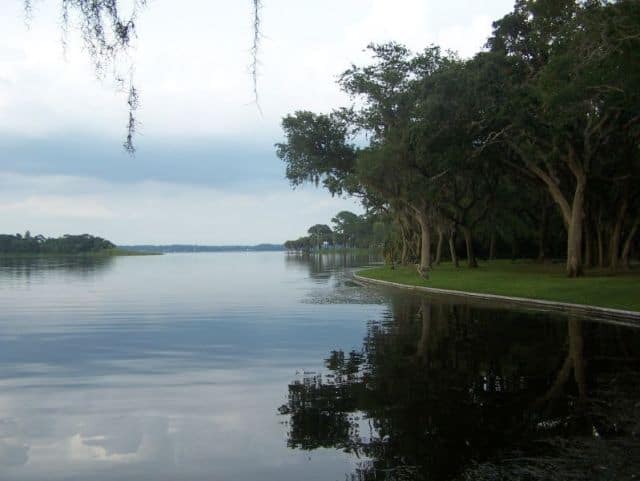 In the West Central Region of Florida, there is no finer lake than Lake Tarpon. The 2529-acre lake, often called the 'Jewel of Pinellas County' is only ten miles west of Tampa on the outskirts of Tarpon Springs. Long a favored Florida recreation area, Lake Tarpon is interesting in its underground connection to the Gulf of Mexico via Spring Bayou in Tarpon Springs. An 118 foot deep sinkhole on the northwest side of the lake historically brought seawater into the lake during high tide and drought. In an effort to improve freshwater reliability, the US Army Corps of Engineers first built an outflow channel from the lake to Old Tampa Bay. The sinkhole was then dammed off from the main lake with an earthen dike. Water gates operated by the South West Florida Water Management District are closed during high tide to prevent salt water from entering the lake. The water levels are a delicate balancing act as Lake Tarpon is less than four feet above sea level at its highest levels and often drops to a bit over two feet during dry weather.
The lakeshore around Lake Tarpon is heavily developed. A large number of subdivisions and housing development have been built near the lake in recent years. Water quality began to degrade due to lawn run-off and several environmental groups and agencies formed groups to monitor water quality and improve it. Public education and lawn maintenance practices are starting to show results, with improved fishing as a result.
All types of water sports are engaged in on Lake Tarpon, with power boating, personal watercraft and water skiing the most popular. At least one sailing club calls the lake home. Several marinas cater to those with boating needs and launch facilities for larger craft. Docking berths and repair services are available, along with boating supplies, lakefront restaurants and nightclub establishments. During the week, sailing, canoeing, kayaking and pontooning take over the lake. Swimming is discouraged due to alligators which often frequent the water. There is also reputed to be a large unidentified lake monster in Lake Tarpon called "Tarpie." Local legend describes this 10 to 20 foot reptilian monster as consuming more than his fair share of local wildlife, though most reports of Tarpie are tongue-in-cheek.
Lake Tarpon is rated among the top 10 bass fishing lakes in Florida and fishing is an always-popular activity. Bluegill, red-ear, and largemouth bass make up the majority of fish caught, although black crappie, bullhead, channel catfish, longnose gar and bowfin (mudfish or dogfish) are also present. Most larger fishing publications devote space to fishing Lake Tarpon with hints on lures, locations and time of day tips. As with most lakes, fish consumption guidelines should be followed.
Two public parks along the shore provide boat launch facilities and recreational opportunities to visitors. John Chesnut State Park contains 255 acres and offers facilities for ball fields, biking, a boardwalk, boat ramps, fishing area, hiking/walking and nature trails, picnic facilities and playgrounds. Anderson Park, at 128 acres, offers most of the same facilities and adds two landlocked canoeing routes to a small inland lake. Raccoons, alligators, various waterfowl, hawks, vultures,tortoises/turtles and snakes reside in this park. Another park, along the canal – called the Outfall – is the Lake Tarpon Outfall Canal Park with 186 acres and playgrounds, ball fields, fishing and boat access.
As residents have become more environmentally conscious, a variety of parks and natural areas have been developed to offset the increased pressure from development. Within twenty miles of Lake Tarpon, every type of local Florida environment has been preserved for the public to enjoy. Some of them are Harbor Palms Nature Park, farther down the Outfall Canal near its mouth on Tampa Bay and Mobbley Bayou Wilderness Preserve between Lake Tarpon and Mobbley Bay. In the Tarpon Springs area, the Wall Springs Park covers 195 acres and includes: an historic spring, boardwalks, nature trails, a playground, an observation tower, and restrooms. The spring and adjoining waters were once a spa and bathing area from the 1900s until the mid 1960's. The springs are adjacent to a salt marsh with fresh and salt water systems in close proximity. A variety of other parks and points of interest contain walking tails for easy access. The Pinellas County Greenways brochure is available for download and includes these and other facilities of interest to the visitor.
The first time visitor to Florida will find Lake Tarpon an ideal home base from which to access other, must-see features. Orlando and Disney World are less than 100 miles to the northeast, while Busch Gardens-Tampa are less than 30 miles to the southeast. No visit would be complete without a day at the beach on the Gulf. Clearwater Beach is noted for its pristine sand beach and lovely sunset views. And, a trip across the causeway to Honeymoon Island State Park can't be missed for the chance to swim, fish and snorkel in the warm Gulf waters. Nature trails and bird observation areas are provided. The island has some of the widest variety of shells found along its beaches as the Gulf currents deposit them from long distances away.
Those wishing a little more sophisticated activities, both Tarpon Springs and Tampa offer shopping, cultural activities, performance arts and fine dining. Here, nightlife is varied and easy to find. Lake Tarpon is an easy commute from many Florida metropolitan areas, and real estate is always available. With a little sleuthing, lakefront or lake view property can be found along Lake
Tarpon's shores. Vacation rentals are available year-round with cottages, bed-and-breakfasts, and condos common within sight of Lake Tarpon. Camping is available nearby but not directly on the water.
If you haven't visited Lake Tarpon yet, what are you waiting for? There's no time like the present. Come down to the 'Jewel of Pinellas County' and get out on the water. The bass are biting!
Things to do at Lake Tarpon
Vacation Rentals
Fishing
Boating
Sailing
Swimming
Beach
Canoeing
Kayaking
Water Skiing
Snorkeling
Camping
Picnicking
Hiking
Biking
Wildlife Viewing
Birding
State Park
Playground
Shopping
Fish species found at Lake Tarpon
Bass
Black Bass
Black Crappie
Bluegill
Bowfin
Catfish
Channel Catfish
Crappie
Gar
Largemouth Bass
Longnose Gar
Sunfish
---
Lake Tarpon Photo Gallery
Lake Tarpon Statistics & Helpful Links
Spread the word! Share our Lake Tarpon article with your fellow Lake Lubbers!