Lake Trafford, Florida, USA
Welcome to the ultimate guide for history, statistics, local fun facts and the best things to do at Lake Trafford.
If you're considering Lake Trafford vacation rentals, we've made it super easy to explore accommodations and nearby hotels using the interactive map below. Simply click on a listing to compare similar properties, best rates and availability for your dates. Or keep scrolling to read our Lake Trafford guide!
Lake Trafford visitor and community guide
Lake Trafford, a 1500-acre lake in Florida's southwest region, is an example of ecological revitalization; its demise was arrested and reversed in just a few years. Lake Trafford was dying, much to the dismay of local residents and visitors who had enjoyed its fishery and diverse wildlife. The lake had been the fishing grounds of the Calusa Native Americans; their dug-out canoes have been spotted lying on the bottom during periods of drought. The shallow, sandy-bottomed lake is a vital part of the Everglades system, contributes water to the Corkscrew Marsh, and is surrounded by wetlands supporting a huge variety of birds, reptiles and amphibians. When the water is high, the overflow drains south through Fakahatchee strand to Southern Golden Gate Estates Critical Project Area, ultimately arriving in the Ten Thousand Islands National Wildlife Refuge. When residents of the city of Immokalee set out to restore their lake, they likely had no idea just how important to the entire South Florida ecosystem Lake Trafford was.
Lake Trafford provides excellent alligator breeding grounds, so it was never a swimming lake. Almost entirely surrounded by wetlands, the margins of the lake host an amazing variety of wildlife and birds. For many years visitors looking for adventure came here to take air boat tours of the natural habitat. Fishermen enjoyed excellent angling for crappie, black bass, bluegill and shellcracker. Residents and visitors enjoy pontooning, canoeing and small-craft boating on the lake. Only two public access sites along the shore allow for boat access, both on the northwest shore. One, the Ann Olesky County Park, is named for the person most instrumental in effecting the restoration of Lake Trafford. Ann Olesky and her husband owned the marina next door – the other public access point to the water. Together, they watched the lake begin to die and observed several massive fish kills due to oxygen depletion, so they mounted the battle to restore the lake. It was a massive effort, requiring millions of dollars and a huge silt removal project to dredge the lake.
Lake Trafford's problems actually began soon after the Tamiami Trail was constructed, disrupting natural water flows. Increasing agriculture in the region allowed more agricultural run-off to reach the lake, overloading it with nutrients. And then, disaster struck in the form of an invasive species, an aquatic weed named hydrilla. Originating in Asia, hydrilla grows very quickly and soon crowds out other native vegetation. It has an amazing ability to root from cuttings or root bulbs, meaning it spreads easily if cut or dislodged. It spread quickly throughout the lake, making boating nearly impossible. Efforts to kill off the hydrilla involved treating the lake with a copper-based herbicide. Unfortunately, up to three groups were attempting eradication at the same time and severely over-treated the lake. The hydrilla was killed, and for several years after, so was any other vegetation attempting to take root in the lake.
The massive hydrilla die-off caused the dying plants to sink to the bottom in a mass of gooey sludge several feet deep. The decaying action removed most of the oxygen from the water, causing massive fish die-offs. The lake, already shallow, was reduced to only a couple of feet of water and several feet to decaying sludge. The Oleskys worked tirelessly to rouse Immokalee and surrounding residents to raise money for sludge removal. For a while it looked like they would never be able to afford the dredging project, but then the Army Corps of Engineers took an interest in the project, and grant funds were secured to remove the muck from the lake bottom.
The huge project took several years. A containment pond and sludge pipeline had to be constructed to contain the mountain of silt being removed. The work was completed over time, eventually restoring the lake to an average depth of seven feet. Environmental scientists are now involved in restoring filtering vegetation such as bull rushes to the lake margins. Florida Fish and Wildlife has begun restocking the lake and the fishing is good again, although the average specimen is still small. Best of all, the natural water flow has been restored to feed the vital ecosystems of Corkscrew Swamp Sanctuary to the southwest, the Corkscrew Regional Ecosystem Watershed to the west, and the Fakahatchee Strand System to the south, which includes the Florida Panther National Refuge. These wetlands drain into important estuaries such as Estero Bay, Wiggins Pass at Estero Bay, and Cape Romano. Ann Olesky didn't live to see the project completed, but the city of Immokalee named their small county park in her honor. And her husband still runs the marina next door, selling bait, renting boats, guiding air boat tours and generally looking out for the lake.
Lake Trafford is an excellent place to begin to explore the wetlands and wildlife that make south Florida unique. Immokalee is a modern small city, with plenty of lodgings and amenities to please visitors. Immokalee is only 40 miles from Fort Myers, and less than a half hour from Big Cypress Swamp and the Florida Panther National Wildlife Refuge. Collier County holds a number of nature destinations with trails, boardwalks and observation points. Birding groups plan regular excursions to local marshes and forests to observe the huge number of both local and migratory birds. Collier County also supports a number of small museums dedicated to the history and natural environment of the area. The Calusa Nature Center and Planetarium is only about 50 miles away in Naples and offers many exhibits centered around the Calusa tribe who once inhabited the region, the natural environment, and opportunities for astronomy explorations. If visitors want to swim, there are plenty of public beaches along the Gulf Coast, from 40 miles away and up.
Lake Trafford area holds a number of choices for lodgings. Many conventional hotels are located in the large cities. Fishing camps still exist at many local lakes, and campgrounds, RV courts and bed-and-breakfasts can all be found nearby. Real estate is often found locally, although there is little along the lakeshore itself. And, as south Florida has a great deal of experience in entertaining those with leisure hours to fill, golf courses, small parks and sporting events can be found within a few miles in any direction. So, if you're visiting southwestern Florida, make sure to stop in to visit Lake Trafford. Take the air boat ride to view alligators and their young, the many waterfowl and native animals. Try for some of those black bass and crappies, and marvel at what a determined local population can do to bring their lake back from the brink of death. Lake Trafford is a natural wonder once more.
Custom Lake Trafford house decor
Read our full review of these personalized lake house signs.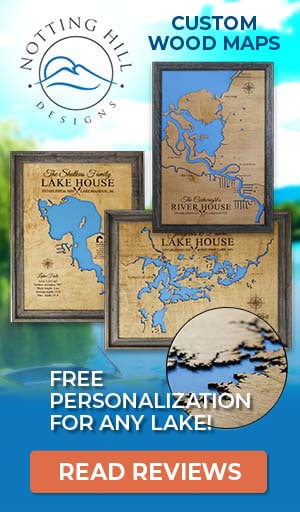 Things to do at Lake Trafford
Vacation Rentals
Fishing
Boating
Swimming
Beach
Canoeing
Golf
Camping
Campground
Hiking
Wildlife Viewing
Birding
National Wildlife Refuge
Museum
Fish species found at Lake Trafford
Bass
Black Bass
Bluegill
Crappie
Redear Sunfish (Shellcracker)
Sunfish
---
Best hotels and vacation rentals at Lake Trafford
The Lake Trafford map shown above is a simple and stress-free way to search for trip accommodations. But if you want to take a deeper dive to find the ideal waterfront home, cabin, condo, hotel or resort, visit our favorite lodging partners by clicking the buttons below.
Note: These are affiliate links so we may earn a small commission if you book through them. While there is no extra cost to you, it helps provide resources to keep our site running (thank you)! You can read our full disclosure policy here.
---
Lake Trafford photo gallery
New photos coming soon!
Lake Trafford statistics & helpful links
We strive to keep the information on LakeLubbers as accurate as possible. However, if you've found something in this article that needs updating, we'd certainly love to hear from you! Please fill out our Content Correction form.
Advertise your Lake Trafford vacation rental
LakeLubbers will soon offer homeowners and property managers the opportunity to to showcase their vacation rentals to the thousands of lake lovers searching our site daily for accommodations. If you'd like additional details, please contact our advertising team here.
Looking for the Lake Trafford forum?
LakeLubbers previously offered visitors the ability to create accounts and participate in lake forums. When we overhauled the site's content management system in 2021 we had to disable those features. We're evaluating options and welcome your comments and feedback here.
We also encourage you to join our lake-lovin' community on Facebook and Instagram!
Spread the word! Share our Lake Trafford article with your fellow Lake Lubbers!