Lake Rosalie, Florida, USA
Welcome to the ultimate guide for history, statistics, local fun facts and the best things to do at Lake Rosalie. If you're considering Lake Rosalie vacation rentals and hotels, we've made it super easy to compare and book using the interactive map below. Or keep scrolling to read our Lake Rosalie Guide!
Lake Rosalie Visitor and Community Guide
Snowbird paradise. That describes Lake Rosalie in southern Polk County. This area in West Central Florida is the kind of place the northern transplant dreams of when planning the Florida vacation or winter destination. Located along the string of lakes and streams that make up the Kissimmee River water system, Lake Rosalie connects indirectly but beneficially to others making up the vast former wetland that feeds the Everglades. Far enough north to avoid the humid tropical heat yet far enough south to miss most frosts, the attractive climate, abundant wildlife and plentiful waters attracted vacationers and retirees here early in the century.
Only a state park separates Lake Rosalie from Lake Kissimmee, considered a part of the 'northern' Everglades and a vital water resource feeding Lake Okeechobee. The Kissimmee Waterway System, although heavily channelized in the past, is being restored to is former meandering route replete with extensive wetlands. As part of the effort to restore the Everglades to their former glory, the increasing wetlands attract a variety of birds and animal to the area which is once again their native habitat. This restoration is discouraging heavy development along the watercourse and assuring the area remains free of excess development. Lake Rosalie shares its shoreline with several campgrounds and a surprisingly small number of homes. Much of the lakefront remains naturally vegetation-covered. This natural state allows everyone who comes here to feel a part of the natural order of a Florida lake. The 4530-acre lake provides a spacious feel many smaller, more developed lakes do not.
No one knows exactly how Lake Rosalie got its name. That's the name recorded on the original 1849 US Govt survey. The area was an early logging and turpentine-harvesting area. During the third Seminole Wars Fort Gardiner was built nearby as a temporary fortification. Later the area was widely used for timber and turpentine. A town named Rosalie was once along the shore but later abandoned after the turpentine industry died out in the area. During the Civil War cattle were raised in the area for shipment to the Confederate Army or traded with Cuba for supplies. After the war, cattle were the main industry. This continues to the present day. Lake Kissimmee State Park makes Florida's cowboy heritage comes alive with living history demonstrations of the early Florida "cow hunters" in an 1876-era cow camp.
Surrounded by the many lakes of the region, Lake Rosalie gains water from Walks-in-Water Creek leading from Lake Weohyakapka, better known as Walks-In-The-Water a short distance to the south. The creek is a favorite, though sometimes strenuous, canoe and kayak trip through protected lands. Because there is no artificial water control, water levels in the creek and both lakes rise and fall according to rainfall. This makes the creek extremely shallow at times. At the inlet to the lake, a Polk County Park provides picnic shelters, a dock, restrooms and camping with electricity, showers and drinking water. Much of the east shore is occupied by 5,930 acre Lake Kissimmee State Park. A navigable canal connects Lake Rosalie to Lake Kissimmee through the park. Between the two parks, water leaves Lake Rosalie via Rosalie Creek to Tiger Lake. A good portion of the northern shoreline is within the confines of David Allen Broussard Catfish Creek State Park. Nearly all residential development is confined to the western portion of the 10-mile shore. Several blind channels have been dug to provide water access to homes. A popular RV resort with a marina occupies a spot on the west shore as well.
All types of watersports are enjoyed on Lake Rosalie: pontooning, kayaking and canoeing. Water skiing and jet skis are permitted. Other water sports are occasionally engaged in but usually swimming is not encouraged – there are alligators in residence here. Airboat tours can be arranged. The lake is a fisherman's favorite hotspot for bass. Several bass tournaments are held near annually. Other fish found in Lake Rosalie include longnose gar, white catfish, black crappie and chain pickerel. Boats can be rented at the marina or dock space leased for those who wish to leave their boat here.
Wildlife viewing is highly rewarding in the area with with eagles, ospreys, cranes, egrets, and alligators relatively common. Besides the wildlife seen while paddling along the shoreline, nearby parks have many trails available for hiking and nature enjoyment. Nature lovers can hike over 13 miles of trails in Lake Kissimmee State Park. Six miles of trails are open to equestrians. David Allen Broussard Catfish Creek State Park-located along the beautiful Lake Wales Ridge – is a walking access park with 6 miles of hiking trails, 7 miles of equestrian trails, a covered pavilion, fishing, and excellent wildlife viewing opportunities. Numerous rare plants such as scrub morning glory, scrub plum, pygmy fringe tree, and cutthroat grass grow here and the area is home to several protected animal species including Florida scrub-jays, bald eagles, gopher tortoises, and Florida scrub lizards. The Preserve contains some of highest and oldest hills in Central Florida, covered with large tracts of intact scrub and sand hill habitat.
Lake Rosalie is only 13 miles from the town of Lake Wales, where the visitor can access a golf course, shopping and restaurants, movies and services. Lake Wales offers an Arts Center, the Little Theater and nearby, Bok Tower Gardens with the famed carillon tower. Those desirous of a larger city can drive to Kissimmee at about 50 miles to the north, with Orlando and Disney World only 75 miles away. Tampa Bay and Melbourne are both about 100 miles from Lake Rosalie an the determined visitor could visit both coasts in an afternoon.
Finding vacation rentals in the Lake Rosalie area may be difficult if one does not make prior reservations. The area is popular with vacationers all year. Occasionally, vacation lodgings in the form of private residences can be found – some with lakefront or lake views. Campgrounds in the area often rent cabins by the week or week-end. And of course, hotel lodgings are available in Lake Wales and other cities in the area. Real estate is often available in the area, usually existing homes. A visit here can cause you to start planning a permanent move to this nature-filled paradise. Come for a visit . . and stay for a lifetime.
Custom Lake Rosalie House Decor
Read our full review of these personalized lake house signs.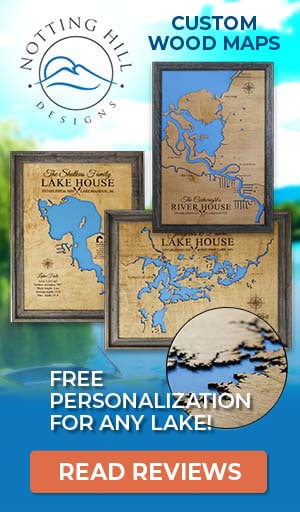 Things to Do at Lake Rosalie
Fishing
Fishing Tournaments
Boating
Swimming
Canoeing
Kayaking
Jet Skiing
Water Skiing
Golf
Camping
Campground
Picnicking
Cabin Rentals
Hiking
Horseback Riding
Hunting
Wildlife Viewing
Birding
State Park
Shopping
Fish Species Found at Lake Rosalie
Bass
Black Crappie
Catfish
Chain Pickerel
Crappie
Gar
Longnose Gar
Pickerel
Pike
White Catfish
---
Best Hotels and Vacation Rentals at Lake Rosalie
The Lake Rosalie map shown above is a simple and stress-free way to search for trip accommodations. But if you want to take a deeper dive to find the ideal waterfront home, cabin, cottage, condo, hotel or resort, visit our favorite lodging partners by clicking the buttons below.
Note: These are affiliate links so we may earn a small commission if you book through them. While there is no extra cost to you, it helps provide resources to keep our site running (thank you)! You can read our full disclosure policy here.
---
Lake Rosalie Statistics & Helpful Links
We strive to keep the information on LakeLubbers as accurate as possible. However, if you've found something in this article that needs updating, we'd certainly love to hear from you! Please fill out our Content Correction form.
Advertise Your Lake Rosalie Vacation Rental
LakeLubbers will soon offer homeowners and property managers the opportunity to to showcase their vacation rentals to the thousands of lake lovers searching our site daily for accommodations. If you'd like additional details, please contact our advertising team here.
Looking for the Lake Rosalie Forum?
LakeLubbers previously offered visitors the ability to create accounts and participate in lake forums. When we overhauled the site's content management system in 2021 we had to disable those features. We're evaluating options and welcome your comments and feedback here. We also encourage you to join our lake-lovin' community on Facebook, Instagram and Pinterest!
Lake Rosalie Photo Gallery
New photos coming soon!
Spread the word! Share our Lake Rosalie article with your fellow Lake Lubbers!