Lake Spivey, Georgia, USA
Welcome to the ultimate guide for history, statistics, local fun facts and the best things to do at Lake Spivey.
If you're considering Lake Spivey vacation rentals, we've made it super easy to explore accommodations and nearby hotels using the interactive map below. Simply click on a listing to compare similar properties, best rates and availability for your dates. Or keep scrolling to read our Lake Spivey guide!
Lake Spivey visitor and community guide
One of the most sought-after addresses in the Atlanta Metro Region is Lake Spivey. The approximately 500-acre lake east of Jonesboro originated in 1957 when Dr Walter Spivey and his wife built a dam across Rum Creek on property they purchased here. The property, previously a cattle farm and later a peach orchard, quickly flooded to form Lake Spivey. An adjacent water body, Lake Jodeco was created by Dr Spivey and his Jonesboro Development Company in 1947. Local lore says there was a small settlement at the location of the dam at one time called Mayday. Little knowledge of this former settlement exists but a mill stone was located during dam excavations, leaving one to speculate that there may have been a mill, possibly with a dam, there sometime in the past. What IS known about the area is that the area around Jonesboro was the site of several major battles during the Civil War; artifacts are sometimes found during building excavations in the area around Lake Spivey. Indeed, the location only 20 miles south of Atlanta and less than five miles east of Jonesboro saw much military action during the Civil War and is the area featured as Tara in the classic, "Gone With The Wind."
Originally a day resort open to the public attracted major national artists such as Pink Floyd and BB King to Lake Spivey. An estimated 500,000 visitors a year flocked to Lake Spivey to enjoy the water and the entertainment. However, Dr Spivey's widow deeded the entire property to the Lake Spivey Civic Association in 1984. Terms of the deed stated that the property be managed in trust for "the exclusive use of property owners" who pay lake maintenance fees and other assessments. Lake Spivey has since become a highly desirable and extremely private bedroom community of Atlanta. Development has been carefully managed to maintain the exclusive nature of the shoreline and surrounding area. Only property owners having deeded access are permitted to use the lake, although other housing exists in the immediate area. The entire development is upscale, with lovely designer homes, excellent landscaping and well-maintained public facilities. Several marinas are provided with assigned slips to assure all authorized residents have a berth for their watercraft and authorization decals are monitored to limit unauthorized access. All types of watercraft are permitted, including pontoons, sail boats, jet skis, power boats canoes and kayaks. Lake Spivey is the only lake in the Atlanta Metro region that allows water skiing and tubing; no-wake areas are strictly enforced and the decisions of the Lake Safety Committee are upheld.
The amenities available to Lake Spivey residents are a major attraction to many prospective property owners: residents of over twenty development 'communities' have access to all of amenities with membership. These include an 18-hole golf course in a country club atmosphere, organized tennis center, pool and waterpark, weight/fitness center, hiking and biking trails, volleyball courts, the two fishing lakes, picnic areas, putt-putt and an incredible beach. The Reid Stevens Heritage Park and Wildlife Sanctuary is located just north of Lake Spivey, very near Clayton County's International Park. A 15K Road Race is an annual event and the Founder's Day Festival raises funds for a variety of charities and community projects. Several wetland areas around the lake are maintained in undeveloped, protected state and herons, ducks and hawks are commonly seen.
Fishing at Lake Spivey is excellent for those lucky enough to gain access. A regularly-scheduled Monday-night fishing tournament keeps residents vying for the weekly and annual records of heaviest total weight catch and largest individual fish. Lake Spivey holds the Georgia State record for black crappie. Largemouth bass, hybrid striped bass, and large channel catfish are also much sought-after game fish here. Over 20 small creeks and inlets feed Lake Spivey, providing excellent spawning habitat for bluegill and panfish.
Real estate takes many forms here: apartments for mature citizens, cluster development to reduce homeowner maintenance needs and traditional homes. The area is well-supplied with private schooling options and arts venues dot the entire Jonesboro area. Vacation rentals are occasionally available however most rental properties are leased on a yearly basis. Famous renters in the past have included Burt Reynolds and Lonnie Anderson and Jim Nabors. Although real estate at Lake Spivey and Lake Jodeco commands a premium price, bargains can occasionally be found. Commercial lodgings are available at nearby Jonesboro and north toward Atlanta. Private rentals and bed-and-breakfast lodgings can be found in the surrounding area. Just east of the lake, the community of Stockbridge offers common small-town amenities such as grocery stores, movie theaters and necessary services. It is to the west near Jonesboro that the widest variety of attractions and amenities can be found.
Jonesboro plays a large part in Georgia popular history. Several major battles were fought near here during the Civil War. Local historians can relate much local lore regarding battles, casualties and particulars. The Clayton County Visitors Bureau can provide information on how to find more information and many Civil War buffs enjoy following the old roads cited in the history books to barely remembered fields, knolls and creeks. But one of the major draws of the Old Jonesboro Depot where the Visitors Bureau is located is the Road To Tara Museum. Here, period costumes and movie memorabilia from the timeless film, "Gone With The Wind' are preserved in the area of the book's location. Margaret Mitchell's great-grandfather owned a plantation near Jonesboro before the War. The main north-south highway through Jonesboro, the former Old Atlanta Road, is named Tara Blvd. Nearby on Jodeco Rd, Stately Oaks Plantation offers a restored 1839 Greek Revival Antebellum home, log kitchen, country store, tenant house and one-room school house at the Margaret Mitchell Memorial Park. Those interested in the work of local artists must visit the Arts Clayton Gallery on Main Street, where the works of local artists both modern and traditional are available for viewing and sales. Special events are staged at the Gallery throughout the year according to season.
The Clayton County Performance Arts Center produces several performances each year featuring both local artists and touring performances. And just up the road in Morrow, another legacy of Dr Spivey is memorialized in the form of Spivey Hall at Clayton State University. Dedicated to concert performances, a regular concert schedule brings world-renown musical artists to perform for the public. Clayton County Parks and Recreation maintains a number of parks and green spaces in the Jonesboro area in addition to the Clayton County International Park near Lake Spivey.
Locate less than 20 miles south of Atlanta, Lake Spivey is within a 15-minute drive of the Hartsfield-Jackson Atlanta International Airport. Close enough for easy access to Atlanta's cultural and nightlife scene yet far enough away to ensure privacy and solitude, Lake Spivey is immediately west of the I-75/I-675 interchange. A visit is within the reach of anyone in the Atlanta area. Come to Lake Spivey and check out some of the lovely homes available. You may find that that Lake Spivey is calling you! Heed the call!
Custom Lake Spivey house decor
Read our full review of these personalized lake house signs.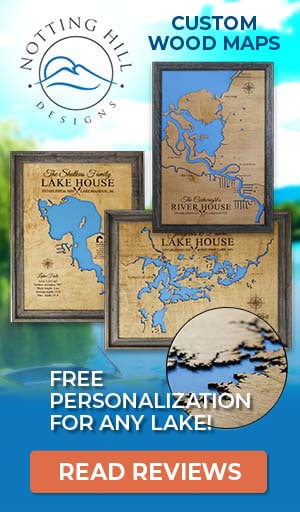 Things to do at Lake Spivey
Vacation Rentals
Fishing
Fishing Tournaments
Boating
Sailing
Swimming
Beach
Canoeing
Kayaking
Jet Skiing
Water Skiing
Tubing
Golf
Tennis
Picnicking
Hiking
Biking
Wildlife Viewing
Birding
Museum
Movie Theater
Fish species found at Lake Spivey
Bass
Black Bass
Black Crappie
Bluegill
Catfish
Channel Catfish
Crappie
Largemouth Bass
Striped Bass
Sunfish
---
Best hotels and vacation rentals at Lake Spivey
The Lake Spivey map shown above is a simple and stress-free way to search for trip accommodations. But if you want to take a deeper dive to find the ideal waterfront home, cabin, condo, hotel or resort, visit our favorite lodging partners by clicking the buttons below.
Note: These are affiliate links so we may earn a small commission if you book through them. While there is no extra cost to you, it helps provide resources to keep our site running (thank you)! You can read our full disclosure policy here.
---
Lake Spivey photo gallery
New photos coming soon!
Lake Spivey statistics & helpful links
We strive to keep the information on LakeLubbers as accurate as possible. However, if you've found something in this article that needs updating, we'd certainly love to hear from you! Please fill out our Content Correction form.
Advertise your Lake Spivey vacation rental
LakeLubbers will soon offer homeowners and property managers the opportunity to to showcase their vacation rentals to the thousands of lake lovers searching our site daily for accommodations. If you'd like additional details, please contact our advertising team here.
Looking for the Lake Spivey forum?
LakeLubbers previously offered visitors the ability to create accounts and participate in lake forums. When we overhauled the site's content management system in 2021 we had to disable those features. We're evaluating options and welcome your comments and feedback here.
We also encourage you to join our lake-lovin' community on Facebook and Instagram!
Spread the word! Share our Lake Spivey article with your fellow Lake Lubbers!