Lake Acworth, Georgia, USA
Also known as:  Acworth Lake
Welcome to the ultimate guide for history, statistics, local fun facts and the best things to do at Lake Acworth.
If you're considering Lake Acworth vacation rentals, we've made it super easy to explore accommodations and nearby hotels using the interactive map below. Simply click on a listing to compare similar properties, best rates and availability for your dates. Or keep scrolling to read our Lake Acworth guide!
Lake Acworth visitor and community guide
Lake Acworth is built for fun! There are three family-friendly parks surrounding Lake Acworth designed for lake enthusiasts to paddle, picnic and play the day away. Located in the community of Acworth, city residents are a short 35-mile commute northwest of Atlanta. Found in Georgia's Atlanta Metro Tourism Region, Lake Acworth is one of two picture-perfect lakes found in Acworth earning the community the name "The Lake City."
Lake Acworth is located at the foothills of the North Georgia Mountains in historic Cobb County. The pleasant scenes that surround Lake Acworth are far from the tragic history written in northwestern Georgia. While archeological digs around Lake Acworth have provided evidence of prehistoric inhabitants, people of the Cherokee Nation were the last native people to settle these hills. In 1828 gold was discovered approximately 40 miles northeast of Acworth Lake. White settlers flocked to the area substantially increasing in numbers well into the 1830s. The inevitable demands for land lead to the forced removal of the Cherokee in 1838. Decades later Acworth saw more than its own share of tragedy during the Civil War. General Sherman's Atlanta Campaign started in June, 1864 at nearby Kennesaw Mountain. Sherman is said to have staged the battle from Acworth where federal forces returned on November 13, 1864 to burn the city to the ground. Acworth rebuilt to become a beautiful southern community, now a rapidly growing suburb of Atlanta with more than 20,000 residents.
Owned and maintained by Acworth's Park and Recreation Department, Lake Acworth is a subimpoundment of neighboring Lake Allatoona. The water of Lake Acworth flows into Lake Allatoona which lies just across the adjoining dam and spillway at the northwest end of the lake. Lake Acworth is drained the last weekend in September when the Great Lake Cleanup is held. The city is dependent upon rainfall to refill Acworth Lake.
Stretching along the north end of Lake Acworth, Cauble Park's 25 acres make a perfect site for family gatherings or group picnics. A sandy beach with designated swimming area is located here. Swimming is permitted from early June to Labor Day and it should be noted that no lifeguards are on duty at Lake Acworth. Restrooms, changing station, showers and concession stand are conveniently located near the beach. After a swim, a fishing dock, paddleboat rentals, volley ball courts, playgrounds and short trails with a boardwalk add to the day's activities. Rental facilities include group picnic areas with picnic tables and grills. For a day of fun on the water, a boat ramp is available at the east end of Cauble Park.
South Shore Park is named for its location on a strip of land at the southern end of Lake Acworth. This 30-acre park is set among the pines and provides access to a small beach and popular fishing site along the 6-mile shoreline.
Overlook Park is the smallest park on Lake Acworth at only one and a half acres, but don't pass it by. Located at the overpass between Lake Acworth and Lake Allatoona, the park offers an excellent view of the lake with shoreline fishing and pleasant picnic area.
Fishing on Lake Acworth is a favorite pastime any time of year. Other than the state-issued fishing license no permits are required. Boats are restricted to electric motors. No gas-powered motors are permitted on Lake Acworth including personal watercraft. The most abundant species found in the 360-acre lake are bluegill and largemouth bass and, if size matters, a 62-pound channel catfish was caught in Lake Acworth in 2008. Additional species available to anglers include black crappie, white crappie, redbreast sunfish, catfish and bream.
For those interested in more than a daytime lake experience, Lake Allatoona is just a stroll across the dam at the northeast end of Lake Acworth. Lake Allatoona is one of the more popular lake projects maintained by the U. S. Army Corps of Engineers. Almost seven million visitors a year come to camp, picnic, swim, boat, hike, view wildlife, hunt and fish at Lake Allatoona.
Immediately north of Lake Acworth, on the shores of Allatoona Lake, is Red Top Mountain State Park. Here you will find a large selection of accommodations including a lodge, campgrounds, cottages and shelters. In addition to biking, bird watching, hiking, horseback riding, fishing and tennis, the park maintains the Allatoona Pass Battlefield. Earthworks and entrenchments are preserved as a tribute to the 5,301 union and confederate soldiers who fought here in October, 1864.
The beauty of Lake Acworth and surrounding parks is a reflection of the community that surrounds it. Acworth is a vibrant city remaining true to its small-town southern heritage while offering services and conveniences one would expect in an urban area. Acworth is home to one of Georgia's most prestigious golf courses; the city's historic downtown offers a variety of shops; and local restaurants serve up a variety of offerings along with southern hospitality and charm. This historic community lies at the northwest edge of Atlanta's growing real estate market. A wide selection of residential properties and vacation rentals are available within and around Acworth. Lakeside and lake-view properties are being developed near Lake Allatoona and mountain cabins and cottages dot the North Georgia Mountains. Whether you come to Lake Acworth for the day or choose "The Lake City" as your permanent residence, the combination of nature and small-town atmosphere will have you calling Lake Acworth home.
Custom Lake Acworth house decor
Read our full review of these personalized lake house signs.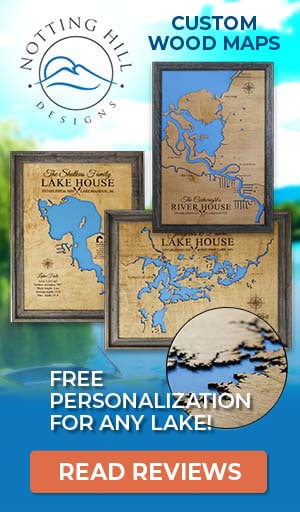 Things to do at Lake Acworth
Vacation Rentals
Fishing
Boating
Swimming
Beach
Golf
Tennis
Camping
Campground
Picnicking
Cabin Rentals
Hiking
Biking
Horseback Riding
Hunting
Wildlife Viewing
Birding
State Park
Playground
Fish species found at Lake Acworth
Bass
Black Bass
Black Crappie
Bluegill
Catfish
Channel Catfish
Crappie
Largemouth Bass
Redbreast Sunfish
Sunfish
White Crappie
---
Best hotels and vacation rentals at Lake Acworth
The Lake Acworth map shown above is a simple and stress-free way to search for trip accommodations. But if you want to take a deeper dive to find the ideal waterfront home, cabin, condo, hotel or resort, visit our favorite lodging partners by clicking the buttons below.
Note: These are affiliate links so we may earn a small commission if you book through them. While there is no extra cost to you, it helps provide resources to keep our site running (thank you)! You can read our full disclosure policy here.
---
Lake Acworth photo gallery
New photos coming soon!
Lake Acworth statistics & helpful links
We strive to keep the information on LakeLubbers as accurate as possible. However, if you've found something in this article that needs updating, we'd certainly love to hear from you! Please fill out our Content Correction form.
Advertise your Lake Acworth vacation rental
LakeLubbers will soon offer homeowners and property managers the opportunity to to showcase their vacation rentals to the thousands of lake lovers searching our site daily for accommodations. If you'd like additional details, please contact our advertising team here.
Looking for the Lake Acworth forum?
LakeLubbers previously offered visitors the ability to create accounts and participate in lake forums. When we overhauled the site's content management system in 2021 we had to disable those features. We're evaluating options and welcome your comments and feedback here.
We also encourage you to join our lake-lovin' community on Facebook and Instagram!
Spread the word! Share our Lake Acworth article with your fellow Lake Lubbers!