Dog River Reservoir, Georgia, USA
Lake Locations:
USA - South - Georgia - Atlanta Metro -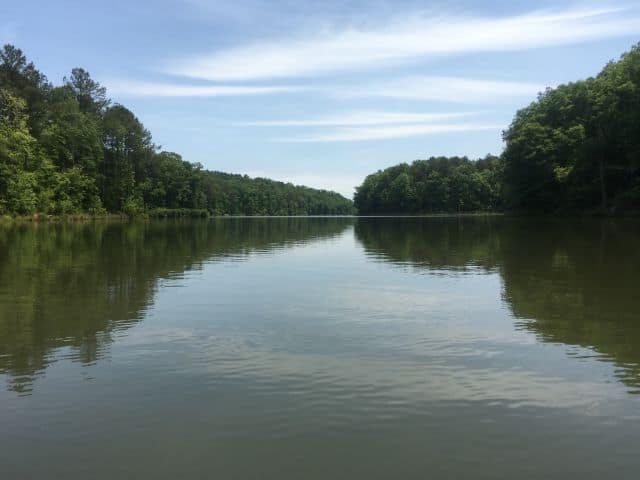 Dog River Reservoir, located in the Atlanta Metro Region of Georgia, was built in 1992 and became the largest water improvement project in Douglas County. Built to counteract the effects of the polluted Chattahoochee River, the reservoir is the major water source for the area. Managed by the Douglasville-Douglas County Water and Sewer Authority, the county has enacted strict building regulations within the river's drainage basin, limiting development to residences on lots no smaller than 3 acres. These regulations limit the number of residents in the area and affect the quality of the primary drinking water for Douglas County. While the reservoir was expanded in 2006 from 200 acres to 300 acres, it was closed due to flooding in September 2009. For information on when it will reopen, call 770-920-3884.
Originally built for county residents only, Dog River Reservoir offers activities such as fishing, boating, and paddling. Anglers can expect to catch bass, catfish, and crappie, but there is a strict catch-and-release policy on the lake. No boats longer than 16 feet or gasoline-powered boats are allowed on the lake for water-quality purposes. For whitewater paddling, head to Dog River, which feeds into the reservoir, where rafters encouter Class II, III and some Class IV sections of whitewater just waiting for the brave of heart. Head to Georgia Route 5 to put in for a seven-mile long whitewater section that ends at the reservoir.
Other activities in the area include the Clinton Nature Preserve and Sweetwater Creek State Park. The preserve is located off Interstate 20 and Post Road. It is a 200-acre historical preserve with Civil War cabins, picnic areas, hiking trails, an outdoor amphitheater, playgrounds, and fishing. Just minutes from downtown Atlanta and the Dog River Reservoir is Sweetwater Creek State Park, a 2,549-acre park named after Sweetwater Creek, which runs through the park. The park offers hiking, the George Sparks Reservoir for fishing, an interpretive center, bait shop, gift shop, fishing docks, playgrounds, picnic shelters, and canoe rentals.
For a change of pace, head to Atlanta, just minutes east of Dog River Reservoir. Spend time at the Georgia Aquarium (the world's largest indoor aquarium), World of Coca-Cola (features the history of the soft drink and taste rooms), Underground Atlanta (historic shopping complex under the streets of Atlanta), and Atlantic Station (a new urban renewal project on the northwestern edge of the city). Some of the more popular museums include the Atlanta History Center, Carter Center, Martin Luther King Jr. National Historic Site, APEX Museum, and the Atlanta Cyclorama and Civil War Museum. Historic houses and parks are plentiful in a city that was integral during the Civil War and Reconstruction. East of Atlanta is Stone Mountain, the largest piece of exposed granite in the world. Carved on the face of the stone is a picture of Civil War heroes, which you can see up close on a tram or on a hike around the top of the mountain.
Once repairs are completed and Dog River Reservoir reopens, it is an ideal place to kick back and enjoy a lazy evening after a busy day in Atlanta. Acreage is still available, as well as resale of existing residences for those wishing to make the Atlanata Metro area home. Vacation rentals are also available for week or month-long excursions to northern Georgia, so grab your whitewater kayak, your fishing pole, and your hammock and head to Dog River Reservoir.
Things to do at Dog River Reservoir
Fishing
Boating
Canoeing
Kayaking
Picnicking
Cabin Rentals
Hiking
State Park
Museum
Playground
Shopping
Fish species found at Dog River Reservoir
---
Dog River Reservoir Photo Gallery
Dog River Reservoir Statistics & Helpful Links
Spread the word! Share our Dog River Reservoir article with your fellow Lake Lubbers!