Lake Itasca, Minnesota, USA
Also known as:  Elk Lake, Omashkoozo-zaaga'igan
Welcome to the ultimate guide for history, statistics, local fun facts and the best things to do at Lake Itasca.
If you're considering Lake Itasca vacation rentals, we've made it super easy to explore accommodations and nearby hotels using the interactive map below. Simply click on a listing to compare similar properties, best rates and availability for your dates. Or keep scrolling to read our Lake Itasca guide!
Lake Itasca visitor and community guide
The headwaters of the mighty Mississippi River originate at 1,162-acre Lake Itasca. Wild and impressive, this beautiful lake is surrounded entirely by Itasca State Park. What isn't well known, however, is that Lake Itasca isn't a natural body of water. The original beginnings of the major river were a series of small ponds within a large swamp. The site of the lake was first visited in 1804 by a fur trader named William Morrison. Local Ojibway told him the name was Omashkoozo-zaaga'igan, meaning Elk Lake. Elk Lake it was until noted explorer Henry Schoolcraft arrived a few years later to declare the lake the actual headwaters of the Mississippi. He renamed it with a combination of the Latin words 'veritas' for 'truth' and 'caput' for 'head'-Itasca. Somehow, most later visitors assumed this to be a name garnered from the local natives. Whatever-the name stuck!
It wasn't until later in the 19th century that a group of loggers decided that the Mississippi headwaters deserved a more impressive lake and dammed the outlet with logs. This caused the water to back up and inundated some of the surrounding swampland. In the 1930s, the Civilian Conservation Corps took on the chore of improving the lake even more. They drained much of the surrounding swamp, bulldozed the outlet channel into a regular watercourse, and installed a low-head concrete dam to further regulate the lake levels. To improve the dam area for recreation and to make it all appear untouched by human hands, they added a course of rocks atop the submerged concrete weir allowing for visitors to wade across the dam. To this day, visitors enjoy the stepping stones to cross the man-made rapids at the head of the Mississippi.
Because the lake was originally wet marshland, the shoreline in many areas is poorly defined. Wetlands merge with the water in many areas. The surrounding lands are heavily wooded, and the protected status allows for all sorts of native birds and animals to enjoy Lake Itasca's bounty. Lake Itasca State Park is considered one of the top five state parks in the United States, according to Outside Magazine. There are certainly plenty of natural outdoor activities to be enjoyed in the 50-square-mile park. A boat ramp along the north arm of the lake provides year-round access. Shaped like an inverted 'Y', the lake gives plenty of room for boating and fishing along its three arms. One large island is named after explorer Schoolcraft. A large acreage along the west side of the lake is designated the Itasca Wilderness Sanctuary State Natural Area and invites nature lovers to enjoy the old-growth forest and natural marshlands remaining here. The surrounding area and many lakes are home to deer, waterfowl, loons and birds of prey.
A swimming beach is available, complete with picnic shelters, playground and volleyball courts. Canoeing, kayaking, boating and sailing all take place here. Even more visitors take one of the two-hour boat tours of the lake offered at the historic Douglas Lodge along the shore. Those who wish to paddle their own canoe but don't have one with them can rent canoes, sit-on kayaks, stand-up paddleboards, pontoons, fishing boats, rowboats and accessories. The same facility on the northern shore rents bicycles, tandem bikes and electric-assist bikes to use on the many bike trails in the area and acts as camp store for the park.
Fishermen have plenty of angling enjoyment awaiting at Lake Itasca as they attempt to catch yellow perch, walleye, black crappie, northern pike, bluegill, rock bass and largemouth bass. Fishing is free for Minnesota residents, but out-of-state visitors need a Minnesota fishing license. A seasonal permit or daily admission fee is charged to enter the park, but with over 100 small lakes to fish, many anglers feel it an entirely reasonable cost. The sports rental facility also rents fishing tackle and sells bait.
Two main campgrounds are located within Lake Itasca State Park. Pine Ridge Campground offers year-round camping while Bear Paw Campground is limited to the summer season. Both have picnic tables, fire rings, shower facilities, water, some electrical hook-ups and restrooms. Eleven backpack campsites are available year-round. Two group campgrounds are open only in summer. Historic Douglas Lodge offers a variety of lodgings to overnight visitors, with camping cabins, lodge suites and a clubhouse. The appeal of the trails in the park is a year-round attraction, so several of the lodging facilities are open all winter. Snowshoeing, cross-country skiing and snowmobiling all delight cold weather sports participants within the park. Sections of the Mississippi Headwaters State Forest surround the park and offer several state forest campsites,
Jacob V Brower Visitor Center acts as headquarters for Lake Itasca visitors. The Center holds exhibits and meeting facilities, acts as a winter warming center for cross-country skiers, and heads several of the hiking and biking trails. The University of Minnesota has campus facilities along the shore in the form of the Itasca Biological Station and Laboratories. Field research has gone on here since 1909, and the facility holds offices, laboratories, classrooms, computer lab, cabins for student and faculty housing, food service and recreation facilities. Roads circle the lake, allowing those with cars to access the Visitors Center and several historic sites surrounding the lake.
No private homes are located along Lake Itasca, but civilization isn't faraway. The small town of Park Rapids is a few miles south of the lake and offers the usual services visitors and campers may need. A number of guest cabin resorts and small motels and inns provide lodging in the area outside of the park. Nearby, a commercial zipline and family fun facility accommodates those who feel the need for more organized adventure and entertainment. Lake Itasca can be reached from Duluth by car in about three hours and is nearly four hours from Minneapolis-St. Paul. There is no real estate available directly on Lake Itasca, but the entire surrounding area is full of residential lakes where the perfect cottage can be found for sale. So, pack up the hiking boots and the fishing rod and come visit Lake Itasca. Come wade across the Mississippi at its source.
Custom Lake Itasca house decor
Read our full review of these personalized lake house signs.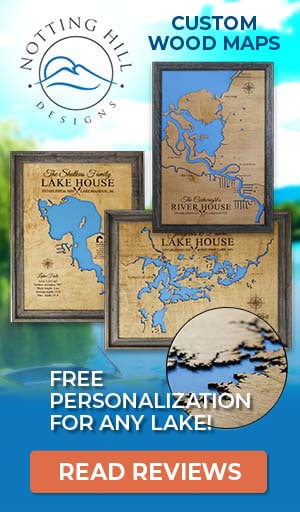 Things to do at Lake Itasca
Vacation Rentals
Fishing
Boating
Sailing
Swimming
Beach
Canoeing
Kayaking
Camping
Campground
Picnicking
Cabin Rentals
Hiking
Biking
Cross-Country Skiing
Snowmobiling
Snowshoeing
Wildlife Viewing
Birding
State Park
State Forest
Playground
Fish species found at Lake Itasca
Bass
Black Bass
Black Crappie
Bluegill
Crappie
Largemouth Bass
Northern Pike
Perch
Pike
Sunfish
Walleye
Yellow Perch
---
Best hotels and vacation rentals at Lake Itasca
The Lake Itasca map shown above is a simple and stress-free way to search for trip accommodations. But if you want to take a deeper dive to find the ideal waterfront home, cabin, condo, hotel or resort, visit our favorite lodging partners by clicking the buttons below.
Note: These are affiliate links so we may earn a small commission if you book through them. While there is no extra cost to you, it helps provide resources to keep our site running (thank you)! You can read our full disclosure policy here.
---
Lake Itasca photo gallery
New photos coming soon!
Lake Itasca statistics & helpful links
We strive to keep the information on LakeLubbers as accurate as possible. However, if you've found something in this article that needs updating, we'd certainly love to hear from you! Please fill out our Content Correction form.
Advertise your Lake Itasca vacation rental
LakeLubbers will soon offer homeowners and property managers the opportunity to to showcase their vacation rentals to the thousands of lake lovers searching our site daily for accommodations. If you'd like additional details, please contact our advertising team here.
Looking for the Lake Itasca forum?
LakeLubbers previously offered visitors the ability to create accounts and participate in lake forums. When we overhauled the site's content management system in 2021 we had to disable those features. We're evaluating options and welcome your comments and feedback here.
We also encourage you to join our lake-lovin' community on Facebook and Instagram!
Spread the word! Share our Lake Itasca article with your fellow Lake Lubbers!