Lake Placid, New York, USA
Lake Locations:
USA - Mid-Atlantic - New York - Adirondacks -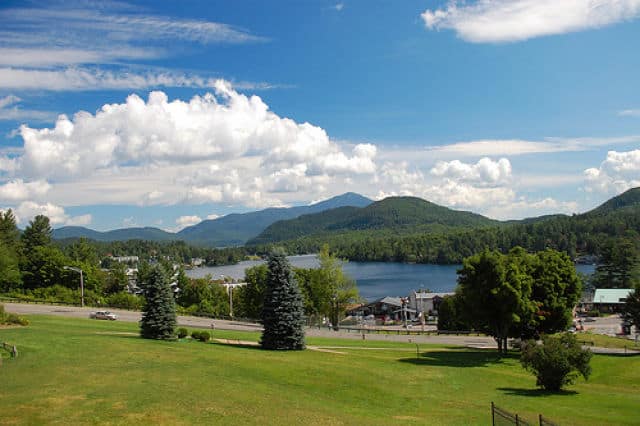 Set among tall pines and white birches in the gorgeous Adirondack Mountains in upstate New York, Lake Placid is a spring-fed, sparkling 2,173-acre lake that offers year round beauty and entertainment for residents and visitors alike. Internationally known for hosting the 1932 and 1980 Winter Olympic games, the village of Lake Placid has become a bustling resort community where you can experience all that the Adirondacks have to offer.
Lake Placid averages 50 feet deep and has a maximum depth of 151 feet. A small dam on Outlet Brook, on the southwest side of the lake, was constructed in 1904 to help regulate the water level in the lake. There are two large islands in the middle which are popular for picnicking, camping, and fishing. Sport fish in the lake include rainbow trout, lake trout, Northern pike, perch, splake, and smallmouth bass. Watercraft of all types and size are welcome on the water, and there are many boat launches and docks located at campgrounds surrounding the lake. The best way to experience the lake is from the water. Kayak and canoe rentals are plentiful. Cruises and tours are available for those who just want to sit back and relax and enjoy the beauty of the region.
For fly-fishermen visiting Lake Placid, the legendary West branch of the Ausable River offers some of the best brown trout and rainbow trout fishing in North America. Six and a half miles of the Ausable's channels and deep pools are designated as catch and release areas to ensure great fishing for future generations. For those who would like to learn the art of fly-fishing, instructional clinics and guided stream trips geared for all abilities will increase your chances of hooking up with trophy fish in the streams and rivers that make their way through the mountains.
Consuming fish from Lake Placid is safe, but some areas of the Adirondacks have fish advisories due to mercury levels. See the Adirondack Park Fish Advisory link at the bottom of this page for information on consuming fish from area lakes and streams.
Camping is a great way to discover the Lake Placid region. Lake Placid's accommodation options range from primitive lean-tos to extravagant waterfront cabins overlooking the lake. Most campgrounds offer a variety of services to include swimming beaches, boat ramps, boat rentals, fishing docks, bathroom facilities, heated showers, electrical, water and cable TV hookups for RVs, miniature golf, playgrounds, sports fields, outdoor pools, picnic areas, and even Wi-Fi. For those who prefer more comfortable accommodations, vacation rentals of all kinds are available.
To truly enjoy the grandeur of the Adirondack Mountains and the natural beauty and fresh air of the woods, Lake Placid serves as a year-round base camp for thousands of miles of wooded hiking, biking and equestrian trails and countless pristine summits from which to view it all. Majestic Whiteface Mountain, whose reflection can be seen in the clear waters of the lake, offers a challenge for hikers and mountain bikers who want to defy the 4,867-foot peak. For those seeking less of a challenge, the mountain can also be conquered via a gondola ride or a drive up the Veterans' Memorial Highway.
The town of Lake Placid is also home to Mirror Lake, a 128-acre lake which you can sail on in summer and skate on in winter. The lake's shoreline is totally developed with private residences, hotels, and the backyards and balconies of many Main Street shops.
A large part of the appeal of Lake Placid is the town for which it is named. Lake Placid Village is a fun place for shopping and browsing the talents of local artists and craftsmen. Over 100 shops and boutiques are within walking distance from the southern end of Lake Placid. Particularly popular are "lodge" style furnishings and Adirondack "stick furniture" that have been a trademark of the region for over a century. Cultural activities are plentiful in the area, including live theatre, concerts, dance performances, film and fine arts exhibitions. Other attractions include the Olympic Center on Main Street which houses four ice rinks and a Winter Olympic museum. There are several golf courses in the area and a youth center complete with a skate park. The winter sports center is a half hour drive away. The Ausable Chasm, The Adirondack Museum, Santa's Workshop and scenic flights over the Adirondacks are just a few of the attractions within a short drive. After a day of fun in the sun, relax in one of the village pubs or fine restaurants.
For a unique family outing, take a day trip to Lake Placid's larger next-door neighbor, Saranac Lake. A ride on the scenic railroad that connects the two towns will allow you to spend the afternoon exploring historic downtown shops, art galleries and lakeside parks.
Although a popular destination for summer and fall activities, the Lake Placid area sees no decrease in tourists after the snow falls. Downhill skiing and snowboarding are perhaps two of the most popular winter activities. At Whiteface Mountain, winter sports enthusiasts will encounter some of the best alpine skiing in the country. Snowmobiling, snowshoeing, cross country skiing, ice fishing, bobsledding, a thrilling luge run, or just a leisurely chairlift ride up a mountain is a great way to take in the snow-covered beauty of the Adirondacks.
If you're looking to paddle a canoe on a pristine lake, scale a majestic mountain, catch a trophy sized trout, or take a hair-raising bobsled ride, consider a visit to Lake Placid. After a day of unforgettable outdoor adventure, the area's restaurants, spas, shops, and inviting accommodations and attractions will help complete a vacation you'll remember for a lifetime.
Things to do at Lake Placid NY
Vacation Rentals
Fishing
Ice Fishing
Boating
Sailing
Swimming
Beach
Canoeing
Kayaking
Golf
Camping
Campground
Picnicking
Cabin Rentals
Hiking
Biking
Downhill Skiing
Snowboarding
Cross-Country Skiing
Snowmobiling
Snowshoeing
Horseback Riding
Museum
Playground
Miniature Golf
Shopping
Fish species found at Lake Placid NY
Bass
Black Bass
Brown Trout
Lake Trout
Northern Pike
Perch
Pike
Rainbow Trout
Smallmouth Bass
Splake Trout
Trout
---
Lake Placid NY Photo Gallery
Lake Placid NY Statistics & Helpful Links
Spread the word! Share our Lake Placid NY article with your fellow Lake Lubbers!