Lake Murray, South Carolina, USA
Lake Locations:
USA - South - South Carolina - Capital City & Lake Murray Country -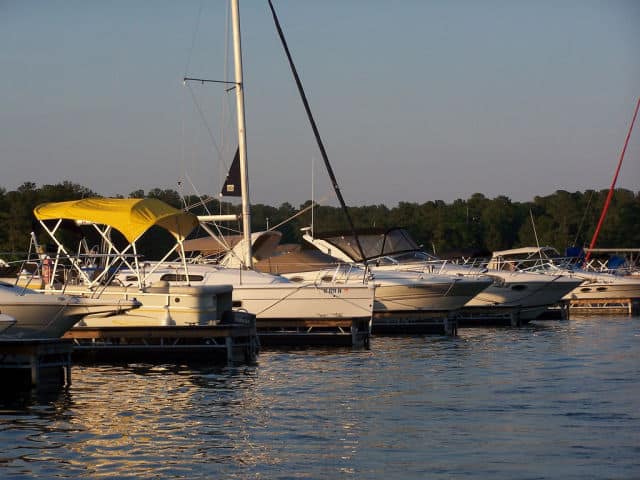 The kayak slips quietly through the water, dipping in and out of the finger coves that fringe the lake. The sun is just peeking over the horizon. For a few more hours, she'll have Lake Murray to herself — almost anyway. It's a fantastic fishing lake, known for trophy-sized striped bass, so the anglers are out in force. Lake Murray, however, is so large that signs welcome visitors to "Lake Murray Country." With over 48,000 acres of water and nearly 650 miles of shoreline, there is more than enough room for both her kayak and the fishing boats. In a couple hours, when the power boats are pulling water skiers across Lake Murray, she'll be sipping tea on the deck of the lakefront house she's renting. Maybe in the afternoon she'll join the other boaters on the beautiful water that makes up Lake Murray Country.
Lake Murray is an impoundment of the Saluda River and created by the Dreher Shoals Dam. The dam was built to supply hydroelectric power to South Carolina. Construction was started on the dam on September 21, 1927 with completion on June 30, 1930. At the time of its construction, it was the largest earthen dam in the world. The land under what would become Lake Murray was inhabited, and before the dam could be built the people needed to be relocated. In addition to private homes, schools, churches and graveyards all had to be built or relocated, but the lure of hydroelectric power kept public sentiment relatively positive. The land was cleared of trees and almost enough timber was harvested to use in the construction of the dam. The resulting lake was named after Chief Engineer Williams Murray and stretches 41 miles long and 14 miles across. It touches parts of four counties including Saluda, Newberry, Richland, and Lexington. Today it is also used as a municipal water supply and is owned by South Carolina Electric and Gas Company (SCE&G).
Perhaps Lake Murray's most important use is for recreation. It has become one of the south's premiere striper lakes and plays host to several fishing tournaments every year. Anglers can also challenge themselves against the lake's abundant populations of largemouth bass, catfish, bream, crappie, and yellow perch. Public access to Lake Murray is from several SCE&G boat ramps or recreation areas, including one on either side of the dam with a picnic and swimming area. The lake is ringed with vacation rentals, marinas, and restaurants, many of which also provide access to the lake.
Dreher Island State Recreation Area, also known as Billy Dreher Island State Park, provides access to Lake Murray. The 348-acre park is made up of three islands linked together by a causeway and two bridges. It includes hiking trails, a campground, lakeside villas, and miles of shoreline fishing. "Out in the lake, but not far from the city" is Dreher Island's motto. Just 15 miles from Columbia, South Carolina's capital city, Dreher Island State Recreation Area provides easy access to both Lake Murray and all the amenities of the city. For anyone intending to stay in the area, there is real estate for sale.
Lake Murray's islands have a rich history. In addition to accommodating the state recreation area, islands on the lake served as bombing ranges during World War II. Today, boaters gather around the island to watch the purple martins take flight on their practice runs getting ready for their journey to Brazil.
At the time of its completion, the Dreher Shoals Dam was an engineering marvel. In 2005, SCE&G completed another engineering feat with the construction of a backup dam for Lake Murray. Construction on the backup dam was prompted by the reclassification of the 1886 earthquake that leveled Charleston. After further study, the earthquake was labeled 7.3 on the Richter scale, exceeding the original dam's requirements. A road runs across the original dam, and a walking path was created with the construction of the backup dam. The trail gives visitors a beautiful view looking out over Lake Murray.
With tens of thousands of acres of water, schools of trophy-sized fish, and countless coves to explore, Lake Murray draws visitors from across the country. Its recreation opportunities are large enough to warrant their own tourism region. The Capitol City and Lake Murray Country region has something to please everyone and more than enough room for them all.
Things to do at Lake Murray SC
Vacation Rentals
Fishing
Fishing Tournaments
Boating
Swimming
Kayaking
Water Skiing
Camping
Campground
Picnicking
Hiking
State Park
Fish species found at Lake Murray SC
Bass
Black Bass
Catfish
Crappie
Largemouth Bass
Perch
Striped Bass
Yellow Perch
---
Lake Murray SC Photo Gallery
Lake Murray SC Statistics & Helpful Links
Spread the word! Share our Lake Murray SC article with your fellow Lake Lubbers!