Lake Cushman, Washington, USA
Lake Locations:
USA - West - Washington - Olympic Peninsula & Pacific Coast -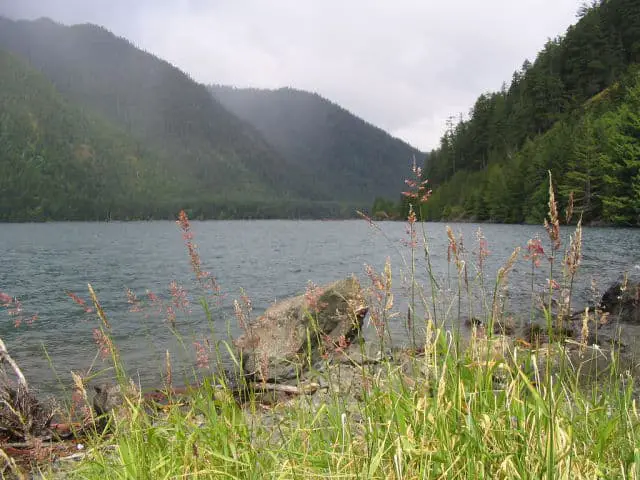 Nestled in the foothills of the majestic Olympic Mountains, Lake Cushman is known for its clear, blue water and alpine beauty. With 23 miles of shoreline, visitors can enjoy all kinds of outdoor recreation fun at this 4,000-acre lake including fishing, boating, water skiing, swimming, canoeing, bird watching and even scuba diving. In addition to the Olympic National Forest, Lake Cushman is surrounded by campgrounds which provide wildlife viewing, nature trails, hiking, horseback riding, and nearby golfing.
Lake Cushman is located on the north fork of the Skokomish River in Mason County, Washington. It was originally a long narrow broadening of the Skokomish River formed in a glacial trough and dammed by a terminal moraine from the last ice age. In 1895 the Antlers Hotel was built on the original lake which attracted visitors to the area to enjoy the incredible natural beauty. The lake was famous as a hard-to-reach fishing and hunting paradise. Lake Cushman was named in honor of Orrington Cushman, who served as interpreter for Governor Isaac Stevens during the Treaty of Point Elliott negotiations with Puget Sound Indians in 1854.
In 1925 Tacoma City Light built the first dam on the North Fork of the Skokomish River and flooded all existing developments, including the hotel. With the creation of the dam, water from the North Fork now flowed into an expanded Lake Cushman, then through a power plant before returning to the stream channel. In 1930, another dam was built a mile downstream to form the 2-1/2 mile long Lake Kokanee. Today, the two dams work in concert to provide electrical power to the Tacoma Power system. Ownership and operation of the lake, dam, campgrounds and power plant has been mired in a battle between the Skokomish Tribe and Tacoma Power for eight decades. A historic settlement agreement was reached in early 2009 by the Skokomish Tribe, Tacoma Power (which owns the hydroelectric project), and numerous state and federal agencies regarding issues such as river restoration, in-stream flows, fish habitat and fish passage improvements, wildlife habitat, restoration of fish populations, and recreation. Part of the agreement includes the transfer of the 500-acre campground, Camp Cushman, to the Skokomish Tribe.
Fishing enthusiasts are attracted to the lake's refreshingly cool waters and plentiful fish. The northern shoreline features huge boulders and large trees and is a popular fishing spot. Whether fishing for relaxation and fun or for sport, Lake Cushman offers a variety of fishing experiences. Lake Cushman is open year round and is home to the abundant kokanee, rainbow, and cutthroat trout as well as the elusive landlocked chinook salmon. Three paved public boat launches at Camp Cushman (formerly Lake Cushman State Park) provide easy access to the lake, with a launch fee. Camp Cushman has overnight camping, full hookups, fire pits and picnic tables for day use. The deep water also beckons scuba divers to explore the sunken forest and the remains of the Antlers Hotel.
The nearby Olympic National Forest offers many opportunities for recreation, with over 200 miles of trails for hiking, horseback riding and/or biking. Trails range in length from short to long with about half of the trails located at lower levels so they can be enjoyed year round. Wildlife viewing is also common for the area where visitors will likely see bears, bobcats, chipmunks, coyotes, deer, elk, fresh water otter, mountain goats, rabbits, raccoons, skunks and squirrels. Ninety-five percent of Olympic National Park has been designated as Wilderness and is part of the National Wilderness Preservation System.
Visitors considering building or purchasing a home in the area will find many options including single family homes, cabins, and timeshares. Lake Cushman's shoreline is also dotted with rental cabins. The town of Lake Cushman (also known as Cushman) is an unincorporated community on the shores of Lake Cushman and is the fastest growing community in Mason County. With the Seattle/Tacoma International Airport just 43 miles away, the area is convenient to reach while still maintaining a remote feel.
Things to do at Lake Cushman
Vacation Rentals
Fishing
Boating
Swimming
Canoeing
Water Skiing
Scuba Diving
Golf
Camping
Campground
Picnicking
Cabin Rentals
Hiking
Biking
Horseback Riding
Hunting
Wildlife Viewing
Birding
State Park
National Park
National Forest
Fish species found at Lake Cushman
Chinook Salmon
Cutthroat Trout
Kokanee Salmon
Salmon
Trout
---
Lake Cushman Photo Gallery
Lake Cushman Statistics & Helpful Links
Spread the word! Share our Lake Cushman article with your fellow Lake Lubbers!