Lake Monticello, Virginia, USA
Lake Locations:
USA - South - Virginia - Central Virginia -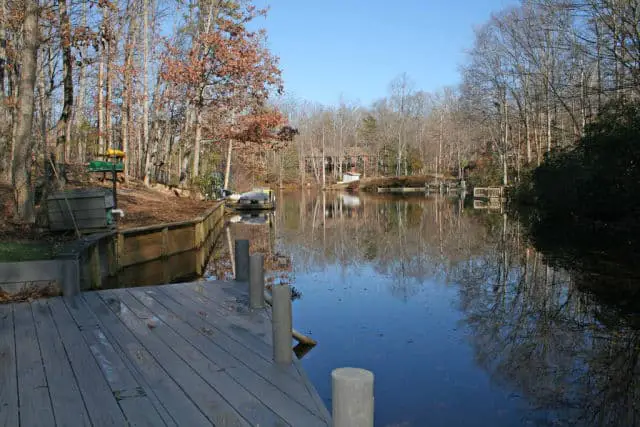 Lake Monticello, located amidst the gentle rolling hills of Central Virginia, is a private community with a beautiful 350-acre lake. Within easy distance to Charlottesville and Richmond, Lake Monticello is an ideal home for commuters as well as retirees.
Lake Monticello's main lake was formed by a dam on a short tributary of the Rivanna River. Hurricane Camille filled the lake in 1965. The main lake offers a marina with docks, a concrete launching area, and five beaches with picnic areas. The main lake is great for fishing, water skiing, boating and swimming. Lake Monticello also has a small pond, Tufton Lake, that is only used for fishing.
Access to Lake Monticello is restricted. Residents must pay dues to the Lake Monticello Owners' Association (LMOA). The LMOA provides general maintenance of the community as well as a variety of other community services. The 3,500-acre community offers amenities such as six hard-surfaced tennis courts, basketball courts, a swimming pool, playgrounds with picnic facilities, a softball field, and a clubhouse. The Clubhouse can be used for social events and meetings.
Lake Monticello is noted for it 18-hole, 72-par PGA championship golf course. The golf course is only semi-private and is open to the general public. The golf course includes a Pro Shop and snack bar.
Lake Monticello is only 15 miles away from Charlottesville, home of the University of Virginia, founded by Thomas Jefferson. Charlottesville offers many fine dining and shopping choices. The Charlottesville area is rich in history and was home to both Thomas Jefferson and James Monroe. The home of Thomas Jefferson, Monticello, offers visitors a tour of the house, plantation community, and gardens. Ash Lawn-Highland was the home of James Monroe and is now a historic museum with a 535-acre working farm. Both homes have beautiful landscaping and are worth repeated visits.
Guests of Lake Monticello residents may find they like visiting so much that they want a home for themselves. Lake residents and visitors alike will agree that Lake Monticello is a beautiful place to unwind and enjoy the peaceful community around them.
Things to do at Lake Monticello VA
Vacation Rentals
Fishing
Boating
Swimming
Swimming Pool
Beach
Water Skiing
Golf
Tennis
Picnicking
Museum
Playground
Shopping
---
Lake Monticello VA Photo Gallery
Lake Monticello VA Statistics & Helpful Links
Spread the word! Share our Lake Monticello VA article with your fellow Lake Lubbers!