Lake Mead, Arizona & Nevada, USA
Lake Locations:
USA - Southwest - Arizona - West Coast - West - Nevada - Las Vegas Territory -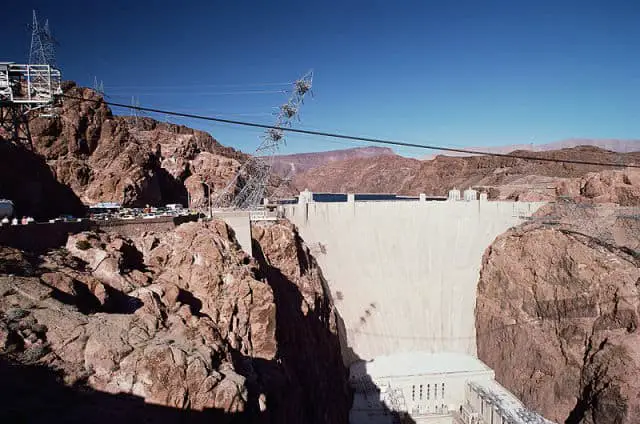 Lake Mead is the USA's largest man-made reservoir in amount of water it can hold. Although Lake Powell is marginally larger in acreage at full-pond, Lake Mead holds more water by volume and thus is considered the larger of the two. In the size of their surfaces, both are dwarfed by Lake Sakakawea and Lake Oahe in North and South Dakota, and Fort Peck Lake in Montana respectively. Adding to the confusion is the fact that the controlling authorities for major reservoirs are far more concerned with how much water they hold than with surface acreage which often changes from month-to-month. With acres of water such as these behemoths contain, a few hundred acres more or less hardly matters. Debates over relative size thus will likely continue for years to come!
With over 500 miles of shoreline and a temperate climate, Lake Mead is a utopia for the over 8 million visitors that seek out its recreational opportunities. It is part of the Lake Mead National Recreation Area, and boating is a major drawing card. Fishing, diving, water skiing, hiking and camping are just some on the recreational possibilities. Open year round, many sun-seekers come to escape northern winters and relax in the warmth. With Las Vegas and Hoover Dam nearby, Lake Mead is an ideal location to head out for a day's sightseeing and play. Lake Mead, covering the state line, is in both Arizona and Nevada.
Under the auspices of the U.S. Bureau of Reclamation, Lake Mead was formed by the construction of Boulder Dam (now Hoover Dam) impounding the Colorado River. Construction was completed in 1936. Lake Mead's primary purpose is as a reservoir for water supply, with over 22 million people in California and Nevada dependent upon it. Other major uses are hydropower generation and irrigation supply. Spectacular recreation of all types is a byproduct of the Dam. Lake Mead is located southeast of Las Vegas and can be accessed from US 93 and 95 on the south and US 15 on the north. Interstate 515 is the access from Las Vegas and Henderson. The U.S. Bureau of Reclamation operates and maintains the dam, powerplant and reservoir, while the National Park Service administers Lake Mead.
Superb boating is a major enjoyment on the gorgeous waters of Lake Mead. Seven large fully stocked marinas dot the lake. Everything from 75 foot houseboats to canoes and kayaks may be rented at most. Watersports abound with the warm climate and boating can be enjoyed over 95% of Lake Mead – fluctuating lake levels creating shallow areas acoount for the remaining 5%. Launch ramps in both Arizona and Nevada locations are conveniently accessible. For those not having or wanting to rent a boat of their own, there are many cruises and sightseeing tours offered around Lake Mead.
Lake Mead is an excellent 'fishing hole'. Striped bass, stocked trout, shad, largemouth bass, channel cats, bluegill and crappie are found in the most likely spots. Fishing is open year round except for posted areas.
Lake Mead holds a crashed B-29 Superfortress which was found by sports divers and further explored by the National Park Service (NPS) and NOAA. It is on the Lake bottom at 140 to 170 feet and crashed in 1948. An NPS diving permit is required to dive the site. Also, there are more than 25 geocaches situated nearby for new 'finds'. Although some will test your rock climbing ability, many are relatively easy to find and log.
Valley of Fire State Park is located only six miles from Lake Mead and northeast of Las Vegas. Its name comes from the red sandstone formations and the stark, other worldly beauty of the Mojave Desert. Open all year, popular activities include hiking, camping, picnicking, photography, and a visit to the full-scale visitors center.
All in all, Lake Mead is a boater's paradise with a wealth of recreational activities for any outdoors person.
Things to do at Lake Mead
Vacation Rentals
Fishing
Boating
Canoeing
Kayaking
Water Skiing
Camping
Picnicking
Hiking
Rock Climbing
State Park
National Park
Fish species found at Lake Mead
Bass
Black Bass
Bluegill
Crappie
Largemouth Bass
Shad
Striped Bass
Sunfish
Trout
---
Lake Mead Statistics & Helpful Links
At LakeLubbers.com, we strive to keep our information as accurate and up-to-date as possible, but if you've found something in this article that needs updating, we'd certainly love to hear from you!
Please let us know about it on our Content Correction form.
Spread the word! Share our Lake Mead article with your fellow Lake Lubbers!