Horseshoe Reservoir, Arizona, USA
Welcome to the ultimate guide for history, statistics, local fun facts and the best things to do at Horseshoe Reservoir.
If you're considering Horseshoe Reservoir vacation rentals, we've made it super easy to explore accommodations and nearby hotels using the interactive map below. Simply click on a listing to compare similar properties, best rates and availability for your dates. Or keep scrolling to read our Horseshoe Reservoir guide!
Horseshoe Reservoir visitor and community guide
Horseshoe Reservoir, in the Arizona Central Region, is a seldom-visited surprise. Horseshoe Lake, as it is often called, was created in 1946, when a dam was built across the Verde River to create a water storage area for mining, irrigation and municipal water. Downstream, Horseshoe Reservoir feeds Bartlett Lake and eventually the canals that water the Phoenix Metropolitan Area. Remote and seldom visited, Horseshoe Reservoir is often nearly dry during the summer months except for the Verde River course. Because of a prolonged drought, water is not stored here during the dry season.
Horseshoe Reservoir isn't used for many of the usual recreational uses: some camping is available, but water skiing, parasailing and personal watercraft are forbidden; boating speed is limited to 20 miles an hour. This is for safety purposes, as the low water level often exposes rocks just under the surface. There is a boat launch area available in all but the lowest-water periods and visitors are welcome to bring boats for fishing purposes. The most common fish in the lake is carp, followed by goldfish – not exactly a game fish in high demand. The repeated water fluctuations tend to destroy breeding areas for most native game fish. Red shiner, mosquito fish, channel catfish, yellow bullhead, flathead catfish, green sunfish, bluegill, largemouth bass, Colorado pikeminnow, razorback sucker and Sonora sucker are present but not in sufficient numbers to be attractive to fishermen. As the water is needed elsewhere, there are no plans to try to develop a fishery here.
The lake is somewhat difficult to access: those with a high-clearance vehicle can travel the nine miles upriver from Bartlett Lake to reach the shore. An unsuspecting visitor may risk vehicle damage if they are not prepared. Many impromptu visitors believe they will see another lake like Bartlett Lake just downstream and may be surprised to find the water level is 80 feet below the high water mark. So, why would the visitor come to Horseshoe Reservoir? There are oh, so many reasons!
Well within the boundaries of the Tonto National Forest, many desert and mountain wildlife make the area home. Visitors may see bald eagles, mule deer, javelina, coyotes, and view many indigenous desert plants, including mesquite trees, saguaro and blooming ocotillo. A hiking trail hugs much of the shoreline. The Mazatzal Wilderness Area is near the eastern shore with a total of 252,390 acres and about 240 miles of trails. The Verde River trail follows the river upstream for 28 miles. Some trails are suitable for horseback riding. Rock hounds often come to search for agates and jasper. Upriver from Horseshoe Reservoir, the 50-mile stretch of the Verde River is a class II-III whitewater rafting river popular with kayakers and canoeists. River runners usually put their watercraft in at the Camp Verde Bridge 58 miles upstream and exercise their skills with the rapids all the way to Horseshoe Reservoir.
Modern Arizona could not exist without reservoirs like Horseshoe Lake, or the canals that deliver water to fields and factories. In fact, Phoenix was settled precisely because of the development of canal systems for crop irrigation. Archaeologists claim that the Hohokam tribe settled along the Salt, Verde and Gila Rivers by 300 AD and built an extensive system of irrigation canals by hand to provide water for their crops and their villages. The villages thrived until a series of floods destroyed the canals in the 1300s, driving the Hohokam from the area. In the 1860's, a gold rush in central Arizona brought an influx of miners into the area. One enterprising gentleman saw the ruined canals and terraces of the Hohokam and recognized them for what they were. He gathered a group of local investors and began to develop a canal system.The canals were used to irrigate food crops to sell to the miners and the United States Cavalry at Fort McDowell. By 1868, a government survey party noted that a settlement had developed at the site and was locally called Phoenix.
By 1890, the Salt River Project was engaged in building canals and water storage dams to feed the growing city and local farmers. Hydroelectric power generation was soon added to many of the dams along the Salt and Verde Rivers. In 1944, the Phelps Dodge Mining Company paid to have Horseshoe Dam built to assure a steady supply of water to their mines to support the war effort. Within a few short years, the dam was expanded and the cities in the area secured water rights to provide for city water needs. Horseshoe Reservoir supplies water to Bartlett Lake and Dam and from there, feeds the canals that criss-cross the Phoenix metropolitan area. As for the Hohokam? They have left many of their sun-baked, abandoned pueblo-style dwellings in ruins within the Tonto National Forest. The ruins are accessible in several areas. Maps may be obtained from the Ranger Stations.
Not far from Horseshoe Lake, the Agua Fria National Monument is located on the west side of Interstate 17. Some of the best preserved Hohokam ruins are located within its boundaries. Often, visitors gravitate to Bartlett Lake for it's full contingent of water sports, swimming and fishing, never knowing it is kept full by Horseshoe Reservoir sacrificing its waters. At about 46 miles from Phoenix, summer recreation travelers are common at Bartlett Lake. Few venture beyond to Horseshoe Reservoir.
There are no vacation accommodations within the Tonto National Forest other than camping. The many small towns around the perimeter make up for this lack by providing everything the visitor to the area might desire. The small quaint towns of Carefree and Cave Creek have plenty of vacation rentals and lodgings available. The area is growing, with Carefree in particular developing resort-style, upscale shopping and dining. New condo developments are going up and real estate opportunities abound for both the investor and the retirement buyer. Local private ranches around the area also rent rooms, with some catering to hikers and white water enthusiasts. Why not be the next visitor to see what few have seen? Come to Horseshoe Reservoir and enjoy nature in the desert.
Custom Horseshoe Reservoir house decor
Read our full review of these personalized lake house signs.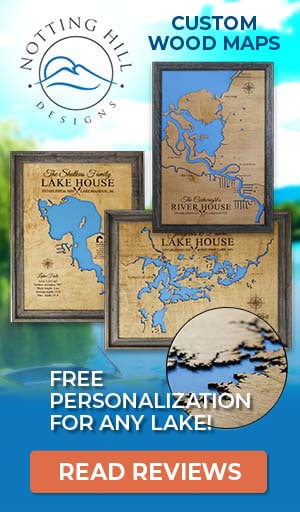 Things to do at Horseshoe Reservoir
Fishing
Boating
Swimming
Canoeing
Kayaking
Whitewater Rafting
Water Skiing
Parasailing
Camping
Hiking
Horseback Riding
Wildlife Viewing
Birding
National Forest
Ruins
Shopping
Fish species found at Horseshoe Reservoir
Bass
Black Bass
Bluegill
Carp
Catfish
Channel Catfish
Flathead Catfish
Largemouth Bass
Sucker
Sunfish
Yellow Bullhead
---
Best hotels and vacation rentals at Horseshoe Reservoir
The Horseshoe Reservoir map shown above is a simple and stress-free way to search for trip accommodations. But if you want to take a deeper dive to find the ideal waterfront home, cabin, condo, hotel or resort, visit our favorite lodging partners by clicking the buttons below.
Note: These are affiliate links so we may earn a small commission if you book through them. While there is no extra cost to you, it helps provide resources to keep our site running (thank you)! You can read our full disclosure policy here.
---
Horseshoe Reservoir photo gallery
New photos coming soon!
Horseshoe Reservoir statistics & helpful links
We strive to keep the information on LakeLubbers as accurate as possible. However, if you've found something in this article that needs updating, we'd certainly love to hear from you! Please fill out our Content Correction form.
Advertise your Horseshoe Reservoir vacation rental
LakeLubbers will soon offer homeowners and property managers the opportunity to to showcase their vacation rentals to the thousands of lake lovers searching our site daily for accommodations. If you'd like additional details, please contact our advertising team here.
Looking for the Horseshoe Reservoir forum?
LakeLubbers previously offered visitors the ability to create accounts and participate in lake forums. When we overhauled the site's content management system in 2021 we had to disable those features. We're evaluating options and welcome your comments and feedback here.
We also encourage you to join our lake-lovin' community on Facebook and Instagram!
Spread the word! Share our Horseshoe Reservoir article with your fellow Lake Lubbers!