Lake McKenzie, Queensland, Australia
Also known as:  Boorangoora
Welcome to the ultimate guide for history, statistics, local fun facts and the best things to do at Lake McKenzie.
If you're considering Lake McKenzie vacation rentals, we've made it super easy to explore accommodations and nearby hotels using the interactive map below. Simply click on a listing to compare similar properties, best rates and availability for your dates. Or keep scrolling to read our Lake McKenzie guide!
Lake McKenzie visitor and community guide
Located on Fraser Island off the coast of Queensland, Australia, Lake McKenzie's crystal clear water and sparkling white sand combine to rank this lake among the most beautiful beaches in the world. Fraser Island's beauty continues through the display of numerous lakes, complex dune systems, multi-colored sand cliffs and towering rain forests. Attracting approximately 400,000 visitors a year, Fraser Island and Lake McKenzie create one of Queenland's most popular destinations.
Access to Fraser Island and Lake McKenzie is by ferry. Located approximately 186 miles (300 kilometers) north of Brisbane, both vehicle barges and passenger-only services carry visitors to Fraser Island. Departure points from the mainland include Rainbow Beach, River Heads and Hervey Bay. Depending on departure and arrival points, the trip takes approximately 30 minutes to one hour. Fraser Island's few resorts also offer transportation for the convenience of guests.
Running 75 miles (120 kilometers) long and up to 14 miles (22 kiliometers) wide, Fraser Island is the largest sand island in the world. The Aboriginal people who have inhabited the island for at least 5,000 years call it K'gari (meaning paradise). Captain James Cook first sighted the island in 1770 but found it too barren and sandy to pursue a landing. In 1836 the ship Stirling Castle struck the adjacent Great Barrier Reef, leaving survivors stranded on what was then called Great Sandy Island. Today the island is named after the ship captain's wife, Eliza Fraser. The island remained fairly isolated until the multi-colored sand and dense forests attracted the first industries. First timber then sand mining existed on the island from 1863 until 1991. Now most of the 710 square mile (1,840 square kilometer) island, including Lake McKenzie, is protected as Great Sandy National Park and is listed as a World Heritage site.
Lake McKenzie, named Boorangoora by the local Butchulla people, sits toward the southern end of Fraser Island. It is considered a "perched lake," formed when a wind-blown depression in the sand is rendered impermeable by the build-up of layer upon layer of decayed organic material. Fraser Island's substantial rainfall (up to 71 inches or 1,800 millimeters per year) balances with evaporation to keep the lake's depth at just over 16 feet (5 meters). According to the Queensland Parks and Wildlife Service, there is no known connection with the regional aquifer. Management of the 321 acre (130 hectares) lake is handled by the Queensland Department of Environment, National Parks and Wildlife Service. In 2010 the park service addressed visitor impact on Lake McKenzie's blue water and fine white sand by implementing a major redevelopment project. The plan encourages visitors to move beyond the wide beaches at the northern shore to spread the usage along the four mile (6 kilometer) shoreline. New designated viewpoints, limiting the number of visitors, improved parking, and restored vegetation will help preserve Lake McKenzie for future generations; new picnic facilities, dingo fence protection, and restrooms improve conditions for today's lake users. In an effort to protect the lake and shoreline, motor boats and jet skis are prohibited.
Lake McKenzie is best known for its swimming and sun bathing opportunities. The water's purity, acidity and low nutrient levels make it a poor fish habitat. Freshwater fish that do live in Boorangoora, or any Fraser Island lake, are protected so fishing is not permitted. Species found on the island include eels, herring, catfish, hardy heads, rainbow fish, blue-eyes, perch and gudgeons.
Lake McKenzie is one of over 40 permanent lakes on Fraser Island. Of the few dozen perched lakes known to exist worldwide, Fraser Island holds about half of them. Three perched lakes (Birrabeen, Boomanjin, and Garawongera) all lie within 3 miles (15 kilometers) of Lake McKenzie. At nearly 494 acres (200 hectares), Lake Boomanjin is the largest perched lake in the world. Two other types of lakes are found on Fraser Island. Barrage lakes are formed by sand dunes that block waterways as they blow across the island. Window lakes occur when the bottom of the lake sits below the island's water table exposing a pool of groundwater. Fraser Island lakes that are fed by creeks as well as rainwater also appear in a variety of colors, depending on the surrounding landscape.
In addition to sand and lakes, Fraser Island is home to a complex ecosystem. The landscape varies from creeks criss-crossing the island to swamps and wetlands; dense rainforests; wallum forests made of eucalypts, banksias, acacias and grass trees; mangrove forests; salt pans; and sand dunes rising more than 656 feet (200 meters) above sea level. Circling much of Fraser Island, the Great Walk offers visitors a unique opportunity to view scenery and wildlife along a 56 mile (90 kilometer) walking trail. The entire walk can take six-to-eight days to complete as it passes by Lake McKenzie, ocean beaches, shipwreck remains and native wildlife habitat.
Fraser Island is the only place on earth where rainforest trees reach heights of 230 feet (70 meters) while thriving on towering sand dunes. Over 25 species of mammals and 230 species of birds live among the water, trees and sand. Echidnas, bats and one of Australia's purest strains of dingoes are listed among the mammals. Kingfisher, white-breasted sea eagle and brahminy kite are birds that can be found throughout the island with the rare ground parrot gracing the Wallum heath lands.
In addition to the beauty of Lake McKenzie, the Great Barrier Reef Marine Park lies off the northern end of Fraser Island. Listed as one of the seven natural wonders of the world, the Great Barrier Reef covers an amazing 1,600 miles (2,600 km). Water enthusiasts can enjoy scenic boat charters or kayak, snorkel, and scuba dive for close encounters with sea life living around the world's largest coral reef.
An extended stay is recommended to fully appreciate the beauty of McKenzie Lake, Fraser Island and surrounding reef. Accommodations are available to meet every taste and budget. Both park and private campgrounds are found on Fraser Island. Some sites offer gas barbecues or fire rings. Campers are reminded that soaps, toothpastes and lotions should never enter lakes or streams, and rubbish must be taken off the island when they leave. Beach camping is permitted in designated areas. Camping permits are required and should be purchased in advance.
With the growth of eco-tourism drawing visitors to Lake McKenzie and Fraser Island, you will find an excellent selection of vacation rentals, resorts and real estate properties among the townships of Happy Valley, Eurong, Eastern Beach, Cathedral Beach, Kingfisher Bay, Orchid Beach and Dilli Village. Select your accommodation amid the trees, dunes and beaches on an island so extraordinary it was named K'gari – Paradise.
Custom Lake McKenzie house decor
Read our full review of these personalized lake house signs.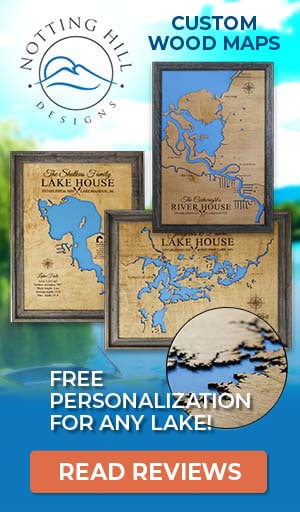 Things to do at Lake McKenzie
Vacation Rentals
Boating
Swimming
Beach
Kayaking
Snorkeling
Scuba Diving
Camping
Campground
Picnicking
Hiking
Wildlife Viewing
Birding
National Park
Fish species found at Lake McKenzie
---
Best hotels and vacation rentals at Lake McKenzie
The Lake McKenzie map shown above is a simple and stress-free way to search for trip accommodations. But if you want to take a deeper dive to find the ideal waterfront home, cabin, condo, hotel or resort, visit our favorite lodging partners by clicking the buttons below.
Note: These are affiliate links so we may earn a small commission if you book through them. While there is no extra cost to you, it helps provide resources to keep our site running (thank you)! You can read our full disclosure policy here.
---
Lake McKenzie photo gallery
New photos coming soon!
Lake McKenzie statistics & helpful links
We strive to keep the information on LakeLubbers as accurate as possible. However, if you've found something in this article that needs updating, we'd certainly love to hear from you! Please fill out our Content Correction form.
Advertise your Lake McKenzie vacation rental
LakeLubbers will soon offer homeowners and property managers the opportunity to to showcase their vacation rentals to the thousands of lake lovers searching our site daily for accommodations. If you'd like additional details, please contact our advertising team here.
Looking for the Lake McKenzie forum?
LakeLubbers previously offered visitors the ability to create accounts and participate in lake forums. When we overhauled the site's content management system in 2021 we had to disable those features. We're evaluating options and welcome your comments and feedback here.
We also encourage you to join our lake-lovin' community on Facebook and Instagram!
Spread the word! Share our Lake McKenzie article with your fellow Lake Lubbers!