Lake Cootharaba, Queensland, Australia
Lake Locations:
Australia - Queensland -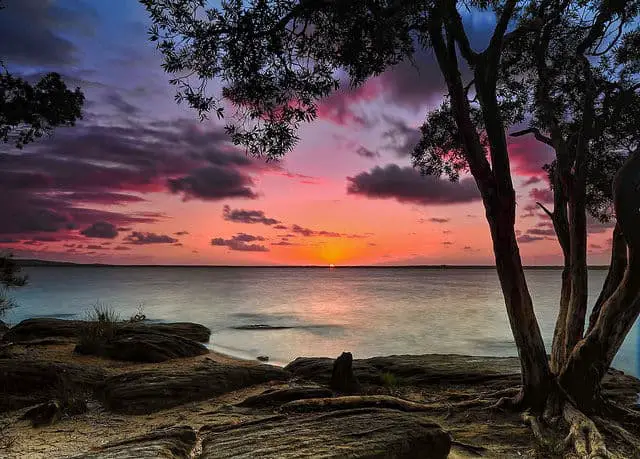 International visitors to Queensland's famous Sunrise Coast usually don't suspect an entirely different kind of watery delight awaits at Lake Cootharaba. Less than two miles from the beaches of the Pacific, Lake Cootharaba inhabits a completely different kind of environment, one that has been drawing regular visitors for over 100 years. Cootharaba is one of the tidal lakes along the Noosa River that drain the interior swamps. The Noosa River is navigable from the City of Noosa to the lake, creating an ideal destination for inland floating and boating. The nearly 9400-acre lake is a noted location for regattas and sailboat racing.
The only town of any size along Lake Cootharaba is the resort town of Boreen Point. Perched on a rise above the lake, Boreen Point is home to artists, craftsmen and tourist-related businesses. Eight miles upriver from the coastal city of Noosa, a trip to Lake Cootharaba is an easy weekend jaunt for locals. The average depth of the lake is only about four feet, and young children can frolic in relative safety for hundreds of yards from shore in only a foot or so of water. Kinaba Island on the north end has several prime swimming spots, as does the area around Elanda Point. Two public beaches are located near Boreen Point, and the municipal campground is unusually busy on weekends as a respite from the city. As Lake Cootharaba is only two hours from Brisbane, many Queensland Aussies consider it the local picnic destination.
Boats, pedal boats, canoes, kayaks, catamarans and jet skis can be rented at Boreen Point. Water-skiing is allowed but not in the marked navigation lanes or other protected areas. A water taxi makes short work of the three-mile trip across the lake. Houseboats can be rented at Noosa for an upriver trip to Lake Cootharaba. The Lake Cootharaba Sailing Club has headquartered here for many years and welcomes visiting sailors. Sailboat racing occurs regularly, and the Club hosts several major regattas each year.
One of the most popular boating activities is to venture upstream at the north end of Lake Cootharaba into the Noosa Everglades. Its dark waters stained by tannin, the Noosa River meanders between stands of trees and open savannas holding a wealth of birds. The water in Lake Cootharaba is brackish due to the effects of ocean tides: here, the water is considerably less salty, making it a haven and breeding ground for many kinds of fish. For ecologists, the Noosa Everglade water trails are a source of endless discovery, with a huge variety of plants inhabiting the swampy areas. River explorers can venture here on their own or sign up for one of the adventure eco-tours from the Elanda Point Education Centre & Adventure Park, not far from Boreen Point. Elanda Point also has a campground, rents boats and provides a number of educational programs focused on the unique ecology of the area. Other canoe rentals in the area also offer guided canoeing expeditions.
Canoe campers can reserve isolated campsites in the Noosa Everglades, a part of the 370,658-acre Noosa Biosphere Reserve. The Noosa is the only river in Australia with its entire upper watershed protected as a National Park. The southern portion of the Great Sandy National Park encompasses the north, east and south shores of Lake Cootharaba. Many trails cross the varied terrain, with a foot path leading east to the Pacific beach. Stretches of walking paths extend around much of the lake, with side spurs available to walk to Mount Seawah and enjoy the full-circle view of the South Pacific, Lake Cootharaba and everything in between. A trail leading from Campsite 3 on the upper Noosa River meanders four miles through the forest to the scenic Cooloola Sandpatch with its acres of spectacular shifting sands. There are tracks for ATVs, mountain biking trails and a wealth of wildlife in the park, including curious kangaroos.
Fishing isn't a large draw to Lake Cootharaba; the water is somewhat salty and the shallow, sandy-bottomed lake has little habitat structure to accommodate most fish. Catfish can be caught and an occasional wayward sea dweller such as a ray. The creek inlets, however, produce some nice bream. The Noosa River upstream is usually where most knowledgeable anglers head; it was previously home to a number of fishing shanties. A launch site is located at Boreen Point, and most boat rental establishments are set up for launching. Because the lake is near the coast and larger Noosa River, several good golf courses are within an hour's drive. So, if fishing isn't on the agenda, there are plenty of other activities to enjoy.
Lucky holiday-goers can sometimes rent a bungalow at Boreen Point from a private owner. The town also has motels and a historic hotel with dining room that is perfect for lunch. Several cafes and numerous shops line the lakefront streets. A few resort hotels offer spa facilities. Immediately downstream, tourist lodgings are available, with bed and breakfasts, guest cottages, motels, guest stays and caravan parks giving way to major hotels and resorts along the Pacific beaches. At Noosa, visitors can arrange for deep sea fishing, scuba diving, and a variety of cruises and guided tours into the Outback. With all of this going on, why would you choose any other Queensland vacation? So, grab the kids' sand pails and head to Lake Cootharaba.
Things to do at Lake Cootharaba
Vacation Rentals
Fishing
Boating
Sailing
Swimming
Beach
Canoeing
Kayaking
Jet Skiing
Water Skiing
Scuba Diving
Golf
Camping
Campground
Picnicking
Hiking
Biking
Wildlife Viewing
Birding
National Park
Fish species found at Lake Cootharaba
---
Lake Cootharaba Photo Gallery
Lake Cootharaba Statistics & Helpful Links
Spread the word! Share our Lake Cootharaba article with your fellow Lake Lubbers!