Lake Eyre, South Australia, Australia
Lake Locations: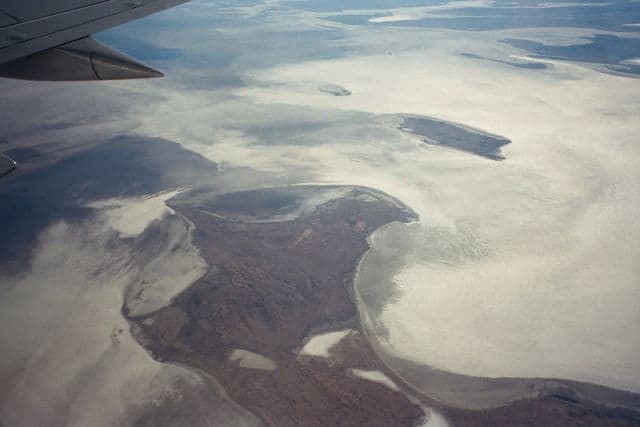 Lake Eyre is the largest lake in Australia and the world's saltiest lake. Located in South Australia, Lake Eyre draws tourists due to its unusual patterns of water capacity. The salty lake is usually completely dry and void of water, leaving behind a dry desert-like basin that is filled with salt. Discovered in 1839 by Edward John Eyre, a pioneer and sheep herder, Lake Eyre was believed to always remain dry. Then in 1950 both Lake Eyre South and Lake Eyre North completely filled with water, making the area an oasis for wildlife. Lake Eyre has only filled to capacity three times in the last 150 years; however, flooding in Australia has allowed water to enter the basin once about every eight years.
Before news of flooding even reaches the public, thousands of breading pelicans as well other water birds find their way to the swelling lake. The Lake Eyre Dragon and other small reptiles can also be spotted when the waters begin to fill Lake Eyre. Aquatic life also appears and includes bony bream and Lake Eyre Hardyhead as well as brine and shield shrimp.
Even when Lake Eyre is nothing but a dry salt basin, it still attracts visitors. The smooth, flat surface has been an ideal site for numerous land speed record attempts. In July of 1964, the world's fastest speed recorded was reached by Sir Donald Campbell as he drove over the empty basin.
Whether filled with water or a dry vast wilderness, there are two ways to enjoy the spectacular Lake Eyre. One way to travel is by ATV and should only be done with much planning and preparation. The remote desert region with blistering temperatures in the summer can cause heat stroke or even death. While traveling by ATV, travelers should form a convoy and carry extra fuel, water and food. There are only two public accesses to Lake Eyre, and they are found in the Lake Eyre National Park which includes Lake Eyre and several other salt lakes. One of the access areas is located in Muloorina Station and offers private campgrounds.
The second way to enjoy the vastness of Lake Eyre is from the sky. There are several local tour guides that offer sightseeing flights over the lake. It is in these light aircrafts that sightseers may view the mineral-rich waters that turn many shades of pink, purple and blue.
In early 2009, major flooding to Queensland, Australia filled almost every river system in the area. Spring flood waters began to fill Lake Eyre. Wildflowers bloomed and as many as 60,000 birds were observed making Lake Eyre their breeding ground. It is not often that Lake Eyre is filled with water, so many tourists flock to the area to observe the wildlife. The filling of Lake Eyre may be a once-in-a-lifetime event and should be enjoyed by all nature enthusiasts. When the waters of Lake Eyre evaporate it is hard to tell when the beautiful and natural wildlife haven will return. The vast beauty of Lake Eyre will leave visitors spellbound.
Things to do at Lake Eyre
Vacation Rentals
Camping
Campground
Wildlife Viewing
Birding
National Park
---
Lake Eyre Statistics & Helpful Links
Spread the word! Share our Lake Eyre article with your fellow Lake Lubbers!