Lake Lillinonah, Connecticut, USA
Lake Locations:
USA - New England - Connecticut - Litchfield Hills -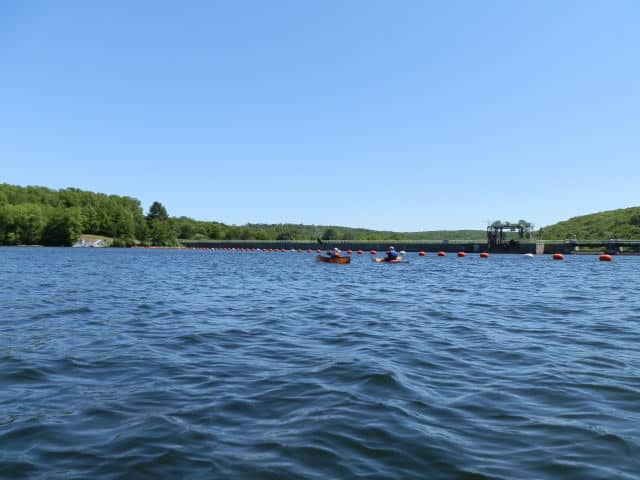 With more than 1500 acres of boating and fishing waters, bordered by a wide variety of shoreline vistas, Lake Lillinonah in southwestern Connecticut is a great outdoor enjoyment destination. The lake provides recreation areas with boat ramps, kayaking, canoeing, wildlife viewing, hiking trails, and picnic areas. The State of Connecticut operates two public boat launches, the Lake Lillinonah launch with a paved parking lot and the Pond Brook launch with a gravel parking lot.
Lake Lillinonah is quite long, stretching some 12 miles and very river-like, with steep forested banks along most of its length. New Milford is located at the northern end, and the southern end is defined by the Shepaug Dam. Lake Lillinonah's 45 miles of shoreline supplies a wonderful canoeing, kayaking or other boating experience for visitors.
Lake Lillinonah was created by Connecticut Light and Power by building the Shepaug Dam to impound the Housatonic River. The resulting reservoir was designed primarily for generation of hydroelectric power and flood control – FirstLight Power Resources operates the dam. Construction of the dam and powerhouse was completed in 1955. A 57,000 horsepower turbine spins an output of 42,600 kilowatts for the utility.
Lake Lillinonah is very popular with anglers for its populations of bass (large and smallmouth), black crappie, white and yellow perch, northern pike, sunfish, and large bullhead catfish. Lake Lillinonah ranks first in the state for its bass growth rates. It is host to an average of 50 annual competition bass fishing tournaments, second only to Lake Candlewood in the state (see LakelubbersÃ,´ Lake Candlewood). The state record northern pike (29 pounds) was caught in the lake. Ice fishing is popular in winter, so anglers enjoy the lake year-round.
For water enthusiasts, kayaking, canoeing, and water skiing are popular. The Housatonic River 'Trail' has been established to capitalize on that popularity. The area has an abundance of bird life with Bald Eagles making their fall/winter home below Shepaug Dam; a viewing area has been established in that location. For geocachers, there are more than 200 caches within reach. Combine your birding with your geocaching for a great outing. The picturesque lake environs make for ideal conditions for nature enthusiasts and camera bugs.
Visitors to southwestern Connecticut should make Lake Lillinonah one of the top places to stop, relax and 'smell the roses' and FISH.
Reference: A Fisheries Guide to Lakes and Ponds of Connecticut, published by the Department of Environmental Protection, Hartford, Connecticut, 2002
Things to do at Lake Lillinonah
Vacation Rentals
Fishing
Fishing Tournaments
Ice Fishing
Boating
Canoeing
Kayaking
Water Skiing
Picnicking
Hiking
Wildlife Viewing
Birding
Fish species found at Lake Lillinonah
Bass
Black Crappie
Bullhead Catfish
Catfish
Crappie
Northern Pike
Perch
Pike
Sunfish
Yellow Perch
---
Lake Lillinonah Photo Gallery
Lake Lillinonah Statistics & Helpful Links
Spread the word! Share our Lake Lillinonah article with your fellow Lake Lubbers!