Candlewood Lake, Connecticut, USA
Lake Locations:
USA - New England - Connecticut - Litchfield Hills -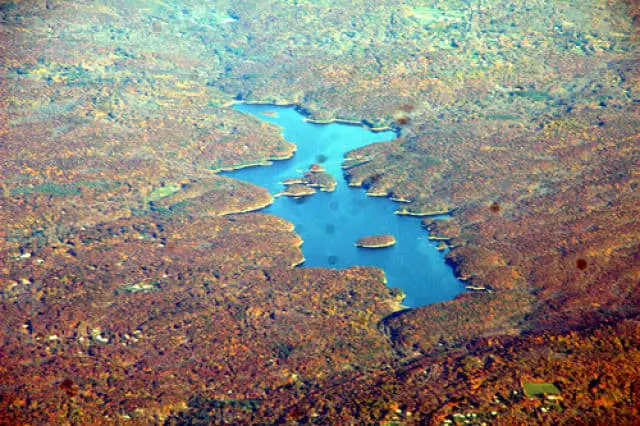 Candlewood Lake is Connecticut's largest man-made reservoir. The City of Danbury and four other towns (Brookfield, New Milford, Sherman and New Fairfield) all claim Candlewood Lake's 86 miles of mostly steep forested shoreline and a surface area of over 5,000 acres. Candlewood Lake is a utopia for both residents and visitors that seek out its recreational opportunities. While boating is a major drawing card, fishing, diving, water skiing, hiking and camping are just some of the other recreational possibilities. With the city of Danbury nearby, Candlewood Lake is an ideal location to head out for a day's sightseeing and play. Candlewood Lake is located in the far western part of the state, within a few miles of the New York state line. The name 'Candlewood' came from the use of pitch pine torches taught to the settlers by local Indians.
Candlewood Lake was formed by the construction of the Rocky River Dam impounding the Housatonic River and four smaller streams. Construction was completed in 1928 by Connecticut Light and Power and it is the first pumped storage unit built in the U.S. Candlewood Lake's primary purposes are hydroelectric power generation and flood control. Spectacular recreation of all types is a byproduct of the Dam. Northeast Utilities Company operates and maintains the dam, powerplant and reservoir, generating a maximum of 32,000 kilowatts of electricity.
Superb boating is a major enjoyment on the gorgeous waters of Candlewood Lake. Ten large fully stocked marinas dot the lake. Water sports abound, with proximity to major cities, and boating can be enjoyed most of the year. Launch ramps in convenient locations are nicely accessible. For those not having or wanting a boat of their own, everything from 24 foot pontoon boats and runabouts to canoes and kayaks may be rented at many of the marinas. A daytime speed limit of 45 mph and a nighttime limit of 25 is enforced by the Candlewood Lake Authority's patrol.
For the angler, Candlewood Lake is arguably the best 'fishing hole' in Connecticut. The lake is managed as a trophy trout lake, but the over 100 annual bass tournaments emphasize the excellent bass fishery that it is. Large and smallmouth bass, stocked brown and rainbow trout, shad, walleye, perch, catfish, sunfish, rock bass and crappie are found in the most likely spots. The State record walleye was caught in 1941 and the state white perch record was set in 1996.
Candlewood Lake covers a number of valleys and when it was filled covers a number of farms, roads and residences, with the residents relocated. The bottom of Candlewood Lake is replete with much farm equipment, covered bridges, old roads, old cars and a few crashed airplanes. Scuba divers now find these artifacts in their dives. Brookfield has dive shops to facilitate this activity. Also, there are more than 100 geocaches situated nearby for new 'finds'. Although some are mainly boat accessible (including at least one island), many are relatively easy to find and log.
Squantz Pond State Park is adjacent to Candlewood Lake and popular activities include hiking, camping, fishing, picnicking, photography, and boating.
All in all, Candlewood Lake is a boater's and fishing paradise with a wealth of outdoor activities for any outdoors person.
Reference: A Fisheries Guide to Lakes and Ponds of Connecticut, published by the Department of Environmental Protection, Hartford, Connecticut, 2002
Things to do at Candlewood Lake CT
Vacation Rentals
Fishing
Fishing Tournaments
Boating
Canoeing
Kayaking
Water Skiing
Scuba Diving
Camping
Picnicking
Hiking
State Park
Fish species found at Candlewood Lake CT
Bass
Black Bass
Catfish
Crappie
Perch
Rainbow Trout
Shad
Smallmouth Bass
Sunfish
Trout
Walleye
White Perch
---
Candlewood Lake CT Photo Gallery
Candlewood Lake CT Statistics & Helpful Links
Spread the word! Share our Candlewood Lake CT article with your fellow Lake Lubbers!