Lake Lappajarvi, Finland
Welcome to the ultimate guide for history, statistics, local fun facts and the best things to do at Lake Lappajarvi.
If you're considering Lake Lappajarvi vacation rentals, we've made it super easy to explore accommodations and nearby hotels using the interactive map below. Simply click on a listing to compare similar properties, best rates and availability for your dates. Or keep scrolling to read our Lake Lappajarvi guide!
Lake Lappajarvi visitor and community guide
Lake Lappajarvi is different from most other lakes in Finland. The depression the lake lies in is actually a meteorite crater! An estimated 73 million years ago, a large meteorite hit the earth in Western Finland, creating a massive dent in the earth. The intervening millions of years have worn down the edges of the crater and filled it in a bit, but geological evidence of the meteor is still found in the local rocks structurally changed by the intense heat. Water draining from the surrounding areas gradually filled the crater, creating Lake Lappajarvi. Fed by several small streams, the lake's main outlet is the Ahtavanjoki River which empties into the Gulf of Bothnia. Several water control structures on the river keep water levels stable on the lake, and they provide hydroelectric power to the local population. To the untrained eye, the lake doesn't look much different than the hundreds of other lakes in Finland. Scientists find it a fascinating subject of study, however.
Despite its unusual origins, Lake Lappajarvi has played the same role in the lives of the local population that other Finnish lakes do. The surrounding countryside is used for farming vegetables, raising dairy cows and fur farming. The lake is still producing fish and is used as a production source for some commercial fishing which harvests smaller whitefish for the restaurant trade. The lake also supports a healthy population of brown trout, perch, pike, zander, burbot, breem and pike-perch, making it a prime location for family vacations. Several public boat launch sites around the shoreline make it convenient for fisher-folk to launch their own boats. Fishing licenses and restricted area maps will be needed.
Lake Lappajarvi isn't highly developed as a center for tourism, although it is growing more popular as a destination. In keeping with the Finnish penchant for exercise, most boat traffic on the lake is of the kind that is rowed or paddled. A small cruise ship docked at the City of Lappajarvi takes groups of passengers sight-seeing around the large lake on a regular schedule during the summer months.
Another type of boating experience that is popular with visitors is the 'church boat' where passengers do the rowing. These remnants of early Finnish history are thought to be the predecessors of the Scandinavian Viking boats, and were built on shares by local farmers to carry them in neighborhood groups to church on Sundays. Legend says they would race their boats on the way home. Now they are raced competitively for sport and as a group activity. And some church boats in the area still carry residents to church as a beloved tradition. Arrangements for church boat rides can be arranged in the main town of Lappajarvi. Canoeing, kayaking and rowing are popular uses of the wide expanse of water. Motors are permitted but not used extensively except for travel to another area of the large lake. Boating maps are available for the 'boat trails' and should be consulted because there are some places where local regulation contradicts universal boating navigation rules due to conditions.
Swimming is a popular sport at Lake Lappajarvi; the lake is relatively shallow compared to many Finnish lakes and the water warms nicely. However, because the Finns are the originators of several extreme sport practices, winter doesn't stop swimming in the lake. The town of Lappajarvi has nine public summer beaches, and three that are kept open as Ice Swimming beaches. Swimmers usually do not go under the ice at the edge of the open swim area without a safety rope as it is easy to become disoriented and not be able find the opening to return to the surface.
Over a thousand family cottages and cabins, many owned by foreign vacationers, grace the well-treed shoreline. Many native Finns maintain a lake cabin as well as a home in nearby towns. Every cabin has a sauna – as necessary in a Finnish cabin as a stove. One hotel at Lappajarvi is noted for their spa and sauna facilities; even the locals come here to take advantage of the amenities and to eat in the fine restaurant featuring locally-produced foods.
Lappajarvi is the largest town on the lake, although there are a number of smaller settlements. Located at the outlet to the Ahtavanjoki River, Lappajarvi offers the most in the way of attractions and services to visitors and local residents alike. The city expands onto the adjoining island, Karna, which can be reached by a short bridge.
Lappajarvi has a number of historic churches and buildings that predate the many wars fought in the last two centuries. The Lappajarvi Museum exhibits local weaving and textile traditions, as well as fishing and log floating displays such as once occurred on the lake. The area has been noted for its fine rug-making industry and many shops sell the rugs, stone and wood carvings, clay and wool souvenirs and even finely-crafted traditional boats. The Tapolanvuori observation tower provides a great view of the lake and surrounding countryside. The city offers sports centers, cross-country ski trails, walking and riding trails, riding stables, skating and hockey rinks, indoor and outdoor fitness centers and pools. A nearby 18-hole golf course has a one-of-a-kind water hazard: a paddle boat stands by to take golfers from one fairway to another!
Lappajarvi is also the home of Finnish baseball . . .a game similar to American baseball but with completely different rules. The five 'outs' rather than three determine the nine innings. The 'pitcher' does not stand in front of the batter but tosses the ball in from the side. And bases are run in a cris-cross pattern instead of the familiar diamond progression. The game is thoroughly confusing to the Western visitor but very popular in Finland, where league tournaments occasion nearly every shop in the area to close to watch the game.
The friendly people at Lake Lappajarvi would love to welcome you to their lake. Guest houses, cottages and cabins can always be found for rent. Other lodgings can be arranged at the hotel/spa, or farm-stays in the area. Real estate can often be found in the form of existing cabins for sale. Won't you come to visit Lake Lappajarvi? You'll find, meteor or not, it really is out of this world!
Custom Lake Lappajarvi house decor
Read our full review of these personalized lake house signs.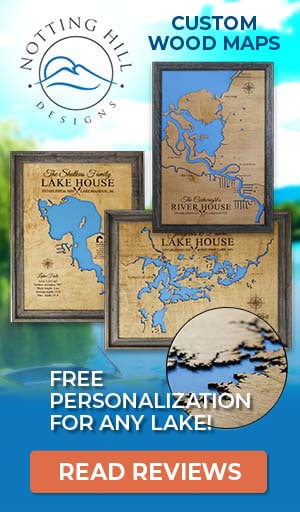 Things to do at Lake Lappajarvi
Vacation Rentals
Fishing
Boating
Swimming
Beach
Canoeing
Kayaking
Golf
Cabin Rentals
Hiking
Museum
Fish species found at Lake Lappajarvi
Brown Trout
Burbot
Perch
Pike
Pike Perch
Trout
Whitefish
Zander
---
Best hotels and vacation rentals at Lake Lappajarvi
The Lake Lappajarvi map shown above is a simple and stress-free way to search for trip accommodations. But if you want to take a deeper dive to find the ideal waterfront home, cabin, condo, hotel or resort, visit our favorite lodging partners by clicking the buttons below.
Note: These are affiliate links so we may earn a small commission if you book through them. While there is no extra cost to you, it helps provide resources to keep our site running (thank you)! You can read our full disclosure policy here.
---
Lake Lappajarvi photo gallery
New photos coming soon!
Lake Lappajarvi statistics & helpful links
We strive to keep the information on LakeLubbers as accurate as possible. However, if you've found something in this article that needs updating, we'd certainly love to hear from you! Please fill out our Content Correction form.
Advertise your Lake Lappajarvi vacation rental
LakeLubbers will soon offer homeowners and property managers the opportunity to to showcase their vacation rentals to the thousands of lake lovers searching our site daily for accommodations. If you'd like additional details, please contact our advertising team here.
Looking for the Lake Lappajarvi forum?
LakeLubbers previously offered visitors the ability to create accounts and participate in lake forums. When we overhauled the site's content management system in 2021 we had to disable those features. We're evaluating options and welcome your comments and feedback here.
We also encourage you to join our lake-lovin' community on Facebook and Instagram!
Spread the word! Share our Lake Lappajarvi article with your fellow Lake Lubbers!