Lake Paijanna, Finland
Lake Locations: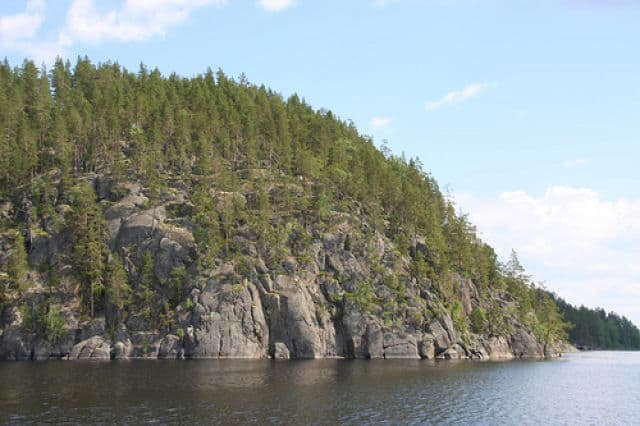 Lake Paijanne is the second largest lake in Finland and probably the most popular with holiday makers. Located only a couple of hours from Helsinki, Lake Paijanne is the main lake on the Lake Paijanne water route in central Finland's Lakeland Region. The nearly 300,000-acre lake provides water supply to nearly one million people in the Helsinki area via a 75-mile tunnel. The deepest lake in Finland, Lake Paijanne is the chosen destination of thousands of vacationers, anglers and boaters throughout the year. Over 30,000 cottages and vacation homes grace the 700-mile shoreline and many islands. Despite such heavy use, the lake still provides unspoiled views, secluded bays and miles of sandy beaches to delight the city dweller's desire for natural surroundings.
A dam on the Kalkkinen Canal regulates the water level of the lake and others in the chain. The entire boat-accessible waterway is about 250 miles and includes Lake Vesijarvi, Lake Paijanne, Lake Keitele and Lake Kansallisvesi – all connected by canal, and in some places locks. This makes Lake Paijanne a favorite of boaters, sailors and yachtsmen: several large marinas and harbors provide for their needs, with shoreline villas, supplies, activities, bike rentals and local activities. Sailing events, regattas and races occur regularly, but casual boating likely dominates the surface activity. All water sports are permitted, including water skiing, tubing, wake boarding, jet skiing and kite surfing. For the boat-less visitor, a number of cruise options can provide both day trips to local islands and down the length of the lake, or multi-day cruises with stops at several cities, large islands and points of interest. One of the more popular harbors and marinas is located at the entrance to the Paijanne National Park on the southwest shore of the lake.
Boaters on Lake Paijanne often dock their boats at Padasjoki Kullasmarina, near the entrance to Paijanne National Park. Here they can choose from a variety of holiday rental villas, shop in the many local shops, take guided canoe trips into the many waterways inside the park itself, or hike the many trails – some lighted for night exploring. The park is also popular for wildlife viewing, mushroom picking and berry picking. Several sandy swimming beaches are available for use, including on nearby islands. Boat rentals and fishing guide services can provide beginning anglers with everything they need to try catching sport fish. Pike, perch, brown trout, zander, landlocked salmon, breem, roach, ide and burbot are all caught on the lake, but such a wide expanse of water sometimes requires a knowledgeable local guide to locate the hottest fishing spots. Ice fishing is very popular in winter, and many holiday villas are open for business year round. Visitors come to enjoy the many cross-country ski routes, snowmobiling, ice skating, curling and sledding.
At the north end of the lake, the City of Jyvaskyla warmly embraces its designation as a boating destination. Located near the canal to Lake Keitele and Lake Kansallisvesi, Jyvaskyla provides not only harbors and marinas for travelers, but a full complement of city services and points of interest. A good outdoor recreation map of the area – available at local shops and bookstores – will offer directions to nature trails, golf courses, hot-air ballooning centers, many different forms of fishing trips, white water rafting and all types of sports facilities. In winter, the Jyvaskyla area is home to cross-country ski centers, ice-skate touring and curling tournaments.
A number of cultural venues exist in Jyvaskyla, some of particular interest to families with children. The Kallio Planetaario is more than just a planetarium. Built into the native rock, the facility is more of a learning museum and includes outdoor activities year round, saunas, a restaurant, theater and offers space camp for youngsters during the summer. The Natural History Museum of Central Finland is located in Jyvaskyla with ever-changing exhibits of interest to budding naturalists and those curious about the animals of Finland. Here in Jyvaskyla, boating enthusiasts can obtain information on proceeding to the northern parts of the Lake Paijanne waterway.
The water quality of Lake Paijanne is rated very good to excellent despite all of the visitors, boaters and cities located along its shoreline. Finland has developed and protected its many waterways over a period of hundreds of years. The waterways were once used extensively for both travel and the movement of goods. Finland now derives a great deal of its electrical power from hydro-electric stations, and the waterways provide municipal water to most cities in the area. Because the country knows the importance of its magnificent water resources, every effort is made to protect them from harm while still providing recreation to residents and visitors alike.
Visitors to Northern Europe may just decide Lake Paijanne would be the ideal spot for their annual holiday. Plenty of lodgings exist in the area, from guest houses to youth hostels to holiday villas of all types and in all price ranges. Those wishing to bring a boat will find ample slip space at the many marinas around the huge lake. Hotels, cottages and caravan parks are numerous. Rough camping is available in the lean-tos and camp sites accessed only by canoe or kayak in the secluded small harbors of Paijanne National Park. Holiday-makers who fall in love with the area may be able to find real estate for sale along the lakefront; with 30,000 cottages and villas, someone will want to sell! So come and discover the recreational paradise that is Lake Paijanne. You'll wonder why you didn't discover it long ago!
Things to do at Lake Paijanna
Vacation Rentals
Fishing
Ice Fishing
Boating
Sailing
Swimming
Beach
Canoeing
Kayaking
Whitewater Rafting
Jet Skiing
Water Skiing
Wakeboarding
Kite Surfing
Tubing
Golf
Camping
Hiking
Ice Skating
Snowmobiling
Wildlife Viewing
National Park
Museum
Fish species found at Lake Paijanna
Brown Trout
Burbot
Perch
Pike
Roach
Salmon
Trout
Zander
---
Lake Paijanna Photo Gallery
Lake Paijanna Statistics & Helpful Links
Spread the word! Share our Lake Paijanna article with your fellow Lake Lubbers!