Lake Inari, Finland
Lake Locations:
Also known as:  Lake Inarijarvi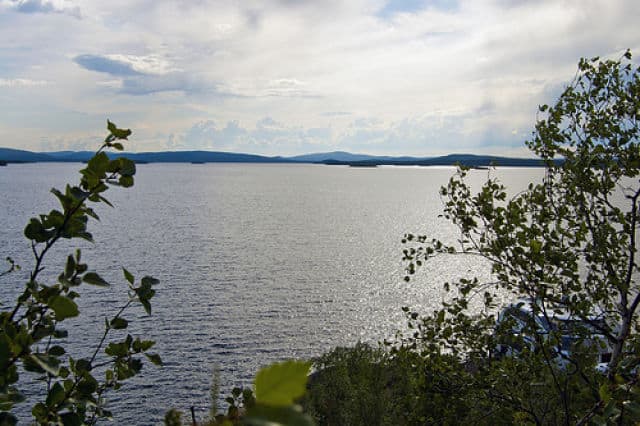 Lake Inari, in the Lapland area of northern Finland, is a hot fishing destination. Also called Lake Inarijarvi, the huge lake near the northern tip of Finland is well-known as an ideal fishing lake for brown trout, lake trout, grayling, Arctic char, perch and whitefish. The third-largest lake in Finland, Lake Inari's nearly 260,000 acres holds several large 'lakes' within it and over 3000 islands. The largest mid-lake areas on Lake Inarijarvi are Kasariselka, Vasikkaselka, Sammakkoselka and Ukonselka. The Kasariselka area alone is more than 18 miles long; the opposite shore is not even within sight! Ice fishing for char is nearly as popular as warm weather angling, with many anglers arriving via snowmobile.
The water temperature of Lake Inari seldom rises above 60 degrees in summer, so swimming with a wetsuit is recommended. There are several areas around the lake with sandy beach areas for swimming. Boat harbors and launches are located in the villages of Inari, Veskoniemi and Nellim, while canoeists and kayakers can readily find a place to launch their small craft. Boaters are warned that weather conditions can make the water extremely rough without much warning and to take precautions against accidents. The beauty and variety of the shoreline make the lake an ideal place to paddle and camp. Island hopping is a favorite holiday outing at Lake Inari. Because Lake Inari is north of the Arctic Circle, summer days are nearly 24 hours long. In winter, the northern lights illuminate the sky in a wondrous display of colors and patterns. Lake Inari, as the northernmost large lake in Europe, has plenty of wonders to share.
The Vatsari Wilderness Area hugs the northeast shore of Lake Inari, where a few open camping shelters, lean-tos and rental cabins wait to accommodate hikers. Brown bear (the national animal), grey wolf, moose and the semi-domesticated reindeer are often seen, along with a variety of smaller mammals and birds. Lynx are relatively common but take pains not to encounter humans and are seldom spotted. Because Finland practices open access to property under Everyman's Right, there are few places the holiday maker cannot go, within reason. One of the islands, called Jaasaari or 'Ice Island' has a permafrost cave that can be visited. Another, known as Hautuumaasaari-'the graveyard', holds an ancient cemetery of the local indigenous people. Ukonkivi (Ukko's Stone) holds an ancient sacrificial site and is considered a sacred island. Once called Laplanders (a term in disfavor among the Sami), the Samit as they call themselves are the only group still allowed to herd reindeer, although more are now engaged in sheep herding, commercial fishing, forestry and other endeavors.
Increasingly, tourism has become the industry of choice. One glimpse of Lake Inari makes it easy to see why. Local small businesses around the lake rent boats, campsites and offer limited supplies, fishing guide services and do the rowing for anglers more interested in fishing. Because the lake is so large, visitors intending to spend time on the lake or camping are encouraged to bring everything they think they will need. However, the area also has some highly-desirable off-water pastimes for visitors to enjoy. A number of new resort hotels have been built, with excellent restaurants, modern rooms, pools and internet service. Boat cruises run from the town of Inari to the Ice Island daily during the summer months. In winter the same company offers snowmobile tours, and fishing trips can be arranged anytime. Inari hosts the Sami national museum (Siida), the Samediggi parliament, and Sami Radio. Bicycles can be rented in Inari. Not far from Inari, the Saariselka resort area offers a large number of ski slopes, extensive cross-country ski trails and a large number of spas, pubs, holiday apartments and shops for vacationing visitors.
Lake Inari is a deep lake, formed in a rift valley. Its outflow, the River Paatsjok, eventually discharges its water into Barents Sea. The huge lake is not dammed, but a hydroelectric plant in Russian territory on the River Paatsjok controls lake levels, and caused a rise in water levels of over two feet when the power facility first began operations. A series of deep fjords provide plenty of deep water fishing, while the many bays and river mouths offer excellent seasonal locations. Water quality is so good in the lake that it is traditional for campers to boil their morning coffee from lake water over an open campfire. The huge unspoiled lake is still mostly vacant, with the forested shorelines unbroken by human intrusion except for a few small villages and usually empty camping cabins. Recent discussions on possibly leasing parts of the shoreline for development of homes has not generally been received with enthusiasm. The people here prefer their unspoiled and uncrowded wilderness just the way it is.
Holiday-makers coming to Lake Inari will find no shortage of lodgings to accommodate them. From the resort hotels to private cabins to State-owned rental cabins to farm-stays, every type of vacation rental can be found. And campsite locations are numerous around the lake itself. Currently there is little available real estate on the lake, but existing housing may be found for sale occasionally. So if you've got an urge to fish the big lake for some very big fish, Lake Inari is the right place for you! Hope you can visit soon!
Things to do at Lake Inari
Vacation Rentals
Fishing
Ice Fishing
Boating
Swimming
Beach
Canoeing
Kayaking
Camping
Cabin Rentals
Hiking
Biking
Snowmobiling
Wildlife Viewing
Birding
Museum
Fish species found at Lake Inari
Brown Trout
Char
Grayling
Lake Trout
Perch
Trout
Whitefish
---
Lake Inari Statistics & Helpful Links
Spread the word! Share our Lake Inari article with your fellow Lake Lubbers!